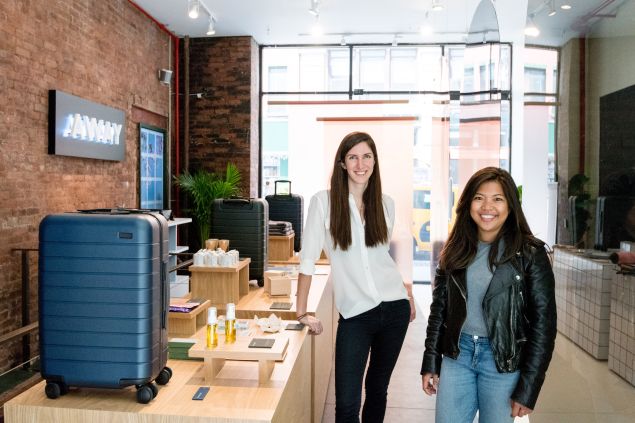 With Britney Spears as a flight attendant in her iconic 'Toxic' video and Lenny Kravitz's 1998 hit "Fly Away," wanderlusting in style has always been much sought after. And now, with the expansion of Away, a New York based luxury travel company, a last minute July 4th getaway has never seemed so easy. 
Away, a direct-to-consumer luggage company, recently expanded from its single item carry-on to a pop-up store in Noho and two larger luggage bags perfect for a family vacation or solo Eat Pray Love mission.
Founded in November 2015 by former Warby Parker alums Jen Rubio and Steph Korey, the new company sees travel as a "transformational experience." "We think travel is a single experience that can really enhance someone's life," Korey said.
"We think travel is a single experience that can really enhance someone's life"
Following a baggage breakdown in the middle of an airport, Rubio called ten of her closest friends, Korey included, to ask for the perfect luggage recommendation. "The only answer she could get from all of them was, 'I don't know, but whatever you do, don't get the one that I have,'" Korey said.
The duo then wholeheartedly threw their minds and resources to investigating the luggage industry. Finding that there were "basically two options you had when shopping for luggage"–the super cheap perpetually broken bags and the out-of-my-price-range super luxurious travel bags, the girls found a niche in the market for affordable, but durable, luggage.
Korey, who named Beirut as her favorite city to visit, always travels with a face mist and moisturizer "to combat dry air" in addition to always having socks for the airport and a bathing suit "because you just never know." And with a combined passion for all things exploration, Rubio, who has been to all seven continents, birthed the idea for Away with Korey as a way to make travel more seamless.
"Sunglasses and eyeglasses are really in right now but if you take a step back and think about it, were eyeglasses cool ten years ago? I would argue no, ten years ago eyeglasses were the things you got stuck wearing when you forgot to re-order your contacts," Korey said of her transition from the sexiness that is Warby Parker and the sunglasses industry to a line of travel luggage.
"I think the luggage space has definitely seen a lack of excitement and innovation in recent history and we're hoping to make a big change there."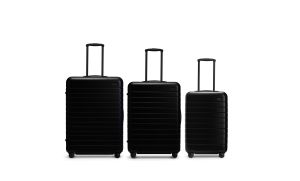 With design connections galore (Rubio and Korey have experience working at Kate Spade and Bloomingdale's) the duo turned to Box Clever's Bret Recor and Seth Murray for Away's design. Anointed with quiet 360-degree Japanese Hinomot spinner wheels, Bayer Makrolon polycarbonate, YKK zippers and a built-in 10,000 mAh battery to charge iPhones and other electronics, Away offers "first class luggage at a coach price."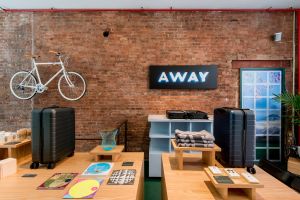 And up until two weeks ago, the 7.2 pound carry-on was Away's singular offering. In May, the company launched its pop-up store in Noho and recently revealed its larger luggage collection to accompany the super successful carry-on.
The shop, which will only run through August 31, features a small section of Tictail curated items and is stocked with the brand's newest larger checked baggage–a medium size for $275 and a larger size for $295. With an option for a personalized painted monogram from artist Jen Mussari, the bags, which all weigh less than ten pounds, come in four color options and are outfitted with a washable removable laundry bag and a compression system for over-packers.
Located at 325 Lafayette Street, the store is a part of a larger endeavor for short-term travel themed brick and mortar pop-ups. "Our vision for the concept store platform is that we'll actually repeat it over time and have different short lived store experiences. And every time we redo it will continue the theme of sort of two cultures."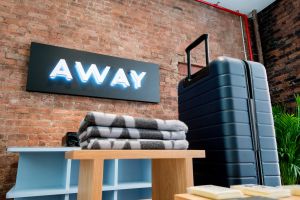 Heavily inspired by a minimalism and functionality that defines Swedish and Japanese design, Away's first pop-up store features a variety of curated products like the heavily coveted blanket scarf, affectionately nicknamed a "blarf," among other items solely from Stockholm and Tokyo. "We've done a curation of super local products that you can only find in those home markets… we've brought this very culturally authentic experience into the concept store," Korey said.  
The new company, which calls New York's Little Italy home, remains fervent in its belief to be more than just a luggage brand. "Because we're only a few months old and right now we sell luggage, the assumption is that we are a luggage company and the future of our company looks like other luggage companies," Korey said.  
"But when we  talk and plan for the future, our conversations are never along those lines. It's all about travel and these special experiences that people can have and what we can do to empower people to travel see the world and have experiences in a really seamless way."