Penny Dreadful, for those unaware, is what would happen if Alan Moore's League of Extraordinary Gentleman took a handful of experimental hallucinogens and somehow became even weirder, a tall task considering Alan Moore already thinks he's a wizard. But Penny pulls off its role as Showtime's delightfully dark little slice of horror that doesn't get nearly enough credit in today's crowded landscape. As if we don't have enough room for Eva Green debating with a Satan-puppet, or Josh Hartnett as a werewolf, or a former James Bond shooting a vampire in the face.
Recently mixed into that witch's brew of familiar monstrous faces is Robert Louis Stevenson's Henry Jekyll from The Strange Case of Dr. Jekyll and Mr. Hyde, played by Shazad Latif (The Second Best Exotic Marigold Hotel, Spooks). Before Penny Dreadful's third season finale airs this Sunday night, we hopped on the phone with Mr. Latif to discuss Jekyll's well-known dark side, and a possible romance with his fellow Victorian doctor, Victor Frankenstein.
I told you it was a weird show.
Observer: Showtime has really locked down any details for the finale. Anything you can share? 
Well, I can say it is a fitting end to such a high quality show. Expect high emotion. Expect intensity.
Henry Jekyll has been a major part of season 3 but we still haven't seen Mr. Hyde. What's your Mr. Hyde look like? 
Ideally he looks like me but his inner self is in turmoil. He's been eked out very slowly during the show. Drip fed. There have been little hints to the anger expressed usually by Mr. Hyde. We may see some more.
Your Jekyll is mixed-race, which was certainly not a trait in Robert Louis Stevenson's original book. How important was that to you, and what do you think it adds to the character? 
I feel John Logan has been incredible forward thinking and historically correct in his research of an era when it wasn't just white people. The Victorian Era was the age of colony, there were hundreds of different races and for John Logan to weave that into an old story is highly imaginative. Praise to him for opening the gates to hopefully more writers to think this way.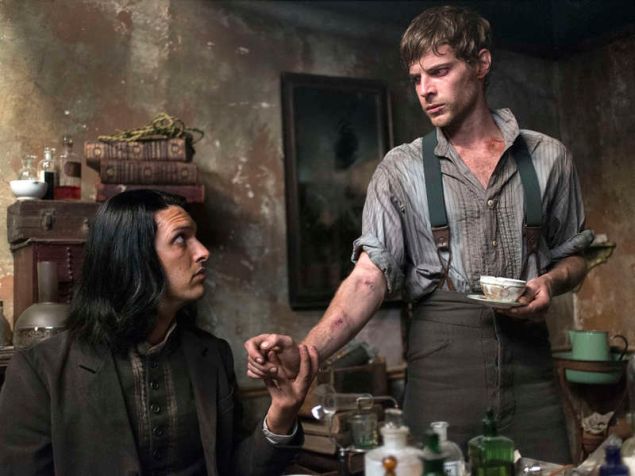 A big part of the character has traditionally been the idea of self-reflection, looking at the positives and negatives of your own personality. Have you learned anything unexpected about yourself? 
I think it comes with the territory when exploring good and evil. Dark and light. The absence of any good. It's inevitable that you find out more about yourself. Good and bad. It was revealing. But it should be.
I've read that you're a bit of a technophobe. How has that meshed, or added to your take on Jekyll? The idea that him and Victor Frankenstein may be taking science too far? 
I adore science and technology in the sense of great thinking. People like Tesla. Technology that helps humanity. The great Victorian Age of science is very exciting to me. I just like to spend the least amount of time possible on screens and phones in my daily life.
Just to piggy-back off that – despite the horror aspect and the gruesome set-pieces, what should we relate to in your Jekyll's work? 
The idea of self-analysis, and self-improvement. The idea of understanding ones own nature I think is key to Jekyll's work and being human. Yet that's the mystery at the same time.
There's a certain corner of the internet who really wants Jekyll's past with Frankenstein to be a romantic one. How aware of that are you? Where do you think the idea comes from? 
I think that first scene, where Jekyll sees Frankenstein's lab, there was a closeness and intensity that could have been mistaken for that. But there is not a romantic relationship. Although they do perhaps love each other, in a way. So maybe it is. [laughs]