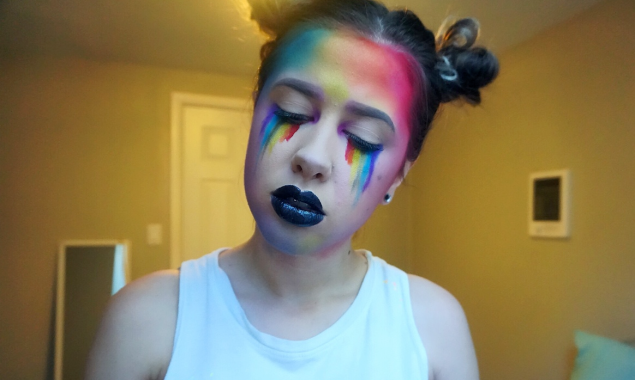 In the aftermath of Sunday's horrific shooting at Pulse nightclub in Orlando, tributes and support for the victims and the LGBTQ community as a whole have manifested in many ways. There have been marches, vigils, blood drives and a record-breaking GoFundMe campaign—over $4.4 million has been raised so far.
Social media has lit up in support as well, and lately, makeup has become a go-to for those wishing to express support and condolences in a more artistic way. Users on Tumblr and Instagram have been sharing rainbow looks—some accompanied with painted-on tears—using hashtags like #OrlandoShooting and #LoveWins.
Many are turning their eyes into rainbow tributes.
https://www.instagram.com/p/BGrtwRFPZqY/?taken-by=hatful.of.hollow
https://www.instagram.com/p/BGrcpL9Qvux/?taken-by=jocybauu
Others are decorating their lips. Some are doing both.
While it wasn't created in the aftermath of the shooting, Snapchat filters created by artist Baron Von Fancy have been helping people support LGBTQ causes with social media all Pride Month long. Every time one of the filters—which read "I am what I am," "Love wins" and "The road to equality has never been straight—is used, W Hotels is donating $1 to the Human Rights Campaign.
(h/t Mic)