Swiss performance artist Milo Moiré who performs by generally being naked in public, has outdone herself. She's now inviting strangers over the age of 18 to touch her breasts and genitals through a mirrored box, according to a report from Artnet.
She was arrested for her activities in London's Trafalgar Square, one of the three places she's performed the piece, and was jailed for 24 hours.
She performed in Düsseldorf with a mirrored box over her bare breasts, but in Amsterdam and London, she wore a trapezoidal mirrored box over her waist, inviting onlookers to touch her genitals for 30 seconds each. The performances are an homage to a 1968 piece titled Touch Cinema by Austrian artist Valie Export.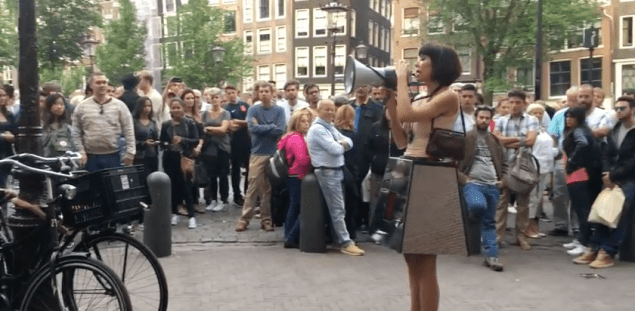 On her website, the 32-year-old Moiré says of the piece: "What happens if a woman takes the initiative to put her sexuality on public display, thereby creating clear rules for the intimate exchange?" That kind of sounds like prostitution to us, but one cannot deny that Moiré was the one who initiated this odd performance, so… kudos?
Moire's performances are often done in the name of women's rights, and during the London performance she said through a megaphone that "I'm a performance artist, and I'm standing here for women's rights and sexual equality, because we decide for ourselves when to be touched or not, and today you have the chance to touch inside the box for 30 seconds and feel free."
If she were to charge, that would definitely be prostitution, so well-played, we suppose.
The work is called, of course, Box Performance.
Sanitizer was shown being mercifully applied to the hands of participants in the YouTube video of her performances, which were censored by the website with black boxes over the artist's genitals.