Until a few weeks ago, it was almost impossible to point to the craziest part of Hulk Hogan's lawsuit against Gawker.
Was it that it was being fought over a video of a former wrestler having sex with the former wife of his former friend? Was it that the Florida jury didn't just side with Hogan, but awarded him $25 million more than he was seeking in damages—a total of $140 million? That a company that began as the ultimate insider-y New York media gossip blog might be brought down by a 62-year-old one-time heavyweight champion from Tampa? The surreal nature of the trial itself? Or the fact that the drama's other leading player was a shock jock who had legally changed his name to Bubba the Love Sponge? The list went on.
But it turned out that all of that was nothing compared to the bombshell revelation in late May that the lawsuit was actually part of a secret plot by a tech billionaire to exact revenge for unflattering stories about Silicon Valley power players that the notoriously snarky media company had published over the years. All along, it turned out, the lengthy and costly Hogan case—as well as other lawsuits against Gawker—had been clandestinely funded by Peter Thiel, the Paypal co-founder and entrepreneur worth an estimated $2.7 billion, who made Gawker's destruction his personal mission.
Rumors that there was a mystery financer footing Hogan's legal bills had been floating around Tampa legal circles and the New York media world, but it didn't go beyond that.
It wasn't until last month—after the trial, after countless stories about Gawker and Hogan and the First Amendment—that the rumors gained currency and two Forbes reporters broke the story.
Here's how it happened.
Although Denton and others at Gawker may have privately entertained the notion that there was someone backing Hogan, it was hard to believe that a crazy sounding conspiracy theory could be true. But just because you're paranoid, doesn't mean a tech billionaire who was publicly outed by your website isn't after you.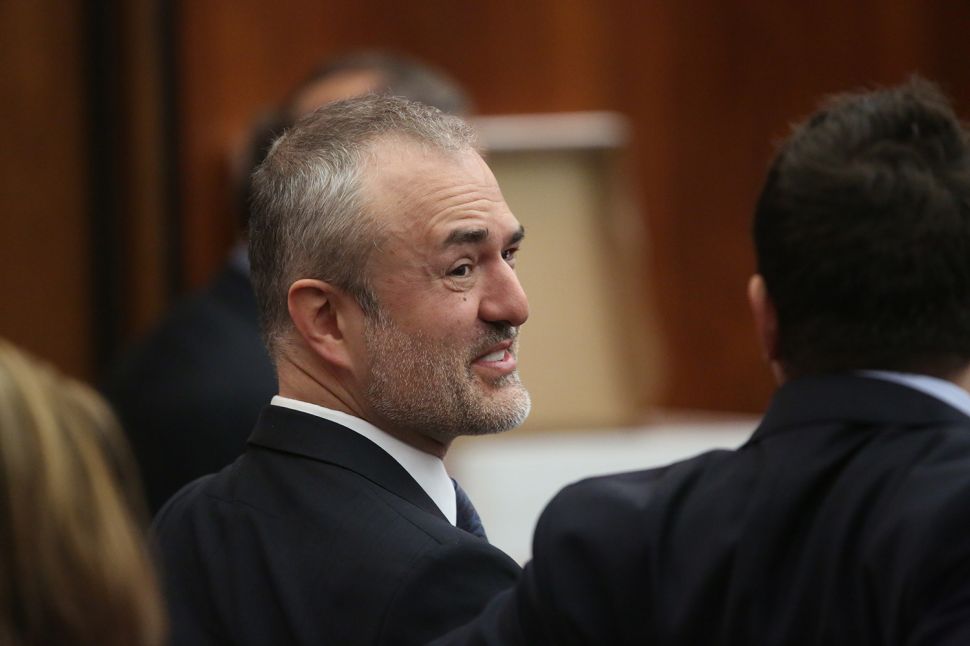 "We'd heard the rumor and sort of dismissed the revenge-funder idea as too evil to be true, though in retrospect all along there were some obvious signs," Gawker founder Nick Denton said in an email to the Observer. (Those signs showed what seemed to be a curious commitment to a public trial rather than a payday, including Hogan's refusal to agree to a settlement during the three-year-long lawsuit and his legal team's decision to drop a claim from the suit that would have been covered by Gawker's insurance).
During the trial, conspiracy theories began gaining steam. Dan Abrams floated the possibility on his legal news site LawNewz, wondering whether there was anything to the tip he had received that some Tampa lawyers believed a benefactor had agreed to cover Hogan's legal fees. When the Observer covered the trial, a Gawker employee mused over drinks about the odd coincidence that one of Hogan's lawyers, Charles J. Harder, also represented multiple other plaintiffs suing Gawker.
"I had heard the rumors towards the end of the trial and I had reached out to the Gawker folks about it," New York Times DealBook columnist Andrew Ross Sorkin said in an email. "At the time, it all seemed a bit conspiratorial. I told them if Nick ever wanted to talk about it, I'd love to discuss it."
In April, Ryan Mac, a San Francisco-based Forbes reporter, got a tip during an unrelated meeting with a source that there was more to the Hogan/Gawker lawsuit.
"It was too strange of a tip not to follow up on," Mac said. "This wasn't something I was hearing every day."
Mac and his colleague Matt Drange started investigating. Both tech reporters, Mac and Drange had never written about Gawker and were unaware of the rumors until they started reporting.
"Our first reaction was that it was just too crazy to be true," said Mac. "Everyone I talked to said they had never heard of this before. Nobody could even fathom someone thinking of a plan to do something like that."
Getting an unrelated party to pay legal fees, known as third-party litigation funding, is legal and does not require disclosure. But third-party litigation funding is usually a business transaction, done as an investment with a payout potential if the plaintiff wins the lawsuit. In Thiel's case, it was a way to use the courts to bring down a company.
While Mac and Drange were reporting out the tip, Gawker was hit with another lawsuit. Shiva Ayyadurai, a scientist and husband of The Nanny's Fran Dresher, sued for defamation and libel, seeking more than $35 million in damages for several Gizmodo posts that harshly disputed Ayyadurai's claim to be the inventor of email. Ayyadurai's lawyer? Frequent Gawker foe Charles Harder.
That coincidence—as well as the fact that although other outlets also disputed Ayyadurai claim, he was only going after Gawker—furthered suspicions of a conspiracy theory. (Ayyadurai has since denied the involvement of a third party, including Thiel).
Not long after Ayyadurai's lawsuit, Denton took Sorkin up on his standing offer to discuss the possibility of a conspiracy theory. In Sorkin's column, which went online on May 23, Denton speculated about the possibility of a financial backer, explaining his hunch that it was someone linked to Silicon Valley.
Meanwhile, out in California, Mac and Drange were still trying to nail down the name of the mystery backer. Anxious to get the story they had spent over a month working on, they hit the phones.
Twenty-four hours later, they had the scoop. Citing "people familiar with the situation who agreed to speak on the condition of anonymity," they revealed that Peter Thiel was behind the Hogan lawsuit. (In a follow-up story Mac and Drange published online this week, they revealed even more details of Thiel's plot against Gawker).
"Not until the Forbes story did we know for sure that there was a funder, and that the funder was perhaps the most successful investor in Silicon Valley pursuing a decade-long grudge," Denton said, although he has said that Thiel was on a short list of tech billionaires he suspected.
A spokesperson for Thiel declined to comment to Forbes, but nobody disputed the report.
On the Wednesday after the Forbes story went online, in an interview with Sorkin, Thiel admitted to financing several lawsuits in a years-long covert war against Gawker and estimated that what he called "one of my greater philanthropic things that I've done" cost him around $10 million dollars.
"I saw Gawker pioneer a unique and incredibly damaging way of getting attention by bullying people even when there was no connection with the public interest," Thiel said, in what remains the only time he has publicly spoken about his crusade. "I thought it was worth fighting back."
And now, everyone knows who is behind that fight.