You don't expect the man who murdered both God and the Devil to be soft-spoken. But then again, Garth Ennis has never been one to cater to expectations.  
"I'm resistant to people telling me to do anything," the longtime comic book scribe said, his low voice heavily inflected by his native Northern Ireland. "I have a tendency to sort of bash ahead and hope for the best."
We were sitting in a suite at The London NYC hotel in Midtown, just days before AMC premiered its adaptation of Mr. Ennis' landmark comic series, Preacher. Since its original run (75 issues from 1995 to 2000), Preacher's faced a long road from page to screen adaptation—big or small.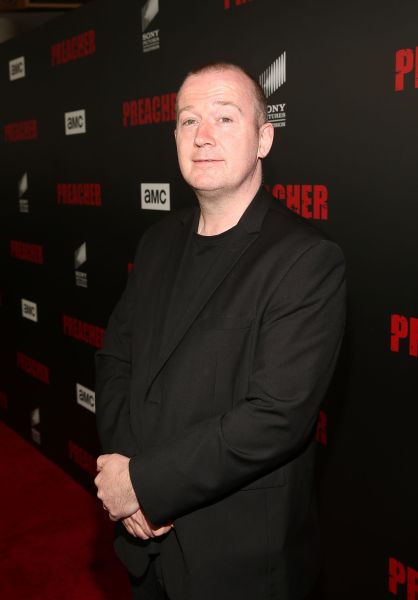 At any given point over the past 20 years, plans for Preacher have included "an independent film, an HBO show…two attempts at a feature film," one from American Beauty director Sam Mendes, then possibly Disturbia filmmaker D.J. Caruso. "All dashed upon the rocks, of course," Mr. Ennis said, with the familiar tone of anyone—comics legend or industry rookie—who has come into contact with the Hollywood machine.
But seeds of success sometime take root in the most unlikely of places, and "unlikely" is exactly what AMC's Preacher is: a take on Mr. Ennis' hyper-violent, more than occasionally blasphemous story from, of all people, Superbad and Pineapple Express masterminds Seth Rogen and Evan Goldberg, along with go-to Breaking Bad scribe Sam Catlin.
"We got kind of cynical after a while," Mr. Ennis said, referring to himself and Preacher's co-creator, artist Steve Dillon. "We said, 'Alright, if this thing is unfilmable but people keep wanting to buy the option, we'll take their money and let them find out the hard way.' Just when we had decided on this…Seth and Evan pop up and do it right."
Preacher is that rare project where the idea of being unfilmable isn't so much hyperbole as it is objective fact. It's the story of Jesse Custer (Dominic Cooper, Captain America), the series' titular man of the cloth, who, imbued with the voice of God, sets out with his vampire friend Cassidy (Joe Gilgun, Misfits) and hit-woman ex-girlfriend Tulip (Ruth Negga, Agents of S.H.I.E.L.D.) to wrangle answers from the deities themselves.
What that basic outline leaves out is the many counts of castration, incest and cannibalism that pepper the story. Not to mention the character who has sex with rotting meat. Or, right, the character who has an asshole for a face (named, uh, Arseface). Or the fact that any character familiar from Bible study has been brutally murdered by story's end.
Most, if not all comics in the '90s, had an upper case "X" in the title, and you better believe it stood for X-Treme.
Sound a little…intense? Preacher is definitely a product of its time. If Alan Moore and Frank Miller made comic books a dark place in the 1980s, writers of the '90s realized that some truly debaucherous things can happen in the dark. Graphic sex and violence became the norm. Artists pushed the believability of what a female anatomy should look like to its breaking point; a popular blog post still making the internet rounds titled "How to draw comics the Rob Liefeld way" begins with, "The most important thing to remember when drawing women is to never look at an actual woman."
Most, if not all comics in the '90s, had an upper case "X" in the title, and you better believe it stood for X-Treme.
But Preacher stood out from the sea of muck and grime for a reason. Get past the elements that may offend—and there are plenty—and there's a central thesis that resonates, even today: How can you watch 10 minutes of the 24/7 news-cycle, and still believe God exists?
If anything, AMC's Preacher, in being updated for 2016, hits this point even harder than the comics. "It upset me that a lot of people are saying Preacher is anti-religious. I think it couldn't be further from it," Mr. Cooper told me. "It just brings questions to the forefront. Which it needs to, at the moment. In times of crisis in the world, the conversation is on the tip of people's tongues every day. The moment you open a newspaper, you're confronted by the question of faith, and of belief."
In almost a perfect mirror of the relationship between Jesse Custer and Cassidy, Mr. Gilgun echoes Mr. Cooper's sentiments, albeit in a far more…colorful way. "What Preacher is saying is not just blasphemy and good-fun violence," he said. "It's asking, 'Where is God? Where's he been, the cunt?' The world has all this shit going on. If there is a God, fucking come on, man. You been having a fucking vacation?"
Of course, a comic book is not a TV show, and the post-aughts are not the mid-'90s. Familiar Preacher stories have been altered for AMC. Classic characters have been dropped, brand new ones created. A lot has changed, for better or worse, about the ways we tell stories since the 1990s. "I think people are being a bit more careful to reflect society in their storytelling these days," Mr. Ennis reflected. "I do prefer people to come to that kind of understanding by themselves."
"But," he continued, "maybe sometimes they need a little shove."
"It's the notion of faith itself that's interesting to me. What people are prepared to do because of this belief they have" – Garth Ennis
Funny enough, Mr. Ennis has long been a staunch atheist, even as he played with and poked at religion in Preacher, a long run on Vertigo's Hellblazer and a stint on DC's The Demon. "It's the notion of faith itself that's interesting to me. What people are prepared to do because of this belief they have," he said. "The effect that they're prepared to have on the world, the things they're prepared to do to their fellow human beings. The way they're prepared to impose their belief on others."
That's the trick most masterfully pulled off by Preacher, both Mr. Ennis' book and Mr. Rogen's TV show: at no point does it impose. It juggles a lot of balls, changing from scene to scene, even moment to moment between deep-seated drama and outright slapstick comedy and, often, combines them. But when the fray is over, the blood's been shed and every sin imaginable has been committed, Preacher leaves you to your own conclusions.
What you're left with is an eclectic, incredible cast, and as much mayhem as AMC will allow Mr. Rogen, Mr. Goldberg and Mr. Catlin to get away with, all within the world Mr. Ennis created 20 years ago. A world that, unnervingly, still mirrors our own.
True, times have changed, but some things will always stay the same. "When you're writing fiction, there's some tremendous window dressing to be had in the Bible," Mr. Ennis said with a laugh. "Angels and demons? The devil himself and the landscape of Hell? God Almighty? Some really great stuff in there."