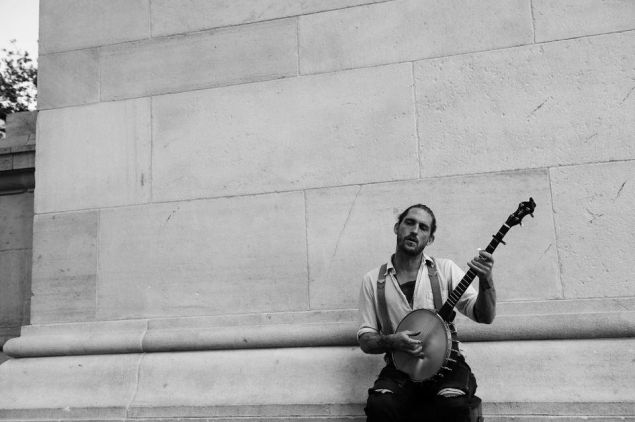 Morgan O'Kane carries a briefcase to work—after all, it's his trademark kick-drum instrument. His office? On Tuesday, it was Zuccotti Park for Make Music New York, though most days you can find the one-man band hollering and banjo-picking in parks and on subway platforms all over the city. Then there's the Hudson River, which 38-year-old O'Kane sailed one day last September and filmed as the basis for a new music video, "Feufollet," which you can see here below before he officially debuts it tonight in Brooklyn.
[youtube https://www.youtube.com/watch?v=mTW0LPqXp5k&w=560&h=315]
At House of Yes on Thursday night, O'Kane will introduce a batch of songs and premiere the video, featuring scenes of his trip from Newtown Creek to Rockaway Beach. The project reveals a new passion for the musician: claymation. Shot by the Emmy-winning cinematographer and Dave Matthews Band collaborator Johnny Saint Ours, "Feufollet" is the first in a series of four children's music videos O'Kane says will accompany a pair of 7-inch colored vinyl releases later this year.
O'Kane wrote "Feufollet" for his 7-year-old son, and it's meant to empower kids everywhere to not be afraid of the dark. Another forthcoming song, "My House is Magic," was also written from a father's perspective.
O'Kane is enjoying something of a pop-culture moment: In addition to releasing three albums, he also wrote the theme song for WGN's Outsiders and appeared last year in an episode of FX's Louie (Louis C.K. is a big fan).
"I thought that touring and working your ass off as a musician was what you had to do to get known," O'Kane told Observer earlier this week, adding that he stopped touring in 2014 at his son's request. "So I hung my hat up, then all that stuff happened out of nowhere. I realized I didn't need to push anymore. That's when the success happened."
That success wouldn't have happened without a fortuitous accident.
It wasn't until O'Kane was 26 when he first picked up a banjo, after breaking both feet following a fall from a roof while painting a house. He spent the next year in a wheelchair, and taught himself to play during the long recovery. Prior to discovering music, O'Kane dropped out of high school and spent years on the run from home in Virginia, hopping trains and traveling the country, eventually ending up in Bed-Stuy. Today he lives with his son in a trailer park in Greenpoint, Brooklyn.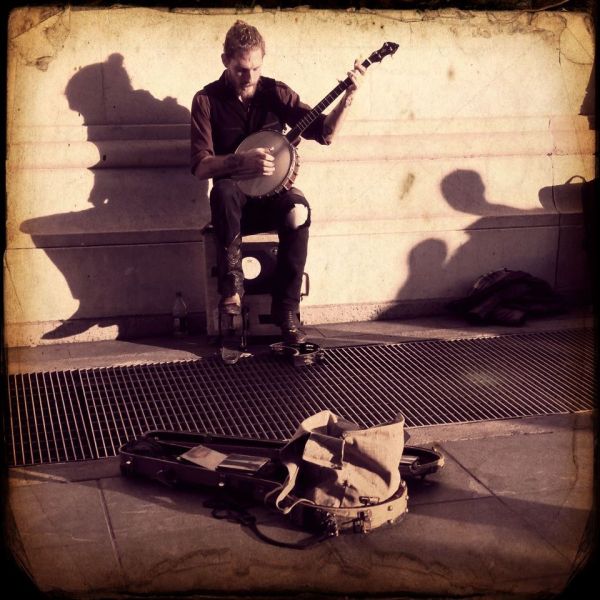 It was there where O'Kane spent several consecutive days with Saint Ours last fall, painstakingly assembling the clay models and miniature set featured in the "Feufollet" video.
"I think both of us kept wondering if we were each other's best friend or worst enemy," Saint Ours says with a laugh, "because it took for-fucking-ever."
O'Kane's Appalachian punk-inspired set tonight will include an appearance from Vic Thrill, his longtime producer. Those new to O'Kane's sound can expect a cross between bluegrass and rugged roots-rock. "I think Morgan embodies that better than anybody I know who's playing music right now," says Saint Ours.
Morgan O'Kane performs Thursday night at 10:30 p.m. at House of Yes with Vic Thrill and Cajun Fairies.