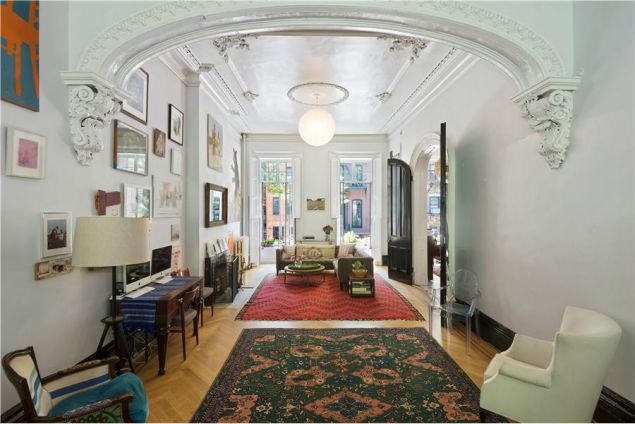 As summer rapidly approaches, it's time to whip out the Lily Pulitzer dresses, unpack the Vineyard Vines pants, and bring back that Kate Spade purse—at least for those who happen to be fond of pastels and large straw hats.
But one of the co-founders of preppy fashion brand Kate Spade, Pamela Bell, is airing out more than her summer wardrobe—the fashion founder is selling off her nearly 5,000-square-foot East Village townhouse.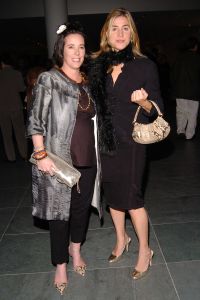 "I turned it back into a single family home from multi units," Bell, who purchased the home at 215 East 12th Street in 2007 for $4.3 million, told the Observer. "It was a big project! But I left the original flooring the original molding, and it's still kind of a blank slate. I just brought it back to its bones."
The four-story brick townhome is now a grand eight-bedroom, five-bathroom residence, though there is still an "income producing apartment" with a living room, bedroom, bathroom, and kitchen, per the $16 million listing held by Sloane Square broker Farrah Kleiner, which can be "easily integrated" into the rest of the townhouse.
"We're selling it because it's massive—two of my girls have gone to college," Bell explained, "and I just think it's ready for a new family. It is very big!"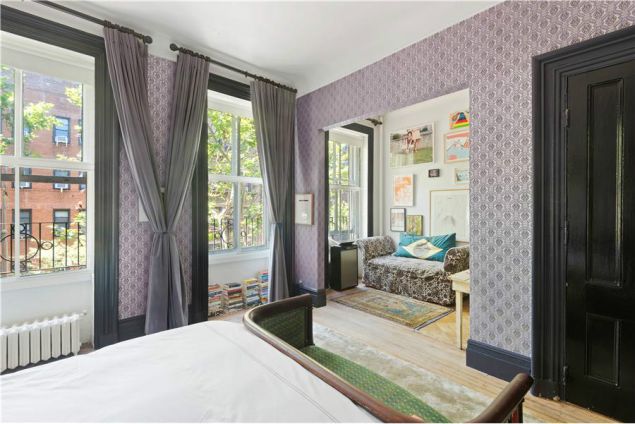 Bell, who is one of the four original partners in the Kate Spade brand (they sold their shares to majority share owner Neiman Marcus back in 2006), let her three children have their share of input, like with a John Derian sofa which, still in its cover, became something of an art project for her daughter's class, where they covered it in graffiti with markers, as Bell told The New York Times. A similar attitude was taken with fabric painted chairs courtesy of her son, and she also let another daughter and friends paint a room and adorn it with wall stickers.
Bell purchased the home from a man who was "Andy Warhol's photographer—he had lived here for forty years with his wife; it was this funky space and feeling. I just fell in love early on."
"It just has a very good spirit, a lot of light, and it just has a great energy—I was very drawn to it when I came in," she continued. "I renovated a couple bathrooms, I built a brick wall in the backyard, and I put in a grand kitchen." The backyard has continued to be one of Bell's favorite spots in the home, in large part because her children love it: "my son comes home with all his friends and plays in the backyard."
The brick townhouse also has two wood-burning fireplaces, ceilings up to 13.5 feet, a living room with French windows, and a renovated eat-in kitchen that leads to a garden. There are also floor-to-ceiling windows, a "dramatic" skylight, and a master suite with a separate dressing room and sitting area.
As for where Bell plans on going next? Don't expect her to stray too far from the area.
"We will probably stay in the neighborhood," she said. "I've been in the East Village—with the exception of a brief period on Park Avenue—pretty much since I got here twenty years ago!"