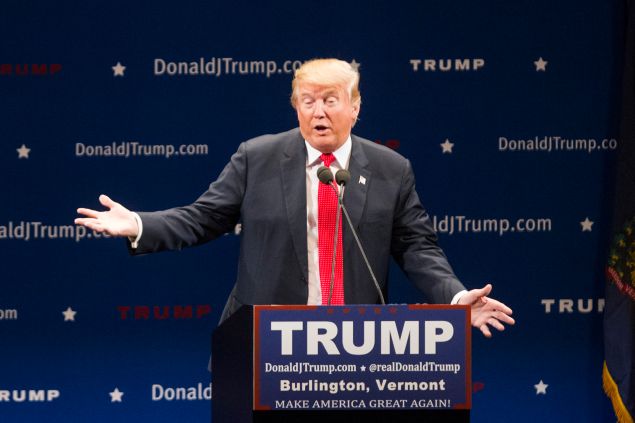 Throughout the presidential campaign, many candidates in both parties have dealt with online trolls using their names on bogus campaign sites. Democratic frontrunner Hillary Clinton faced this obstacle early in her campaign when Reuters discovered that the URL hillaryclinton.org was a spam site filled with malicious software and owned by an administrator in the Cayman Islands. 
Former Republican candidate Ted Cruz encountered a similar problem after his health care filibuster—an anonymous group registered the domain TedCruzforAmerica.com, which redirected users to the federal health insurance exchange. (Now that Cruz has exited the presidential race, the URL directs to Maple Match, a website for Americans to find "ready-to-marry Canadians" in case Donald Trump becomes president).
The presumptive Republican nominee, by contrast, took immediate action to protect his reputation. Soon after Trump began his presidential campaign, he bought more than 3,000 domain names to keep his image from being tarnished online. Some of the URLs were general, like that of his campaign website (DonaldJTrump.com) while others shed a negative light on Trump and his organization (DonaldTrumpPonziScheme.com).
Campaign strategists agree that domain name gaffes are embarrassing, but they differ on whether the Trump route is excessive or a needed abundance of caution.
"The higher up for office you go, the more important domain names are," Laura Packard, a partner at Democratic digital strategy firm PowerThru Consulting, told the Observer. "If you're running for city council, is anybody gonna be motivated? But if you're running for president people will obviously be motivated. Politicians need to take control of their own names."
On the other hand, Jordan Lieberman, president of the right-leaning advertising management company CampaignGrid, contends that domain names are actually less important now that search engines have cracked down on so-called "Google bombing," or artificially elevating a site's ranking in search results by linking a word or phrase (like "Donald Trump" or "Hillary Clinton") to the site's algorithm.
This practice was often used as a joke by opponents of particular politicians—in 2003 a group of bloggers were able to make a biography of George W. Bush the first result when anyone Googled the phrase "miserable failure." But now that Google's tool for locating satirical sites is no longer available, Lieberman said it's harder for politicians to protect their image online.
"There are now so many top level domain names available that it's virtually impossible to lock down every embarrassing one," Lieberman told the Observer.
That being said, public figures can take some precautions. Packard advises candidates to buy the URLs for your own name (.com, .org and .net versions) and keep renewing them every year, even if you don't use them.
Lieberman added that politicians should employ search engine optimization to ensure that their official campaign site is the top result on Google.
"I can always come up with something that Donald Trump hasn't thought of. He doesn't live in the real world of political campaigning. For every Donald Trump, there are 10,000 guys who can't do what he's doing." – Jordan Lieberman
Buying even a few of the negative domain names associated with a candidate may not stop every online criticism, but both strategists agreed that it was a worthwhile place to start.
"If you have an idea of what the attack lines are going to be against your campaign, it would be good to take those off the market," Packard said. "If you can get some of the obvious things off the table, you make your opponents work harder to attack you."
"Buying the obvious ones is a worthwhile precaution, but only buy the 10 or 20 most important sites," Lieberman added. "I can't stop every name from being created, but I can make sure traffic is directed to the right site."
Packard concluded that buying thousands of URLs in Trump-like fashion would be cost effective, especially since domain names are on average only 10 to 15 dollars each.
"In the scale of presidential campaign spending, that's a rounding error," she said.
Lieberman, however, said that no presidential candidate should take anything for granted online, especially during an election this unpredictable.
"I can always come up with something that Donald Trump hasn't thought of," he said. "He doesn't live in the real world of political campaigning. For every Donald Trump, there are 10,000 guys who can't do what he's doing."
Disclosure: Donald Trump is the father-in-law of Jared Kushner, the publisher of Observer Media.