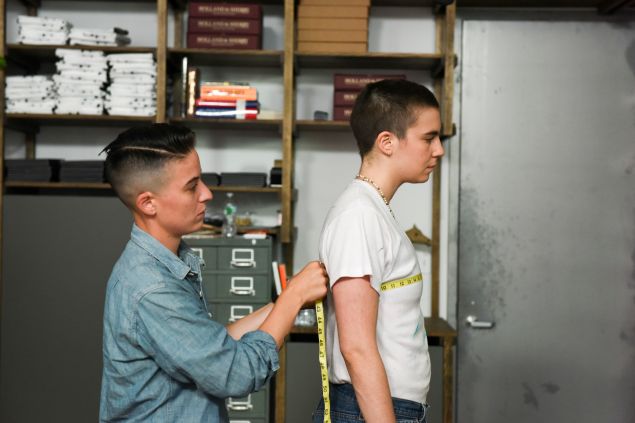 THURSDAY JUNE 23
Panel: "Redefined and Redesigned: Defying Gender Norms in Fashion" at The Brooklyn Historical Society.
In honor of Pride Month, The Brooklyn Historical Society will host a panel to explore the evolution of gender and defiance of gender norms in the fashion industry. The panel, lead by editor in chief of the queer style website DapperQ Anita Dolce Vita, will include designers, models and bloggers. Panelists will include Peche Di, a transgender model and founder of Trans Models (one of the world's only transgender modeling agencies), fashion designer Andre Landeros Michel of LANDEROS NEW YORK and Rae Tutera of the Brooklyn-based made-to-order suiting company Bindle & Keep. Tutera was recently included in the HBO documentary Suited, directed by Jason Benjamin and produced by the ubiquitous Lena Dunham and fellow Girls producer Jenni Konner, which follows seven transgender and gender-nonconforming people seeking suits at Bindle & Keep.
Brooklyn Historical Society, 128 Pierrepont St., Brooklyn, NY 112022.Thursday June 23, 6:30pm. $10/$5 BHS Members, Reservations Required.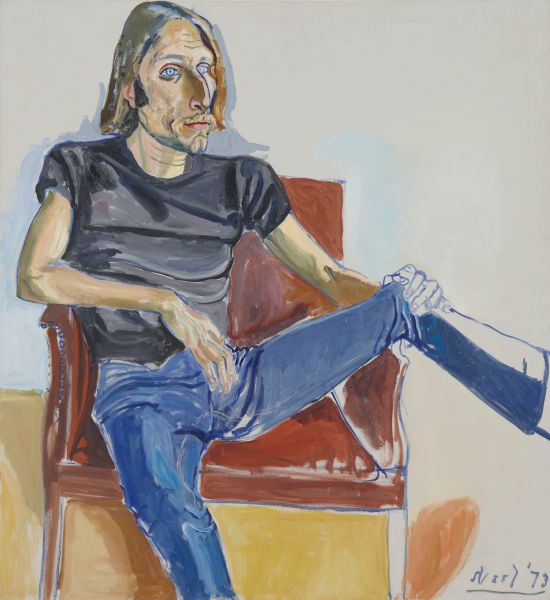 Opening: "The Female Gaze, Part Two: Women Look at Men" at Cheim & Read
Watch as prominent women of the art world invert the male gaze at Chelsea gallery Cheim and Read in its second iteration of the show "The Female Gaze," the first part of which, titled "Women Look at Women," appeared in 2009. The show will celebrate work by artists Louise Bourgeois, Lynda Benglis, Huma Bhabha, Cindy Sherman, Alice Neel, Jenny Holtzer and Cecily Brown among a long list of others; their work raises the question: "Would we react differently to these works if they were made by a man?" Pieces in the show explore gender and sexuality by reversing gender roles. The gallery explained in a statement, "Instead of seeing the men as oppressors, men become the subject of their gaze."
Cheim & Read, 547 West 25th Street, New York, NY 10001. Thursday June 23, 6-8pm. Free to the public, no RSVP required.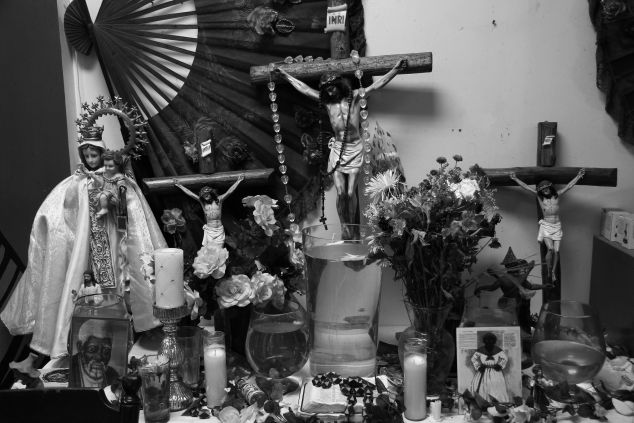 Film: Sketches from the Underground at the Brooklyn Museum
The Brooklyn Museum will kick off its second annual Heritage Film Series with the U.S. premiere of Lucas Machowski's 2015 film Sketches from the Underground, as part of the museum's Thursday Nights event series hosted by Squarespace. The annual series is a collaboration with the boutique non-profit organization CarribBeing, whose mission is to "build community through the lens of Caribbean cinema, culture and art." The series aims to honor contemporary Caribbean cinema, through events involving filmmakers from New York City, Puerto Rico, Jamaica, Trinidad and Tobago. The film, described as a "love letter to New York City," pays tribute to the city's poets and musicians from the Caribbean, Poland, France and the UK. Sketches from the Underground won the award for Best Picture in the Art/Animation division at the 2015 Portobello Film Festival in London. Bronx-based rapper La Bruja will perform at the event, hosted by musician Lyrikal.
Brooklyn Museum, 200 Eastern Parkway, Brooklyn, New York, 11238-6052, Steinberg Family Scultpure Garden, First Floor. Thursday June 23, 8pm. Open to all, no RSVP required.
FRIDAY JUNE 24
Evening Event: "MetFridays: Pride!" at the Metropolitan Museum of Art
Celebrate pride with an evening at the Met! As part of its MetFridays: New York's Night Out series, The Metropolitan Museum of Art is setting up shop to host various pride-centric events from 5-9 p.m. ranging from dancing to panels to cocktails. Kick off the evening with a silent disco at the Temple of Dendur hosted by Love Heals, the leading provider of youth sexual health and HIV/AIDS education in the city. Later, listen to a performance by the prestigious string quartet ETHEL and friends, and enjoy a sci-fi-inspired poetry reading by Janani Balasubramanian of the trans south asian performance art duo DarkMatter. Other events include a talk on perfume, a performance by the New York City Gay Men's Chorus, and panel on the intersections of race, gender, class and regionality. All the while, enjoy cocktails and mingling at various bars throughout the venue, including—weather permitting—one atop the Met's roof.
The Metropolitan Museum of Art, 1000 Fifth Avenue, New York, NY 10028. Friday June 24, 5-9pm. Free with museum admission.
SATURDAY JUNE 25
Panel and Opening: "Invisible Adversaries: Marieluise Hessel Collection" at the Hessel Museum of Art of Bard College
You might have to travel upstate for this one, but surely the trip will be worth your time. The artist Ulrike Müller and curator Lauren Cornell will hold a conversation with the prominent performance and video artist VALIE EXPORT to open the Hessel Museum of Art's tenth anniversary exhibition Invisible Adversaries. The exhibit, curated by Cornell and Tom Eccles, is built from pieces in the museum's Marieluise Hessel Collection and around themes in Export's eponymous 1976 feature film—namely confronting misogyny and the thinly veiled Nazi ideology EXPORT encountered in her native Austria. She is known for her Actionist-inspired work, which inspired pieces like TOUCH and TAP Cinema, for which she wore a styrofoam television around her chest and allowed pedestrians to reach inside to "engage." The overtly feminist piece plays with physical manifestations of the male gaze. Cornell has chosen to include celebrated pieces by a slew of artists including Lynda Benglis, William Pope.L, Tony Oursler and Cindy Sherman from the 1970s to the present. Aside from screenings of EXPORT's film, The Hessel will also present the East Coast premiere of Hito Steyerl's Factory in the Sun which showed at the 2015 Venice Biennale, an installation by Carrie Mae Weems, and a painting by Cheyney Thompson in collaboration with Amy Sillman. 
Bard College, Annandale-on-Hudson, N.Y., 12504-5000. Saturday June 25, 1-4pm. Reservations required for seating the free chartered bus to the event and for the opening reception.
Tour: "Queer Bodies Tour" at the Whitney Museum
The Whitney invites guests to celebrate pride with their "Queer Bodies" tour in honor of Pride week. If you can't make the inaugural tour on Friday at 8 p.m., "Queer Bodies" will also run on Saturday at 7 p.m. and make its final route on Sunday at 4 p.m. The tour will walk through the popular exhibition Human Interest: Portraits from the Whitney's Collection on the building's sixth floor, which includes some 200 works of portraiture spanning from the early 1900s through the present. "Queer Bodies" will focus specifically on portraits that explore gender, sexuality and LGBTQ perspectives.
The Whitney Museum of American Art, 99 Gansevoort Street, New York, NY 10014, Sixth Floor. Tours available Friday June 24 at 8pm, Saturday June 25 at 7pm, and Sunday June 26 at 4pm. Free with museum admission; no rsvp required.
Q&A: "Mascara, Mirth & Mayhem: Independence Day on Fire Island" at the Bureau of General Services—Queer Division (BGSQD) in the Center.
Susan Kravitz's new photography book Mascara, Mirth and Mayhem is slated for release in early July, but you can ask her questions as soon as this weekend! At the BGSQD, the Long Island-based photographer will be holding a question and answer session to discuss the book, which captures several decades worth of moments from the annual LGBT event The Invasion of the Pines. The annual unofficial event, which takes place on Fire Island every July 4—appropriately the book's expected release date—began as a response to an incident where a customer in the Pines neighborhood of the island was denied service at a restaurant for appearing in drag. Ever since the 1976 incident, residents of the island's Cherry Grove and Pines areas cross dress as a means of standing up to discrimination, and engage in a ferocious celebration of pride that "invades" surrounding neighborhoods. According to Kravitz, her photos capture the "rebelliousness, the high camp, and the joy of the Invasion" while documenting the LGBT movement's evolution.
Lesbian and Gay Community Services Center, 208 W. 13th Street, New York, NY, 10011, Room 210. Saturday June 25, 7-9pm, no reservation required. Suggested donation $5.
Party: "Everybooty" at BAM Fisher
To close off the day, bring your booty to Brooklyn Academy of Music for a LGBT-focused four-floor art party. The popular annual event at BAM's Fisher building will feature miscellaneous DJs, installations. For $75, guests can enjoy a pre-party on the Fisher rooftop and indulge in an hour-long open bar at sunset. Featured at this basement-to-rooftop celebration are performers like the electropop duo Hi Fashion, Nomi Ruiz's band Jessica 6, and artwork curated by artists Sean B, Sarah Jenny, Jason Roe and Ricardo Osmondo Francis. BAM has dedicated this event to the victims of the Orlando tragedy, their families and their loved ones.
BAM Fisher, 321 Ashland Place, Brooklyn NY, 11217. Saturday June 25, 9pm-3am. Tickets required.
SUNDAY JUNE 26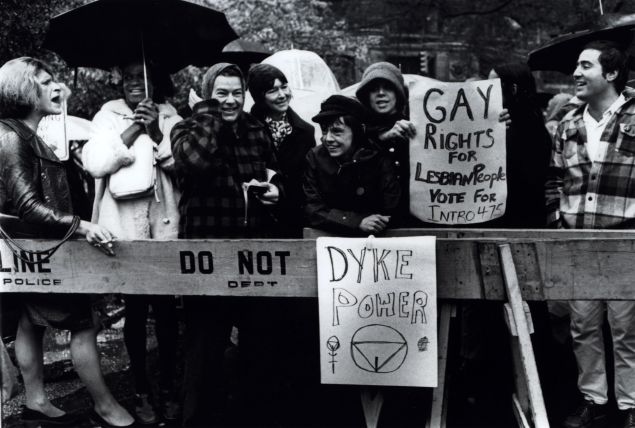 Closing: "The Blossoming of a Queer Enlightenment" at the Leslie-Lohman Museum of Gay and Lesbian Art
This exhibit at the Leslie-Lohman Museum of Gay and Lesbian Art—the first and only gay and lesbian art museum in the world—includes over 115 works by more than 40 artists including Paul Cadmus, Marion Pinto and Harvey Milk that capture the years between the Stonewall riots and the first inklings of the AIDS crisis. "It was an age when gay men, lesbians and trans folk began to look inward," said Museum Director Hunter O'Hanian in a statement. "They could possibly free themselves from the social repression that had been forced on them for decades." The show explores social and political themes relating to fashion, body and self, and sexual expression, and is particularly relevant even in 2016, which according to O'Hanian "feels like another age of enlightenment."
Leslie-Lohman Museum of Gay and Lesbian Art, 26 Wooster Street, New York, NY 10013. Exhibition ends July 3. Open to the public, no RSVP required.