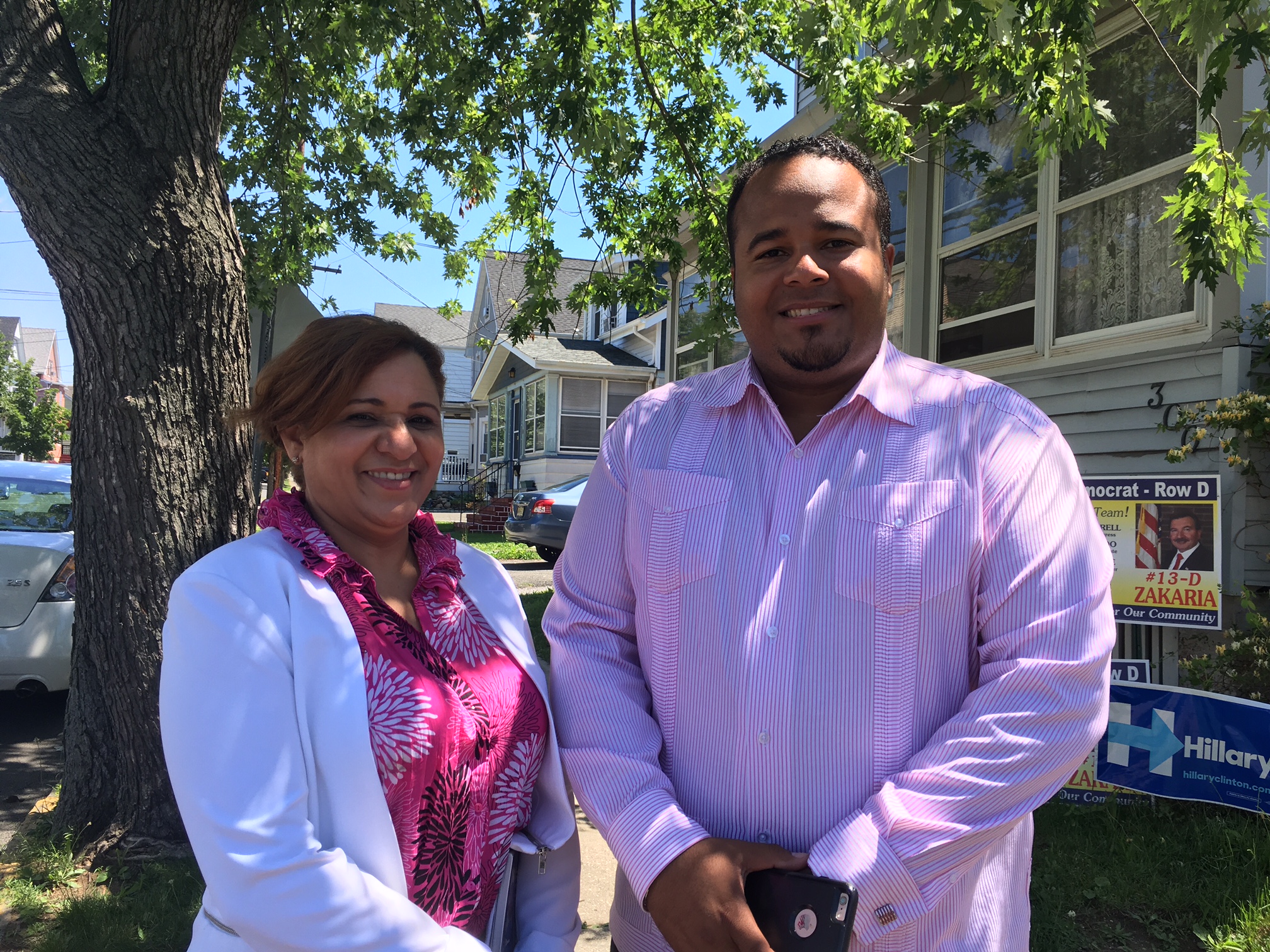 PROSPECT PARK – Councilwoman Cristina Peralta and council candidate Daniel Cabrera are handing out flyers that feature a scanned image of the Prospect Park Democratic ballot. The flyers have the name of Democratic presidential candidate Hillary Clinton highlighted and an arrow that connects Clinton's name to the names of Peralta and Cabrera. All other names on the ballot including Congressman Bill Pascrell, Sheriff Richard Berdnick, Surrogate Bernice Toledo, freeholder candidates and county committee members are blurred out.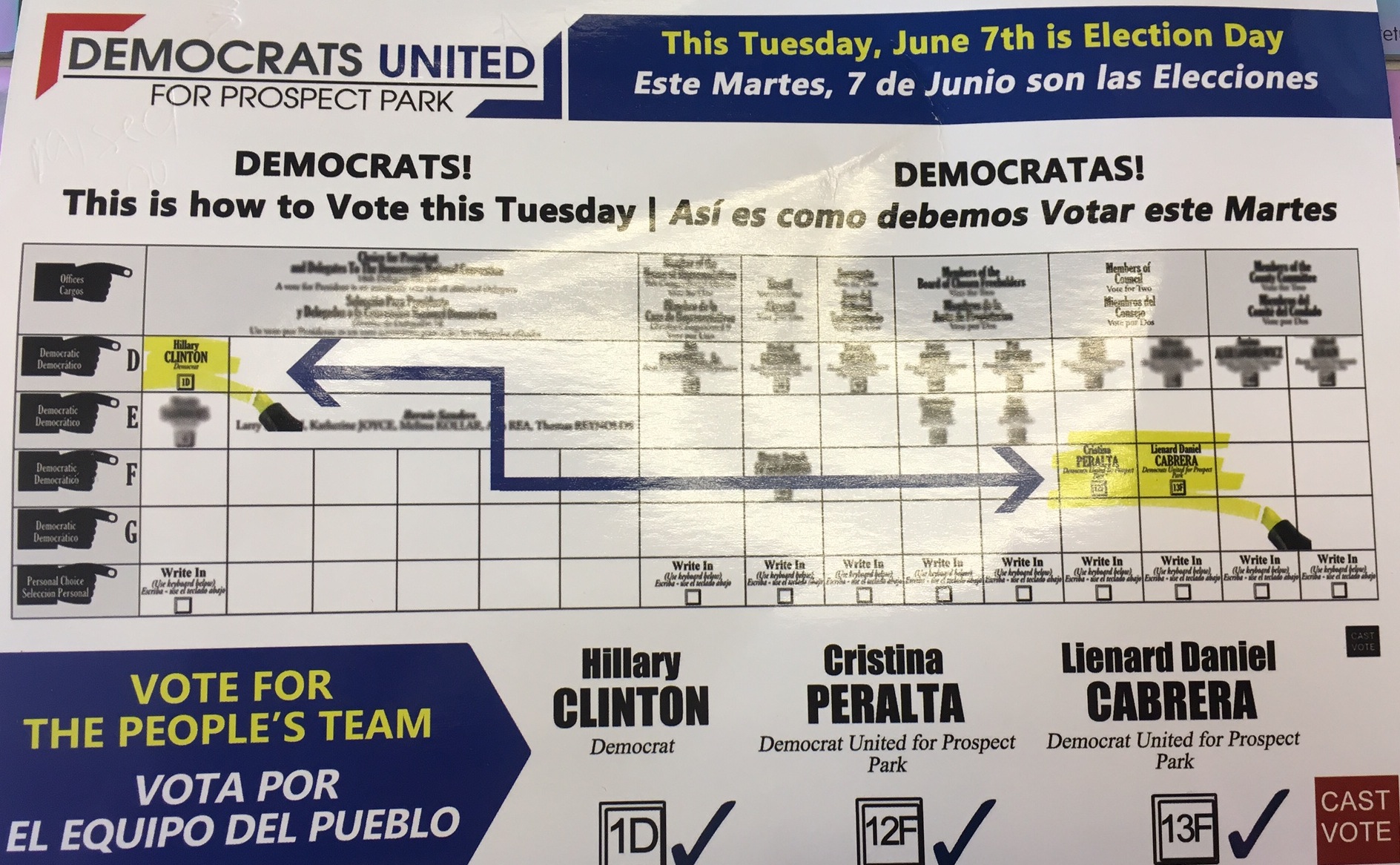 According to Cabrera, while the names of those on the Passaic County line under Clinton are blurred, he and Peralta are still supporting all candidates running with the county committee with the exception of Adnan Zakaria and Anand Shah, the two Prospect Park council candidates Peralta and Cabrera are opposing. Shah and Zakaria, an incumbent, have the support of the Passaic County Democratic Committee and appear on the county line.
"We are in full support of all the county committee members and Richard Bernik, Bernice Toledo and everybody on the line. We are with all the candidates except locally," Cabrera said.
Peralta said that the visual representation of the blurred ballot was necessary because of her shift from "Line D" where she has previously run on the county line to "Line F" on the ballot where she and Cabrera are this year.
"We had to make a difference because for nine years I have been on the line D and it is hard to explain to town residents that we are not on the line D," Peralta said. "We had to teach the people how to vote. That doesn't mean we aren't supporting the county candidates on the other levels. We are. But we had to make people know that we are down here."
Peralta said she understand that the ballot forms may "upset some of the county people who are running" but that there was no malicious intent to the move.
"When people see me they say, 'Line D all the way.' I have to say 'No!,'" Peralta said.
While Peralta and Cabrera say they support all county candidates and are running with Clinton's name on their flyers, Shah and Zakaria are on the county line with Clinton and the rest of the blurred-out candidates. They are branding themselves as "The Hillary Team."
"I think it is totally wrong because they flyer says 'Democrats united for Prospect Park.' They are part of the Democratic team so they should be supporting the entire Democratic team including themselves, obviously," Shah said. "What I notice is they blurred everyone out and support only Hillary Clinton. On the other hand we are supporting all the candidates in row D. They aren't worried about anyone else."
While Shah and Zakaria have the support of Prospect Park Mayor Mohamed T. Khairullah, Peralta received the endorsement of LUPE PAC (Latinas United for Political Empowerment) on Monday.
According to Peralta, the campaign is primarily run by volunteers due to low fundraising. According to campaign manager Luz Batista, no more than $3,500 has been raised by Peralta and Cabrera and, because of low totals, an A-2 form has been filed with ELEC. A-2 forms can only be filed by joint candidate committees if less than $8,500 has been raised.