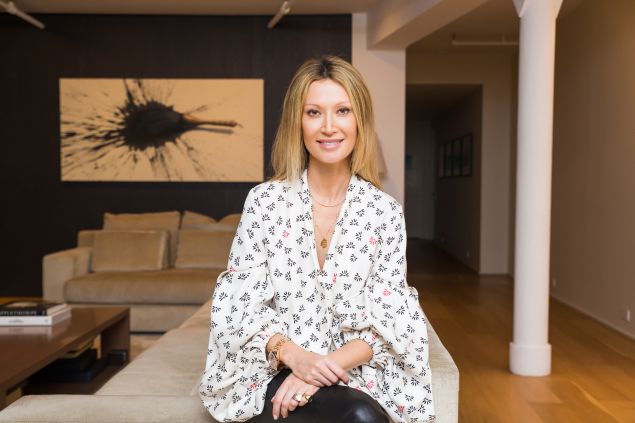 Sylvie Millstein lives in one of those New York apartments that, upon first sight, evokes a single emotion from every visitor: pure envy. As soon as the elevator opens up ino the fifth floor abode, located smack dab in the middle of Soho, you have to try and keep cool and calm as you drink in the view of the expansive kitchen, the airy living room with a perimeter of squishy couches and the dining room engulfed by a huge nude painting.
From the back wall, three images of Kate Moss, each captured by a different photographer or artist, smize in your direction. Then someone whispers that David Bowie once lived in the penthouse of this building, which his widow Iman still occupies.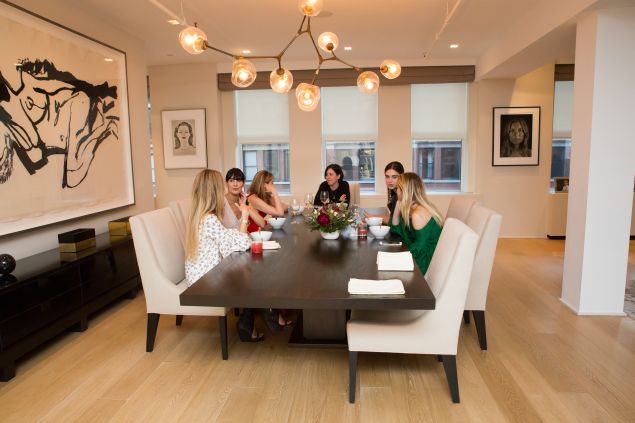 Anyways, it seems a jaw-droppingly gorgeous apartment is the right starting point for a proper dinner party, in 2016. Millstein, the French Japanese designer behind the label Hellessy, opened up her home to journalists and influencers to present and subsequently celebrate her 2017 resort collection.
While the fashion set flipped through her range, Millstein played the gracious host. She explained that her designs were inspired by Feria de Mataderos, a Buenos Aires fair where the Gaucho culture is on display, resulting in the off-the-shoulder silhouettes and delicately ballooned sleeves, plus a number of airy skirts and billowing dresses. The cuisine, prepared by the professionals at BigLittle Get Together, Chefs Flannery Klette-Kolton and Lauren Gerrie, was even inspired by the collection on show.
"Everybody's been busy and Resort is such a long season," said Millstein. "This is a way to show it from my home, have a little drink. You know, it's inspired by the collection and how everyone sees the clothes." It was indeed a welcome reprieve from countless showroom appointments and various fashion shows.

Inspired by Millstein's creativity, we asked the designer for her dinner party tips. Graciously, she complied.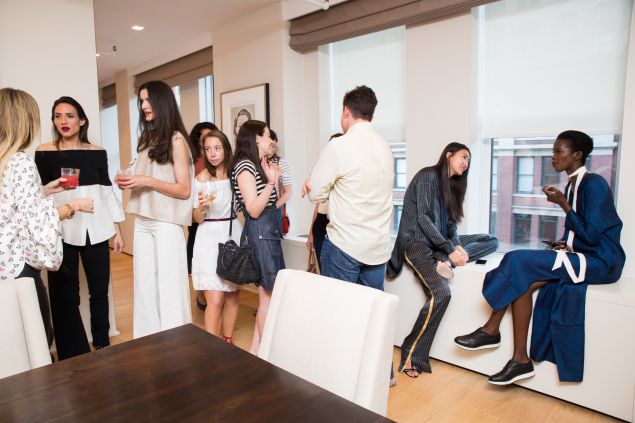 Opt for a casual vibe: "I throw very casual dinner parties with friends. I'm not a four-course menu kind of hostess; I like it family style. Even tonight I have chefs who are really talented and will plate everything, but you can sit wherever you want. You can mingle, it's free. We're downtown, not uptown!"
And a low-key outfit: "I just throw on a top and leggings or a pair of jeans, depending on who I have with me."
Decorate simply and tastefully: "I'm not super big on flowers. We have one flower arrangement on the table and one in front of the door. Our decoration is like my designs. It's a little bit minimal with one huge statement piece. Everything else is simple. I don't want things to look over-the-top or fussy."
Keep the food simple, too: "I like things that are healthy and farm fresh. Dishes made with simple, beautiful ingredients. I like serving vegetables and fish and allowing everyone to plate it however they want."
Pick a powerful playlist: "Tonight is all about Beyoncé. Not that I'm a die-hard fan, but a friend of mine told me I have to see Beyonce perform. Did you go? She was such a great performer and she was beautiful. The show was amazing."
Don't forget a gift for the hostess: "I bring a bottle of wine or candles. Or I go to the Santa Maria Novella shop downstairs from us; they have amazing soap sets."