There were thousands more people than the Stonewall Inn could hold, so they flooded into the streets around the bar. There, they hoisted high rainbow flags and signs—including one that starkly read "NRA = Death," reminiscent of the "Silence = Death" banners that flew in the early days of the AIDS crisis. As city officials—many of them straight and white like Mayor Bill de Blasio and Gov. Andrew Cuomo—spoke, the crowd shouted over them, demanding to hear the names of their dead, mostly gay or trans people of color.
Just two nights earlier, 49 people doing the same thing—gathering while gay—had been mowed down at a similar landmark some 1,000 miles away, the worst mass shooting in the history of a nation that seems hell-bent on out-doing itself in horror.
But these people weren't afraid. They were mournful, yes, but they were angry—and organized. They were ready. After all, they had been at the barricades before.
"Ever since AIDS, I believe our primary posture as a community has been indignation, and we just won't be denied anymore," Peter Staley, the AIDS and gay rights activist, said in an interview. "We really felt like we were being slowly slaughtered, and the country was just standing by and letting it happen. And once we realized if we came together and pushed back, we actually had real power and knew how to wield it, there was just no turning back."
Less than 48 hours after the Pulse shooting in Orlando, Fla., the gay rights movement's next battle was coming into focus, voiced explicitly by a crowd that asked and answered its own questions: "What do we want? Gun control!" they shouted. "When do we want it? Now!"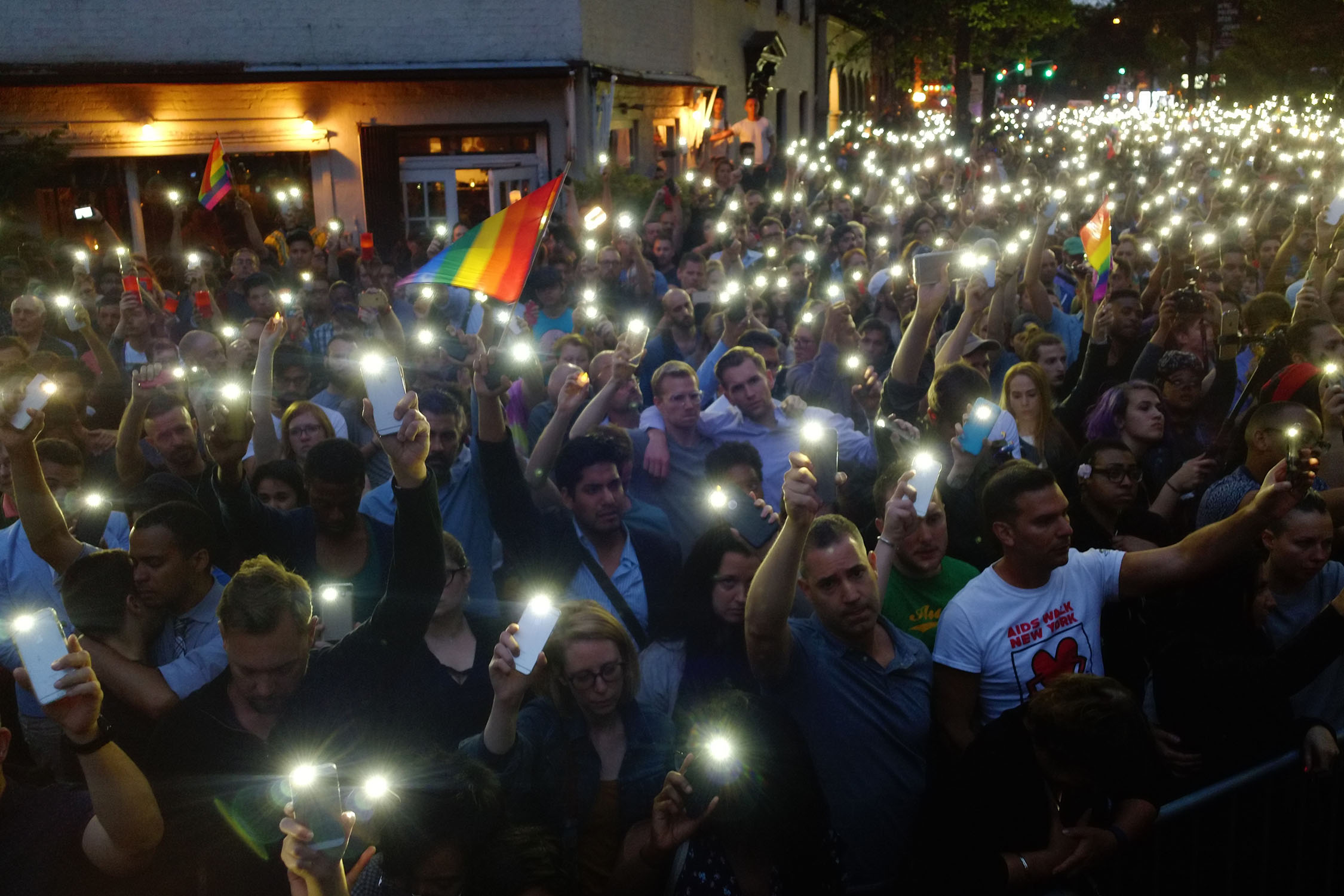 It wasn't just a chant. Already, forces were at work within the LGBT rights movement—a remarkably well-organized and vocal advocacy bloc fresh off the hard-won battle for marriage equality—to adopt gun control as its own cause. In just over a week since the massacre, there have been conference calls and meetings between gay rights organizations and gun-control groups, op-eds and a commitment from the powerful Human Rights Coalition to back "common-sense gun safety reform."
"It's guns that make hate deadly," John Feinblatt, the president of Michael Bloomberg's anti-gun-violence initiative Everytown for Gun Safety, said in an interview. "And that ties together both the civil rights movement, the marriage equality and the gay rights movement, and gun safety. And I think that Orlando has actually put that in very stark relief."
In an indication of how quickly advocates have coalesced and coordinated talking points, Feinblatt wasn't the only advocate who said it's guns that "make hate so deadly"—so did Dan Gross, president of the Brady Campaign to Prevent Gun Violence, who said he began talking with LGBT groups almost immediately after the shooting.
"If we can bring the same passion and smarts to the movement against gun violence that the LGBT community did for the marriage equality movement, the corporate gun lobby doesn't stand a chance," Gross predicted.
Gross' optimism touches on the resounding success of the marriage equality movement in the last decade. Every gay rights activist the Observer spoke with cautioned that the fight began with baby steps down the aisle decades ago; still, few movements gain as much ground in as little time as the fight for same-sex marriage did in just the last decade.
Consider the upward trajectory of the marriage equality fight since 2004, when Massachusetts was the first state to legalize gay marriage. Even four years later in 2008, neither of the finalists for the Democratic Party's presidential nomination, Hillary Clinton and Barack Obama, supported gay marriage—Obama waited until 2012 and Clinton shifted her position a year later. And yet, here and there, states legalized gay marriage, with big ones like New York (2011) driving momentum. In 2004, 42 percent of Americans believed gay marriages should be valid; by May of 2016, 61 percent did, according to Gallup. And a year ago this month, the Supreme Court ruled gay marriage the law of the land.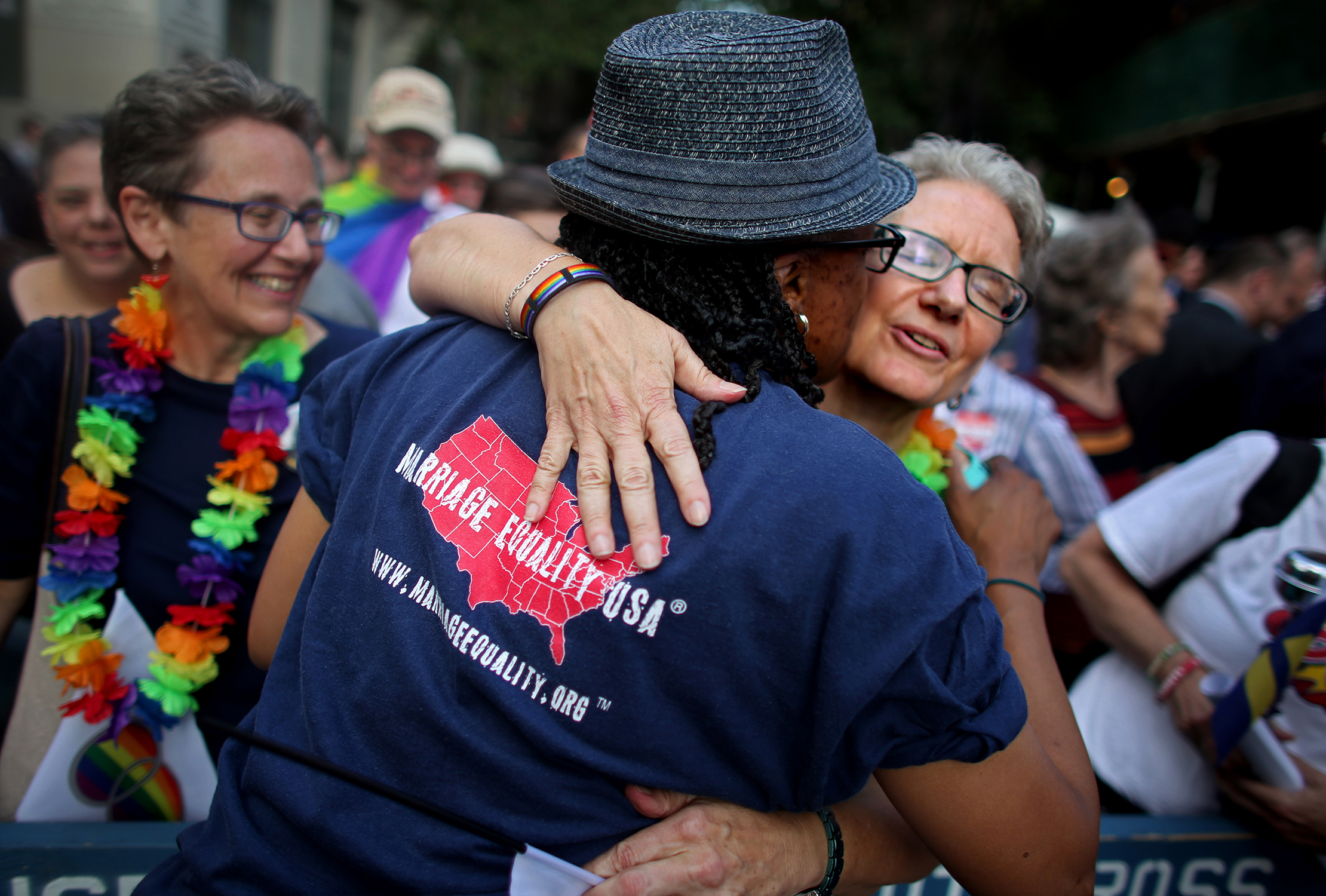 The movement for gun control, meanwhile, has struggled to make similar gains—at least on the national level. In 2004, the year Massachusetts legalized gay marriage, the assault weapon ban enacted in 1994 lapsed. It still hasn't been renewed.
In the last week, many have wondered whether the infrastructure that seemed to change the nation's mind on gay marriage in just over a decade could do the same for gun regulations.
But fighting the NRA, warned Staley, might bear a resemblance to the slower AIDS struggle than marriage equality's relative blitzkrieg. "I almost thought there was a little too much cockiness on our part," Staley said. "We beat AIDS, we got gay marriage passed, we're about to check the checkbox off for defeating the NRA. This is going to be more like AIDS. People forget that was a horrific—just to get the medications that moved it from a certain death sentence to something more manageable, it was 15 or 17 horrific years of activism."
The NRA has worked to make the right to own a gun—for almost anyone to own any gun—even more entrenched in American culture than the idea that marriage was meant only for a man and woman. And the NRA is better-funded than the evangelical Christians who pushed against gay marriage.
In Staley's estimation, the gun-control movement has "been on a terribly difficult roller coaster ride where they win some local battles, but largely are getting creamed on the national level."
"And they know," he continued, "it's a very long-haul battle that they're in. And I just hope that our community realizes that as well."
Even before Orlando, the gun-control movement had taken note of marriage equality's success.
"Here's the truth: We've been stealing from their playbook for a while now—or I guess you could say borrowing," said Gross, of the Brady Campaign, since many in the LGBT community had already been working on behalf of gun control.
Before Feinblatt joined Everytown, he worked for Bloomberg's mayoral administration—both trying to reduce gun violence and trying to pass gay marriage, whose legalization in New York Bloomberg had strongly supported. When he and his boss left City Hall, Feinblatt said, they saw ways to change their gun-safety strategy based on what they'd learned from marriage equality.
"When you deal with a difficult and entrenched cultural issue," he said, "probably the best way to move Washington is to move in the states first, and we feel that that was a lesson that applied to the gun-safety movement."
Gross cited the same strategy, and said it has seen success: expanded background checks, a major priority of the Brady Campaign, have been rolled out in six states since the Sandy Hook massacre in December 2012. In individual states where marriage was legalized, people could get married. In states where background checks get passed, people are safer, Gross said—but there's more to it than that.
"It begins the momentum that ultimately results in that kind of sea change, that tipping point, that results in change like we saw with marriage equality," he said.
Matt McTighe, a longtime LGBT rights activist, is currently working with Everytown to pass a background check ballot initiative in Maine; he spent years there working on marriage equality.
"With marriage, we had a really concrete thing," McTighe said. "I think the gun violence prevention movement is doing that largely as well—they're really trying to focus on specific battles."
Gross said part of the way they've won those battles is another lesson learned from marriage equality: "Establishing where the common ground is." Maybe not everyone agrees on the extent to which guns should be restricted, but there are many things most people do agree on.
"For Brady, where we've been able to establish that common ground is keeping guns out of the hands of people we all agree shouldn't have them, and just be relentless in that messaging," Gross said.
(That common ground and statewide momentum may be getting somewhere: Congress held a vote on this week on barring people on terror watch lists from buying guns. It was voted down, but that the measure even made it to the floor for a vote is notable.)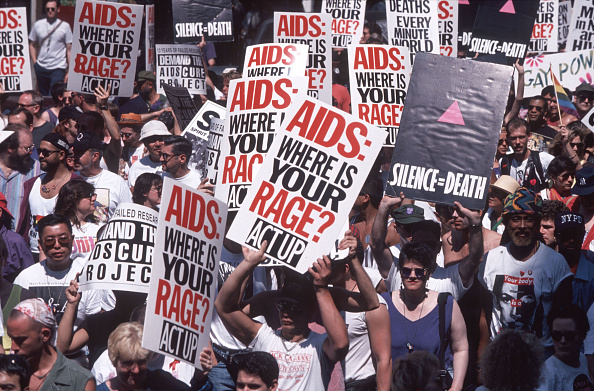 And that type of double-barrelled activism harkens back to an earlier fight that mobilized the gay community: the fight against AIDS, led by groups like ACT-UP who weren't afraid to lie down in the middle of the street—or St. Patrick's Cathedral—for die-ins—or to climb the exterior of government buildings and hang giant banners with slogans like "Silence = Death."
"We bring an army," Staley, an ACT-UP veteran, said. "With each mass killing you had all the college students at Virginia Tech, and you had the parents at Sandy Hook, but this time you woke up an entire community in the U.S. who seems to be coalescing around the idea that we want to be part of this movement now…I think that's the big difference."
The army is assembling. Allen Roskoff, a longtime gay activist and president of the Jim Owles Liberal Democratic Club, said he's seen people who were previously interested only in LGBT politics—and even non-political people who "basically talk about the Tonys and the Oscars"—jumping into the movement.
"I have never seen so many messages on my Facebook from my sisters and brothers on assault weapons," Roskoff said. "People who are basically single-issue are not addressing this as a single issue now: they're addressing it as an issue of guns. I think it's going to be a revolutionary movement in the LGBT community."
Of course, another movement has sought to attract LGBT support post-Orlando—the Trump Train. But Donald Trump's effort to appeal to "the gays" by banning Muslims from entering the country doesn't seem to be working as well—every gay activist the Observer asked about Trump spoke of him dismissively, if not worse. (Roskoff recalled a phone call with Trump several years ago after Trump came out against gay marriage: "I really felt like I was talking to a moron.")
"I would be really surprised to find an organization of LGBT people that support Trump," Eunic Ortiz, president of the Stonewall Democratic Club, said. "Because he is the antithesis of what the LGBT community stands for and has stood for the last 50 years."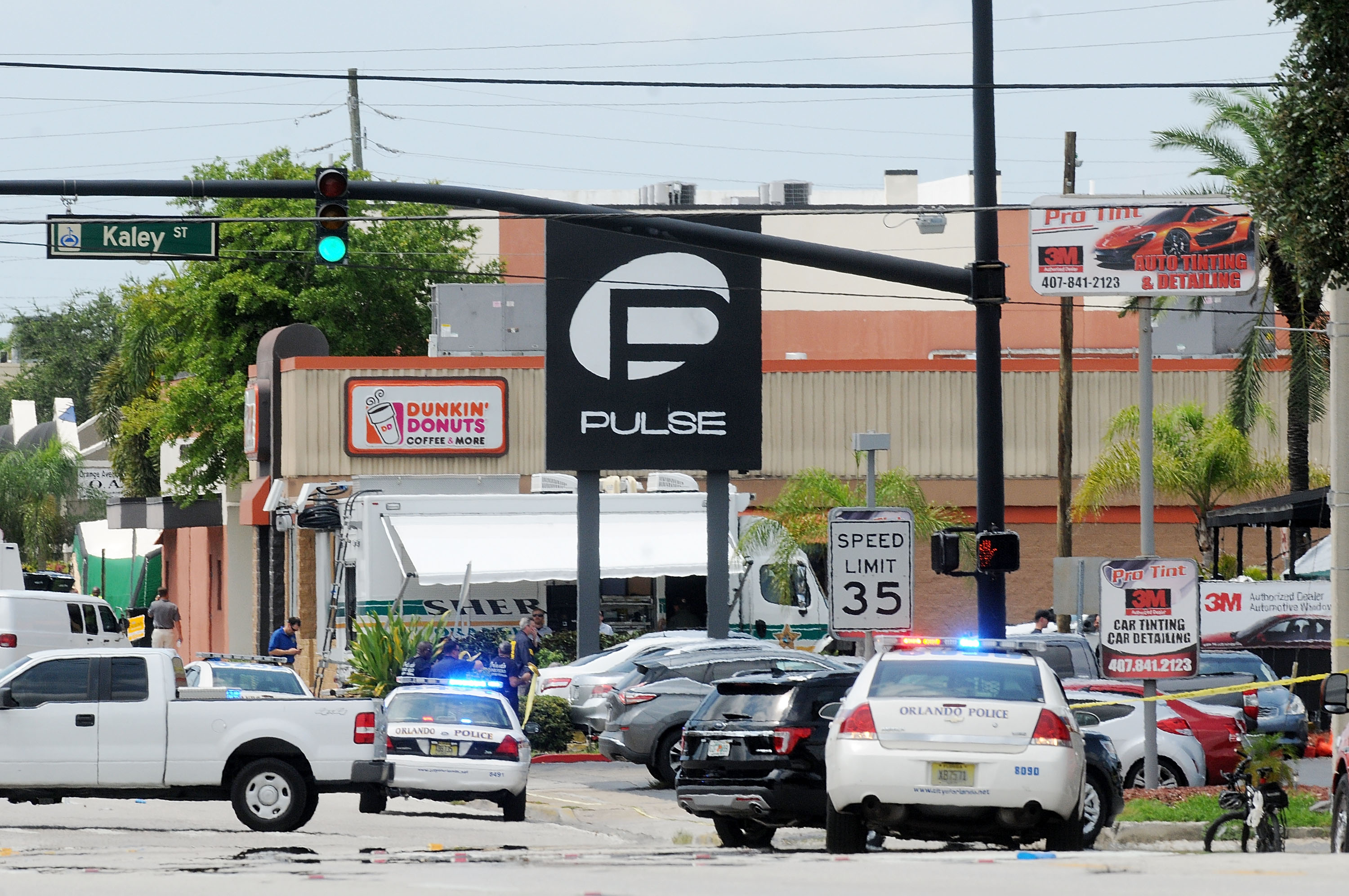 It's not exactly surprising that LGBT people are more likely to support gun control than Trump. After all, it's a demographic that broadly has supported Democratic candidates over the past few decades.
But beyond politics, there may be another reason why the partnership seemed to develop so seamlessly. Even before the shooting at Pulse, lesbian, gay, bisexual and transgender people have been frequent victims of violence in this country. In 2014, 1,178 hate crimes, or 18.4 percent of all reported, were based on sexual orientation, according to the FBI.
In 2015, murder rates among transgender people hit historic highs, according to the Human Rights Campaign, with 21 killed by November of that year. Eleven of them—all trans women of color—were killed by guns, according to HRC's report.
(Localities are not required by law to report hate crimes to the FBI and many have reported none in several years—making it likely they are under-counted.)
Rabbi Kleinbaum noted that many of those at Pulse were trans people of color, and said at her synagogue, they're always aware of their increased risk of violence—on account of being a community that is both LGBT and Jewish.
"But the other thing is: we're not afraid. We have faced all different kinds of things," she said. "And that's important. And people are eager to actually turn the mourning into action."
And so a movement that's gotten angry and gotten results—not without plenty of failures and setbacks along the way—trains its scope on a new target. If anyone can get a conversation on gun violence that's been stagnant at the national level flowing again, might it be the grassroots group of people who forced the federal government to turn its attention to AIDS research and who methodically ramped up the march of marriage equality across the nation over a decade?
"That indignation and confidence, and confidence in our power and that we know how to push buttons and we know how to get things done, I think it's formidable," Staley said. "Whether it can work against something as potent as the NRA is the million-dollar question."
Disclosure: Donald Trump is the father-in-law of Jared Kushner, the publisher of Observer Media.