Why would Alexei Ratmansky, our most gifted choreographer, have resurrected this famous but not particularly compelling work of Fokine's? First presented by Diaghilev as an opera/ballet in 1914, later reworked as pure ballet, then again, in 1937, into what became a standard feature of the Ballet Russe de Monte Carlo repertory, it has since the late '40s been more or less consigned to the history books. Well, Ratmansky left Russia, but apparently he can't leave Russia behind; most of his work has been created to Russian music (Shostakovich, Tchaikovsky, Rachmaninoff, Moussorgsky, Prokofiev, Stravinsky, et al.), and he regularly reconstructs Russian ballets, from The Sleeping Beauty to The Firebird to Cinderella to this Golden Cockerel (known through most of its history as Le Coq d'Or.)
In this case, Ratmansky is responding to the Rimsky-Korsakov score ("rearranged" by Yannis Samprovalakis, and less than thrilling) and is clearly in thrall to the legendary costumes of Natalia Goncharova, in their blazing primitive colors and designs (so reminiscent of Matisse) here tactfully reinterpreted by Richard Hudson. Ratmansky says he finds in the ballet "a very interesting and funny storyline that has multiple layers and communicates with the audience on different levels."
But more than a few of us, non-historicists and unfamiliar with the Fokine versions, have had a tough time with the storyline, and a tougher time looking for meaning even on a single level. Yes, this Golden Cockerel is wildly colorful and almost ferociously and cleverly busy, but alas it fails as narration and is utterly without resonance, unlike Ratmansky's Firebird, another old Russian story and Fokine-Diaghilev classic.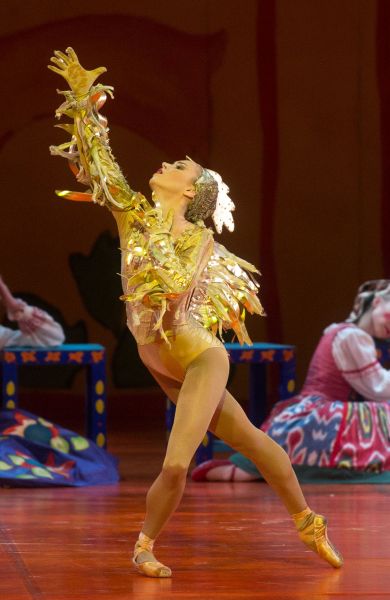 I've now seen Cockerel with three different casts and have finally (with the help of the program notes) mastered the plot, which the first time round seemed practically incoherent. I think I now understand what's going on with the doddery old tsar, the menacing astrologer, the tipsy housekeeper, the seductive Queen of Shekhan, the comic general, the two princes who feature charmingly in the first act and are dead at the start of the second, and of course the title bird, who flashes across the stage again and again and ends by pecking the king to death. (It's a male bird, by the way, danced by a woman).
What we have here is an elaborate plot with lots of unexplained action (oh, how I missed hearing the words Rimsky set his music to!) and no point. There's not a moment of emotional tension or suspense, just a lot of swirling peasants, soldiers, boyars, harem girls, and diluted Orientalia—we're in Persia (I think) as well as Russia. There are lush pillows scattered around a tent, and a nice cut-out camel, and suddenly, and for no reason other than to further populate the stage, a flock of ornately costumed kids.
Even so: Once you give up looking for a sustained narrative or plausible characters, and accept that you're watching a cartoon, there's plenty to catch your interest. Ratmansky's focus is so strong, and his invention so sure, that when you stop being distracted by the gorgeous sets and costumes, you notice how superbly he organizes those swirling peasant girls, those marching warriors, and those inevitable harem girls. His ballet gives rich opportunities to ABT's increasingly interesting and appealing dancers. This is a company waking up from its decades-long slumber.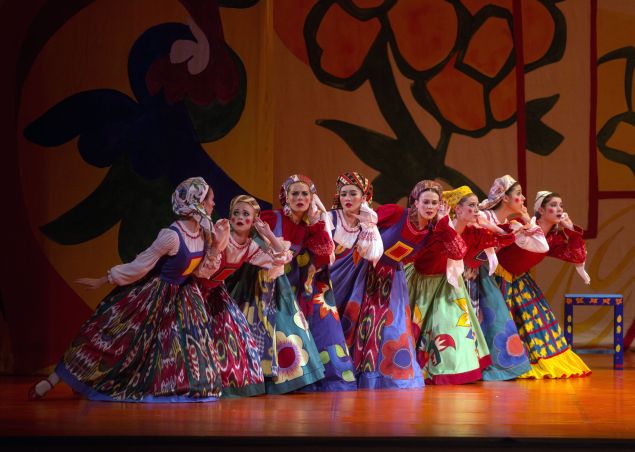 It was a treat to see the venerable Gary Chryst, now in his mid-60s, stitching together a fuddled, sly old fool of a tsar, every moment deliberate yet natural. Jeffrey Cirio, a forceful soloist new to the company, and the ultra-elegant Joseph Gorak were splendid as the princes, and Ratmansky gave them charming material to work with. No dancer could make anything coherent out of the astrologer, but both Cory Stearns and James Whiteside seemed to be having fun hiding in their grotesque get-ups. Martine van Hamel (how we love seeing her yet again) and Tatiana Ratmansky both scored as the fussy, loving housekeeper. That excellent character dancer Roman Zhurbin puffed and strutted appropriately as the general, while Craig Salstein in the same role went all the way, and then some. But, so what? Cartoon characters can benefit from being exaggerated.
As for the two leading female roles: first-cast Veronika Part made a dreary thing of the Queen, undone by her unflattering costume and her heavy dancing; Misty Copeland was saucier and flirtier, to not much greater effect; Stella Abrera was the most alluring and polished of the three. But the character of the Queen remained incomprehensible—she's a cliché, and not an amusing one. The three Cockerels I saw were all first-rate, young Skylar Brandt and Maria Kochetkova both rising to Ratmansky's exciting demands, and Cassandra Trenary most gripping of all—somehow her bird was the most striking, the most dangerous, the most enigmatic. And those legs! Trenary is heading for big things.
But for all the valuable individual performances and inventive choreographic moments, The Golden Cockerel is something of a turkey—I can't see it as a perennial audience favorite since I can't imagine anyone but a critic wanting to see it more than once. Hats off to Ratmansky for the effort, and to the Royal Danes for commissioning it a few years back and to ABT for supporting their Artist in Residence. But this is a bird that just doesn't fly.