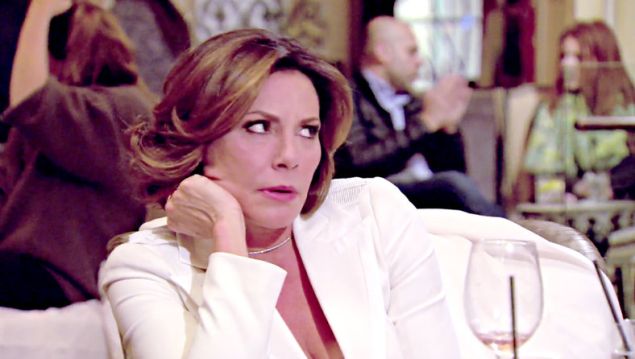 If last night's episode had a theme (if it were even possible to have a theme) it would be how these women cope with reality. Because reality is an inconvenient truth; a truth that you can face and change your actions accordingly, or a truth that you ignore and push aside, content in the bubble you've created around yourself. And it's the choices you make in face of reality that can make you a hated housewife or a beloved one.
Luann is arguably the ultimate reality-twister. Talking to her is like living in the twilight zone: the sky is red, the world is flat, up is down. Luann has to perform intensive mental acrobatics to twist and contort reality to fit into the narrow corridor that is her mind. Like on last night's episode, where Luann thought everything was just fine and dandy between her and Carole and Bethenny. She lives in LaLa land, where Carole and Bethenny taking cautious steps forward and not wanting to get into a fight somehow equals being super awesome BFF-forevs.
This rainbow and butterflies tinged viewpoint isn't entirely due to her delusion – she was clearly in love and practically giddy. Last night, she was like a five-year-old trying to hold it in as she eagerly told Sonja, then Ramona and then Bethenny, that Tom is her soulmate. Even though they had been dating for a mere six weeks (during which Sonja apparently hooked up with him,  Classy.), I don't doubt Luann's love for Tom. Despite how much I loathe Luann, I am truly happy for her. She has been a part of the Real Housewives since forever, and, consequently, a part of my reality television entertainment experience.
However, I still maintain (and will keep repeating every week she mentions wanting to marry Tom until she actually legitimately ties the knot) that Luann will never get married. If she does, she will lose her title. And since being a Countess is so a part of her identity, so a part of how Luann defines herself and sees herself within her cloud of delusion, that letting that go is unthinkable.
Dorinda is another Housewife who has a problem with reality. When she went with Sonja to get a manicure, Dorinda went into bad-friend mode and told Sonja to just forget about making her Prosecco business happen. But, as Sonja implored us in her talking head, "what girlfriend asks her friend to give up their business?" And she's right – it's condescending and demeaning. These women do not value her or her business. She's their fun floozy friend of no consequence. And you could see the hurt in Sonja's eyes as she fought back tears, arguing that she should have been in the Berkshires to have the chance to fix her issues with Bethenny.
Instead of listening to how hurt Sonja was, instead of looking at the pain etched onto her face, Dorinda refused to give in. Instead, she justified icing out Sonja. Like a broken record, her words sharp and cold, she kept repeating herself, standing by her idiocy of not inviting Sonja to the Berkshires. She refused to see reality, refused to see how she hurt Sonja, refused to believe that she perhaps did more harm than good.
As for Sonja, she is a woman who has lived so long in her own reality that she and Luann make the perfect couple (which is also why them being roomies makes for great TV). And now, her world is crashing around her – she's lost Bethenny as a mentor and her castmates are icing her out, possibly damaging her only steady source of income.
Sonja is very similar to Luann in her delusions, but unlike Luann, she's not a snake. This season, Sonja has become softer, more vulnerable. And her vulnerability evokes the viewer's sympathy, a sympathy that reflects on the way Bethenny is perceived. When Bethenny takes down Luann, it's satisfying and entertaining, a popcorn-worthy moment. But with Sonja, Bethenny's feud feels sinister, ugly. I am a white-knighting, ride-or-die Bethenny fan, but with Sonja she is being, quite simply, mean.
Of course, Sonja still clings to some delusions. She declared to Luann and Dorinda that she has officially given up on alcohol. But if she's truly abusing alcohol, she can't just get up one day and stop drinking; especially if the impetus is peer-pressure based. I doubt Sonja will truly give up alcohol. I'm guessing this decision was mostly to get the women off her back, so that she could somehow weasel her way back into their good graces.
Reality hit Jules hard as well – Jules's father is still sick and she still hasn't found a nanny. I prefer watching Jules interact with the girls over her moments at home. Because with the girls, you can see her vulnerability, her fragility. The Jules we saw last night is the Jules we saw in the Berkshires. I find Jules annoying when she is filmed at home, showcasing her privilege and tone-deafness on national television. But Dorinda said something interesting which made me re-think her home life – Jules is lonely. She doesn't have a partner in parenting or in her marriage. And it perhaps explains her awkwardness as she lumbered about the house like a clueless elephant.
Anyway, I totally called it: Michael is basically a greasier version of Josh Taekman, the husband of former Housewife Kristen, who was busted in the Ashley Madison scandal for having an account. Yesterday, it was reported that Jules and Michael are getting a divorce. Reports say he cheated on her, and there were clues during this episode that he might have had a side piece during filming. Examples included him arriving home an hour after he said he would and making comments that he wanted to hire a hot nanny during the couple dinner with Dorinda and Slimy Johnny. Now Michael's relationship with Slimy Johnny makes so much more sense.
And then there's Carole. Carole realized, by having to give up her foster kitten, that she has created a reality where everything is temporary. In a previous episode, she mentioned how her relationship to Adam will probably only last for five years. She may be living in the moment, but she doesn't allow the moment to last and it's a sad way to live. At least she realizes it.
Bethenny and Ramona didn't really have any moments of clarity in this episode, but they were important players in the delusion of others – namely Luann. When Luann went over to Ramona's house to try on some hair extensions, Luann declared that she was going to marry Tom. Ramona's reaction was immediate: she told Luann that Tom still tells his ex that he loves her and bought her a bracelet over the holidays. But that revelation rolled right off her shoulders.
Later, Luann met with Bethenny for drinks. Earlier in the episode, Bethenny gathered some of the women, and planned a work trip to Mexico to try tequila flavors for an upcoming tequila drink she was going to produce. She invited the other women, essentially making it an official Housewife trip. But Bethenny, Carole and Dorinda voted to not invite Sonja and Luann, which came off as a little too mean-girl-esque (Ramona refused to vote and Jules passively agreed). Luann heard about the trip and acted like she was invited, that her invitation somehow got lost in the mail. So Bethenny came to tell Luann that she wasn't invited to the trip to Mexico. But before she could even open her mouth, Luann announced that she was in love with Tom, which inevitably lead to a discussion over her annoyance with Ramona.
Luann doesn't like the fact that Ramona says that she and Tom dated because it means that he liked Ramona, who she thinks is less than her. But unfortunately for Luann, going on six, seven dates is considered dating, whether Luann likes it or not. For Luann, dating isn't a way to find a monogamous relationship, it's just a game where contestants vie for the title of most desirable. The proof? Luann told Bethenny, "Tom picked me." That statement verifies the claim that Ramona made last week – Luann actively tried to get Tom. She saw him as some prize to be won and wanted to steal him from under Ramona's nose.
But then whole conversation just devolved and turned weird. Bethenny, normally a chatterbox, could barely get a word in edgewise. Bethenny was about to disinvite her, but Luann just railroaded her and just kept talking. Luann didn't listen to a word Bethenny said and didn't even let Bethenny get the words out. Luann invited herself onto the trip and accepted her own invitation. And Bethenny – who generally doesn't allow delusional people to walk all over her – somehow managed to drop the ball on this one. The reason for this is simple: Bethenny didn't feel great. She had some sort of bleeding issue which needed to be taken care of, and she was clearly not up for fighting through Luann's delusion. And with that, Luann waltzed out of the bar into the arms of her beloved Tom. And, in a classic "Countess etiquette" move, she left a dumbstruck Bethenny there to pay the bill.
Episode Highlights
— "He may be her soulmate, but I've been doing him forever." Sonja's reaction to Luann's confession that she was in love was entertainment GOLD.
—I'm really hating Carole's choker in her talking head. Please God, let this year be the end of the choker trend. They are just so bad.
— I just want to know who Tom's ex, Carol, is, and I want her to spill. Especially about this holiday jewelry gift he gave her. Does he give that to all his lady friends? Inquiring minds want to know.