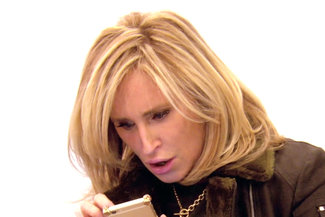 The title of this episode is apt on a number of levels, namely because the central event wasn't just some cocktail or birthday party; it was a dog wedding. There also the comparisons you can draw between these women and their dogs: Sonja's dog is nervous in social situations and a little crazy, while Ramona's dog is like an untrained child who has no concern for your home. But there's also the fact that these women can be – and are – bitches. So an episode centered around a dog wedding seemed like the ultimate satire.
Anyway, the bride-dog and groom-dog-to-be were two Instagram dog celebrities – Finn and Toast. The purpose of the wedding was ostensibly to raise money to save puppy mill dogs, but it was also an excuse to gather the socialites, the jet setters, and minor celebrities of NYC (Housewives, of course, included). Baby, Carole's dog, had been chosen to be a bridesmaid at the wedding and she, along with the rest of the wedding party were taking pre-wedding photos. Carole was there, fretting behind the scenes like a proper stage mom, but for good reason. All the other dogs in the bridal party looked chic and groomed, but poor Baby looked like a drowned rat, her shaggy fur unkempt.
Ramona visited Sonja's Grey Gardens manor, where we learned that Sonja never makes the bed, but did so on this one occasion. But, the upside is that, without the Prosecco sloshing through her floozy boozy veins, Sonja was glowing. Ramona was thrilled that Sonja stopped drinking, and got all giddy at the thought of Sonja being allowed to go to Mexico where they could go back to old times and be the life of the party.
Now that both Dorinda and Ramona has seen the "new" booze-free Sonja, the news trickled down to Bethenny. Despite the harshness and complete icing-out of Sonja a few episodes back, it seems that Sonja's newfound booze-free commitment softened Bethenny's resolve regarding Sonja. And so, while discussing the upcoming Mexico trip over drinks with Carole, Bethenny said something interesting: She said that the Mexico trip was for everyone, so if Carole wanted Sonja to go, she can go.
Which underscored the fact that Mexico was a Housewives trip, and not just for Bethenny's business. Mexico was the trip built into every housewife show, the trip that often gets stretched across three episodes, that is paid for by the show. And it's the one trip all the girls are contractually required to go on. So by barring Luann and Sonja, Bethenny was directly harming both Sonja and Luann's position on the show. This may be an awful thing to say, but it really doesn't bother that Luann would be barred from the trip. Remember, Luann had already been sacked, demoted to friends of the housewives, and was only recently reinstated. Luann has always been, for me at least, infuriating to watch.
But Sonja has become increasingly sympathetic despite Tipsy Girl-gate. There's something sad, almost tragic about Sonja; a pathos that comes from a place of vulnerability. It's a pathos that Luann can't possibly express because she has never allowed herself to be vulnerable on this show. Because Luann (and Ramona for that matter) see this show as a platform to show off their acting chops, not only do they not evoke the sympathy of the viewers, they become a source of viewers' scorn and snark. But Sonja's persona is one of naïveté, of raw vulnerability. And so even if Tipsy Girl was a cunning move of a calculating woman, us viewers can't help but think, "poor Sonja."
And all Sonja wants to do is make up with Bethenny. She keeps looking for events, like this dog wedding, to give her a moment with Bethenny. But see, Bethenny wasn't planning on going to the dog wedding at all because of her vaj: she was bleeding, she was worried about fibroids, and she needed to go to the doctor. So, yet again, Sonja will have to wait another episode to talk to her.
Despite the bleeding and the exhaustion, Bethenny went shopping at Home Goods with Dorinda. Her appointment was for later that day, and she already planned this shopping trip with Dorinda in advance. She felt a little winded and weak, but the thought of being surrounded by deeply discounted coverlets and throw pillows (which, for Bethenny, puts her into paroxysms of pleasure) was enough to drag Bethenny out of bed.
But soon, Bethenny's bleeding got worse. As she pushed the cart through the aisles of plush blankets and raffia baskets, she leaned onto the cart for support as her walk slowed to a crawl. Her skin turned a ghostly white, as it burned up and broke out in a cold sweat. Dorinda immediately dropped everything, left it all at checkout, and rushed Bethenny to the doctor.
Jules also had some medical issues with her lady bits, but where Bethenny's was scary, Jules's was just…comical. She got a hematoma from straddling a window as she tried to climb through. Why she did that, we don't know, but Sonja's face when Jules showed her a pictures of her cut and scarred vagina was nothing less than epic.
Jules had a meeting with executives from Dr. Praeger's, of veggie burger fame. Jules wanted to start a business selling a drink called Alkeme (alchemy spelled phonetically). It's a clearing remedy, from an old family recipe. It's also apparently the only thing Jules knows how to make. It's a smart move – Jules was taking advantage of her 15 minutes of fame. But there may also be a more sinister reason lurking in the shadows: she wanted a fallback option in case things went south in her marriage. And she had good reason to suspect as much. During that meeting, evidence of Jules and Michael's marital issues were everywhere: Michael comparing her creating this business behind his back to cheating on him, Jules saying that she may be so successful he'll be asking for half of her money in a divorce, Jules raising her voice and telling Michael not to make fun of her.
The episode ended with the over-the-top, glitzy dog wedding. The venue was the Highline Hotel. The bride-dog wore custom Marchesa, the bridesmaid-dogs were decked out in pink crystal collars and cashmere sweaters. Simon Doonan, the bride-dog's godfather and fashion legend, walked her down the aisle (the real father, Instagram star The Fat Jewish, couldn't make it). And Cindy Adams, famed Page Six gossip columnist officiated to a crowd of 300 socialites and celebrities and press. It was, in short, the wedding of the year.
After the ceremony, Dorinda gathered the women to inform them that, due to her medical issue, Bethenny would be out of commission for about a month and that they weren't going to Mexico. Bethenny was anemic, and her fibroids were growing astronomically. In short, Bethenny needed surgery, and none of the options were pretty. And just like that, excluding Luann and Sonja became a moot point: the trip is off.
As the women murmured their sympathies for Bethenny's ordeal, Ramona kind of brushed past the whole thing and went right to her favorite topic: herself. All Ramona could focus on was the bathing suit she planned on wearing. She showed Carole a photo of her rocking the bathing suit in question, lamenting the fact that she would have to return it. Bethenny may be going for surgery, but poor Ramona has to return a bathing suit.
I know this is an unpopular opinion, and that a lot of fans hate Ramona. I get it. But while Ramona is self-involved, unlike Luann she's not a snake. And as callous as she may seem, as awful as she can come across, as dramatic and annoying she can be – she can actually be a good person and a good friend. And the proof is this: on Watch What Happens Live, Bethenny said that Ramona was there for her during her medical issue, more than any of her other colleagues; texting her everyday, bringing over iron-rich foods
The reason I think that Ramona is so hated is because she refuses to be vulnerable; even as her marriage crumbled, she refused to put her pain out there on national TV, scolding Andy Cohen when he tried to press her about the divorce. This refusal to open up leads to a kind of apathy; an apathy that manifests itself in histrionics and over-the-top antics. Which is probably why she decided to do the rudest possible thing one could do at a dog wedding: she cut herself a slice of cake before the bride-dog and groom-dog could cut the cake like a proper newly-married couple.
It was only once the credits rolled that I realized that Luann didn't even make an appearance this episode. Sure, her name came up as the other women talked about her, but she didn't actually appear on-camera. In a sense, after weeks of Luann-centric episodes where nobody got anywhere because Luann ran on her own channel, it's nice to have a break from her. God knows her and her delusions are exhausting, even to viewers.