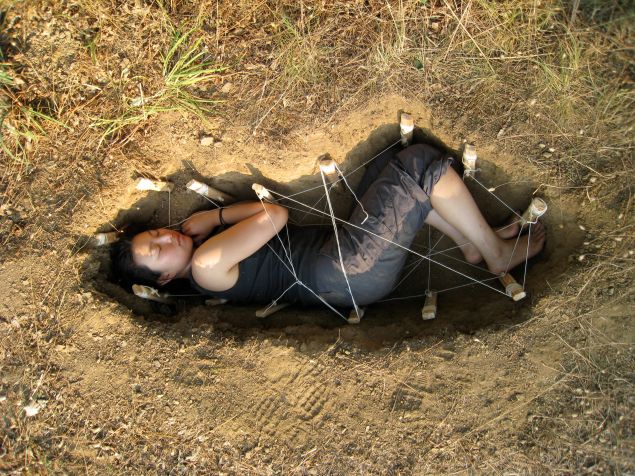 It was as a graduate school architecture student that Katrina Spade started to think about how we dispose of the dead. "I had one of those epiphanies that I was going to die some day," she recalls. "And I got curious about the options." Those options were either cremation, which generates carbon emissions, or burial in cemeteries, which as urban populations explode are running out of space.
She had an idea. What if composting could turn bodies into soil from within special centers that could be built cities? It was the start of the Urban Death Project, a nonprofit Spade founded to provide an alternative to cremation and burial. And is part of a wave of technological innovation being driven by inventors who share the same motive—when it comes to disposing of our remains, there has to be a better way.
Of course, cremation itself was once a novel technology. Among the pioneers was Francis Julius LeMoyne, a medical doctor and philanthropist. In 1876, he built America's first crematorium in Washington, Pennsylvania, and that December the body of Joseph Henry Louis Charles de Palm, was incinerated in it.
The New York Times gave a blow-by-blow account of the incineration, which could be viewed through a hole in the door of the retort: "After two and a half hours of burning, the skeleton was almost entire, and white hot in every part. It was a skeleton of fire."
At the time, this was shocking. But with urban populations swelling, putting cemeteries under pressure and sparking worries about the spread of disease, cremation—perceived as a more sanitary alternative to burial—started to gain acceptance.
"The business of burial has been unnecessarily wasteful and it's going to change."—Amy Cunningham, funeral director and owner of Fitting Tribute Funeral Services
Today, concerns to reduce the environmental impact of cremation and burial are what drive many of the innovations. After all, cremation uses large amounts of energy, generating greenhouse gases as well as mercury pollution from dental fillings.
Meanwhile, burial often means putting into the ground embalmed bodies full of formaldehyde in steel caskets kitted out with everything from adjustable bed mechanisms to silk padded linings and brass handles.
Leaving aside environmental concerns, this is simply pointless, says Amy Cunningham, the owner of Fitting Tribute Funeral Services, which offers green burials, affordable cremations and home funerals to New York City families. 'It's like burying a car—why would you do it?" she says. "The business of burial has been unnecessarily wasteful and it's going to change."
If the wave of innovation in burial technologies is anything to go by, she's right. And many of the pioneers want to turn human remains into something useful.
In Sweden, for example, Susanne Wiigh-Mäsak founded company Promessa to develop a burial method using cryogenic freezing. Liquid nitrogen crystalizes the body before vibration disintegrates it into particles, which are freeze dried, sealed inside a biodegradable coffin and buried in a shallow grave, where it turns into nutrient-rich soil.
For Jae Rhim Lee, an artist and Massachusetts Institute of Technology research affiliate, mushrooms are behind her technology. The biodegradable Infinity Burial Suit, created by her company Coeio, contains mushrooms and other micro-organisms, which accelerate decomposition of the body, remove its harmful toxins and provide earth-enriching nutrients.
Then there's Bob Jenkins of Missouri-based Let Your Love Grow. Jenkins is working on an organic system that accelerates the return of the entire body to the earth. His system lowers the sodium and pH content of cremated remains while unlocking the nutrients that fertilize plants.
But while a desire to make body disposal greener is behind much of the innovation, Caitlin Doughty, a mortician and alternative death advocate, says it also arises from frustration at what's currently on offer.
"Everything is improving, from our cars to our laptops and the way we design our homes, but people are not seeing any change in the funeral industry and they're asking why death is so kitschy or industrialized"
"Everything is improving, from our cars to our laptops and the way we design our homes, but people are not seeing any change in the funeral industry and they're asking why death is so kitschy or industrialized," says Doughty.
For Spade, helping families grieve is an important part what she's calling "recomposition." In her composting process, a three-story structure—the "core"—is where high-carbon materials are used to compost the bodies. This structure, she says, will be a place where family and friends can participate in laying their dead to rest. "It lends itself to a framework for ritual, where the living take part much more fully in the process," she says.
While the systems being designed by Spade and others are still in development one alternative form of burial is already available in some US states.
Using alkaline hydrolysis, the body is inserted into a pressure vessel, which weighs it and adds enough alkali and water to break the body down and heats the liquid to activate the process. After two or three hours, all that's left are the bone remains, which can be turned into a fine white ash for scatterning.
But while the technology of alkaline hydrolysis is proven, the barriers to its adoption are legislative, says Steve Schaal, president of the North American division of Matthews Cremation, a cremation equipment provider that also sells equipment for what it calls Bio Cremation.
"We're only at about 12 or 13 states," he explains. "The definition cremation needs to be expanded to include the word chemical or dissolution. Once you add that to the definition, it becomes legal and that lets the cemetery providers add that equipment to their facility."
Still, some are optimistic that, while the funeral industry is notoriously slow to accept change, new technologies will eventually gain acceptance, particularly as the next generation seeks different options.
"A lot of younger people are buying caskets or plots for their parents and they're not particularly impressed," says Doughty. "The funeral industry needs to adapt—or some of them may have to close."
Sarah Murray is the author of Making an Exit: From the Magnificent to the Macabre—How We Dignify the Dead