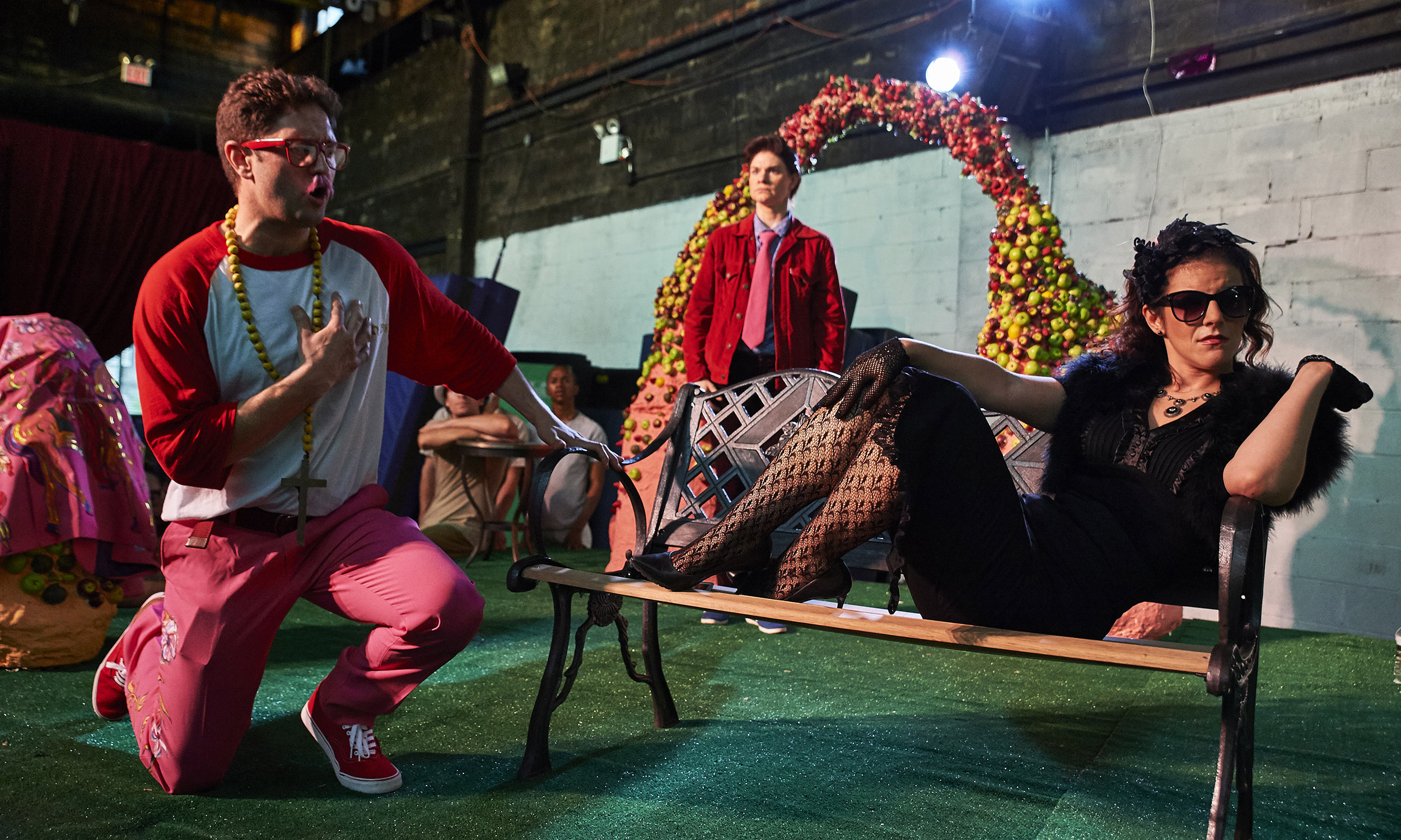 Among the vast galaxy of options available to operagoers in New York, the go-to place for prestige and glamour is the Metropolitan (of course); for cutting-edge, new repertory, the Prototype Festival; for an old-fashioned, sentimental wallow, Opera Orchestra of New York. But if you're looking for opera as pure fun, there's only one place to go: LoftOpera, currently in Bushwick, offers a raunchily delightful take on Rossini's comic masterpiece, Le Comte Ory.
This presentation highlights the qualities that have in only three years have catapulted the company to the front ranks of NYC's opera troupes: ambitious musical values, a scrappy but always inventive production style and, above all, an effortless sense of hipness—in the very best sense of that often-maligned term—in audience and performers alike.
The Rossini opera is a natural candidate for Loft's cool treatment, featuring ironically bubbly music accompanying a sex farce about a "hermit" (in this production a hybrid televangelist/guru) who runs a religious scam as a way of meeting and seducing gullible women. When the chaste Countess Adèle proves resistant to his charms, he and his randy posse invade her castle disguised as a bevy of nuns in distress.
Though the original libretto sets the action in the Middle Ages, with the menfolk of the village off fighting in the Crusades, John de los Santos effortlessly resets the piece in a more or less modern milieu. (After all, nothing is more timeless than sex and war, right?) The Count held his prayer services sporting a shocking pink business suit hand-painted like the medieval Tres Riches Heures Du Duc de Berry with the Countess in a mob wife's skintight black lace dress and spike heels.
Sets were minimal, but what went on in front of them was extravagantly funny. During one chorus, Ory slyly crossed behind a line of kneeling damsels, indicating with thumbs up or thumbs down which he preferred. After the band of "nuns" ransacked the castle's wine cellar, they broke into a hairy-legged can-can with two of the hunkier henchmen stripping down for an X-rated game of Twister.
With all this rollicking activity going on, you might fear the opera would dissolve into a musical shambles. But, in fact, even on opening night last Thursday, it didn't. Once or twice the complicated first act finale threatened to go off the rails, but conductor Sean Kelly, placed behind the audience, kept both singers and his 30-odd-piece orchestra trimly in sync.
Tenor Thorsteinn Arbjornsson found the requisite quality of sleaze in Ory, right down to a '70s-style porn mustache. His very light voice tended to evaporate in lower-lying sections of the music, but the top C's and D's sounded so effortless as to suggest he must have a few more notes even higher in reserve.
But for a few tight upper-middle notes, Sharin Apostolou's soprano pealed out with rippling coloratura and pearly high pianissimos in the Countess's long and tricky role.
The two men taking major supporting roles faltered a bit. Baritone Steven Eddy, as Ory's sidekick Raimbaud, tended to get covered by the orchestra, and Jeff Beruan, as the Tutor, was saddled with a long and pointless aria that did little but show off the glamorous color of his lyric bass.
The breakout performer of this show, though, was mezzo Elizabeth Pojanowski, who looked almost shockingly like a boy in the trouser role of the page Isolier. Even better, her big, colorful mezzo radiated star quality. If I were running LoftOpera, I'd be trying to figure out a way to produce Der Rosenkavalier as a vehicle for her.
After so much merriment, it was probably inevitable that the next night's opera might be a letdown, but I honestly believe the New York Philharmonic's Importance of Being Earnest would look like a thudding flop even it if were presented in repertory with the films Pan and Tomorrowland. Gerald Barry's deconstruction of Oscar Wilde's evergreen comedy jettisons more than half the text (including many of the funniest one-liners) in favor of impossibly wide-ranging vocal lines, crashing plates, gunshots and an interpolated setting of Schiller's An die Freude growled by the aggressively male Alan Ewing as Lady Bracknell.
Ramin Gray's camp/Dada direction might have been valid for a staging of the original play, perhaps done off-off Broadway circa 1960, but with Barry's score blaring, there were just too many layers to penetrate. The performers, singers and orchestra, are to be commended for the precision with which they executed all they were given to do, which was a good deal more than plenty.
While, arguably at least, this was opera, by no stretch of imagination could it be called fun.