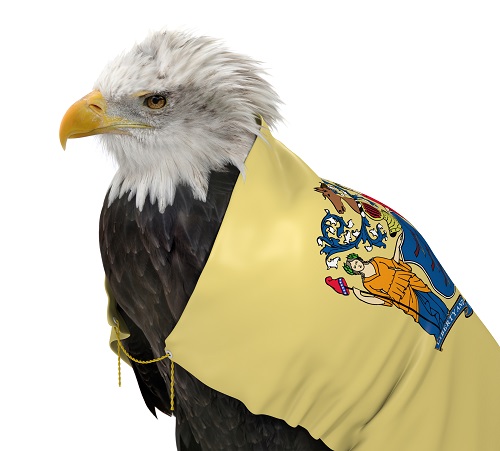 The Eagleton Center for Public Interest Polling (ECPIP) at Rutgers University's Eagleton Institute of Politics, which produces the Rutgers-Eagleton Poll, will be in new—but familiar—hands as of July 1, 2016.
Ashley Koning, currently assistant director of the Center for Public Interest Polling, will take over as interim director of ECPIP when Professor David P. Redlawsk, director for the last seven years, leaves Rutgers to become the James R. Soles Professor and chair of the Department of Political Science and International Relations at the University of Delaware.
A Ph.D. candidate in the Department of Political Science at Rutgers with concentrations in American politics, women and politics, and methodology, Koning served as acting director of the Rutgers-Eagleton Poll while Redlawsk was on leave in 2015.
Koning is a rising scholar in the field and has co-authored multiple book chapters and papers on public opinion, issue framing, and survey experiments. Book chapters include: an analysis of public opinion during and after Superstorm Sandy and its implications for NJ Gov. Chris Christie in the new Rutgers University Press book, "Taking Chances: The Coast after Hurricane Sandy," edited by Karen M. O'Neill and Daniel J. Van Abs, as well as a longitudinal study of Gov. Christie's leadership and legacy in "The American Governor: Power, Constraint, and Leadership in The States," edited by David P. Redlawsk.
Koning has served for several years on councils for both the New York and Pennsylvania-New Jersey chapters of AAPOR (the American Association for Public Opinion Research) and on the national AAPOR membership and chapter relations committee, as well as both the AAPOR and AASRO communications committees. She was awarded the 2015 John Tarnai Memorial Scholarship by the Association of Academic Survey Research Organizations (AASRO) and has been the recipient of the AAPOR Student Travel Award, the first-ever AAPOR Student Poster Award, and the 2016 Burns "Bud" Roper Fellow Award. A Martinsville, NJ native, Koning earned her master's in political science from Columbia University and a BA in government and music from Franklin and Marshall College. She now resides in Morristown.
Cliff Zukin, professor of public policy and political science at the Edward J. Bloustein School for Planning and Public Policy and at the Eagleton Institute of Politics, will serve as a senior advisor to the Center. Zukin is a former director of the Center and former president of AAPOR.
Koning said, "I am honored to be at the helm of such a prestigious operation that prides itself on a 45-year history of integrity, quality, and objectivity in survey research, and to follow in the footsteps of past directors, who are among some of the most preeminent experts in the field. I look forward to building the center's future."
Redlawsk commented, "I have been privileged to work with my colleagues at Eagleton as we investigated New Jerseyans' opinions on politics and policy. It has been a fascinating time to be part of Eagleton, and I will miss it."
The Eagleton Center for Public Interest Polling (ECPIP), home of the Rutgers-Eagleton Poll, was established in 1971. Now celebrating its 45th anniversary and over 200 public opinion polls on the state of New Jersey, ECPIP is the oldest and one of the most respected university-based state survey research centers in the United States.
ECPIP's mission is to provide scientifically sound, non-partisan information about public opinion. ECPIP conducts research for all levels of government and nonprofit organizations with a public interest mission, as well as college and university-based researchers and staff. ECPIP makes it a priority to design opportunities for undergraduate and graduate students to learn how to read, analyze, design, and administer polls. To read more about ECPIP and view all of our press releases and published research, please visit our website: eagletonpoll.rutgers.edu. You can also visit ECPIP's extensive data archive, blog, Facebook, and Twitter.