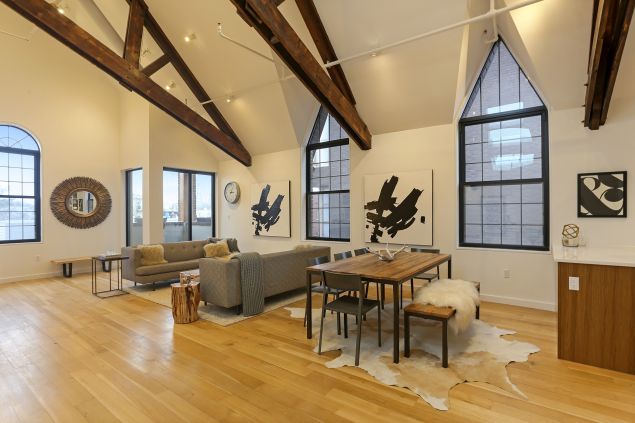 It's often the case that the loveliest houses of worship do not make for the best houses for living, wont as they are to offer amalgams of too-striking features and awkward layouts. But the top floor of 541 Leonard Street is an exception to the rule, with a sleek, open-plan layout, three well-proportioned bedrooms and suitably dramatic exposed beams that call to mind an industrial-chic loft rather than clumsy-footed church conversion.
This may owe something to the fact that the building itself is fairly no-frills, which didn't force the developers of the three-unit condo to choose between historic preservation and on-trend interiors (though in a nod to the past, they did replace the church's stucco exterior with reclaimed brick)—which is lucky given that the $2.975 million asking price for the building's last unit nudges up against the top of the Greenpoint market.
Another point in 541 Leonard's favor, though—and the one that makes it perhaps most likely to fetch its asking price—is that it's just a stone's throw from McCarren Park and, thus, Williamsburg.
"It's barely in Greenpoint," Corcoran broker Deborah Rieders said as she led us through the sunlit space, graced with windows not only on all four sides (one of the distinct benefits of living in a former church), but also skylights in the roof. She added that the other two units in the building—asking $2.6 million and $3.1 million—were in contract to North Williamsburg residents who had tired of the tourist-cluttered sidewalks of their current neighborhood.
Leonard is mercifully quiet by comparison, a residential street of vinyl-clad rowhouses that the top-floor's eventual resident will get to take in from a high-ceilinged terrace off the main living space (the 1,811-square-foot condo's ceilings are uniformly high—at their lowest, 16 feet) and are braced throughout, including in the master bed and bath, by the dark wood beams.
"The ceiling height in here is just beyond," Ms. Rieders reflected. Indeed, we found our gaze drawn continually upward. It wasn't a religious experience, exactly, but we did leave the apartment feeling somewhat dizzy.