We're not sure what it is about the Park Imperial, but for some reason, celebrities don't have such an easy time offloading their condos in the sleek tower.
Four years after Sean "Puffy Daddy/Diddy/P Diddy" Combs first tried to offload his two-bedroom, 2.5-bath abode on the sixty-sixth floor of the building, he's put the apartment back on the market, with more modest listing price.
A wise move, as former 'Law & Order: SVU' star Christopher Meloni, who had a similarly disheartening experience in trying to sell his apartment at 230 West 56th Street—finally managed to find a buyer for the place in January after substantially sinking his price.
Of course, after four years and at least as many brokerages, Combs pretty much had to lower his expectations—when he first put the condo on the market in 2012, he was asking $8.5 million, and just a few months ago, the price was still at $6.995 million. Now, thought it's priced at a ready-to-move $6.5 million.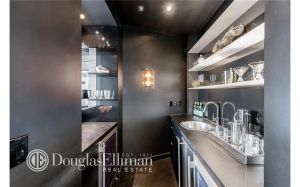 Despite the slew of price cuts, Combs still stands to make a profit, considering he purchased the condo for just $3.82 million back in 2005. It also looks like he made some changes to the abode, altering it from a three-bedroom to a two-bedroom (with a lovely corner master suite, of course), per the listing held by Douglas Elliman broker Whitney Didier.
There also appears to be less lucite in the apartment than the last time it was listed, so maybe Combs came to the realization that not all buyers share his love of that particular look. The apartment also has an eat-in chef's kitchen, 7-foot-wide plank solid wood floors, and floor-to-ceiling windows. The master bath has been customized (we'd expect nothing less), and has cream finishes and radiant heated floors. Combs also put in a wet bar in place of an additional bathroom, because of course he did.
Speaking of that wet bar, perhaps the entrepreneur could sweeten the deal and reel in a few more buyers with some fun additions… like, say, a lifetime supply of Cîroc? Just a thought…