"It's very rare that something comes up on Gin Lane," Sotheby's International Realty broker Patricia Petrillo confided as we walked through the lush green gardens of her $21 million listing at 237 Gin Lane, passing by towering cherry trees, ivy-covered stacked stones and blooming peonies.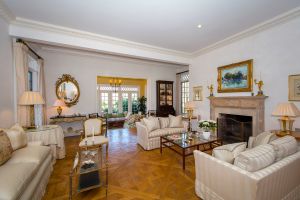 While not on the ocean side of the thoroughfare, the property does boast two acres, a tennis court, a clematis-adorned gazebo, a brick-outlined pool and—of course—fountains. "Mario Nievera designed these grounds," Petrillo added.
Though the sellers built the home recently (2002), its design and décor are influenced heavily by a traditional aesthetic, with an abundance of printed wallpaper, flowery furnishings and heavy tapestries.
Inside the sprawling, shingle-style main house's first floor, antique French limestone underfoot in the foyer turns to Versailles-style oak floors in the paneled library (with fireplace) while the living room (also with fireplace) leads out to a sunroom, and a formal dining room, painted robin's egg blue, opens to a covered white porch. "They love to entertain," Petrillo explained. "There's a dining place for all seasons!"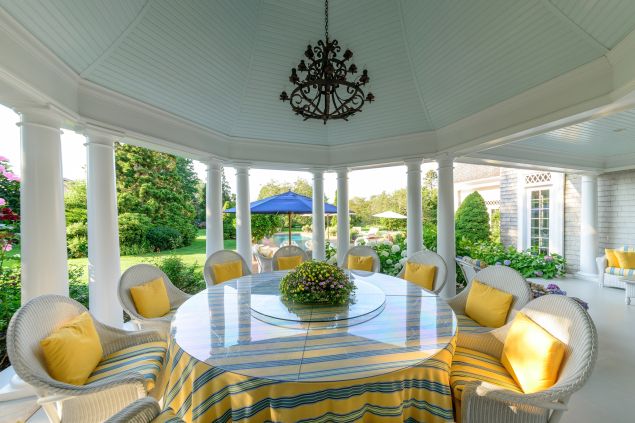 "This is a beach house—the owner wanted it to be comfortable," Petrillo said of the 9,000-square-foot home. And what could be more comfortable than multiple guest suites—one that looks outside to the limestone spa and outdoor shower, and two others that look out on fountains? Indeed, "There are also two staff rooms, with bathrooms," she added.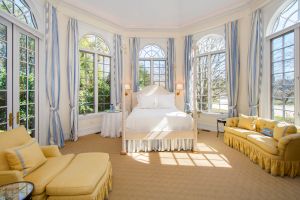 We passed another guest suite with a sitting area before arriving at a children's play space—which is not to be confused with the "play loft" accessed via a built-in white ladder in another suite.
The master, meanwhile, offers a painted, domed ceiling and, well, a glimpse of the ocean. Its bathroom is "sort of simple, when compared to the big, all-marble baths you see now," Petrillo conceded of the maple flooring and single marble sink.
"It's really an oasis back here," Petrillo cooed, as we strolled the long, white-pebbled driveway back toward the street. "And the address is so fabulous."