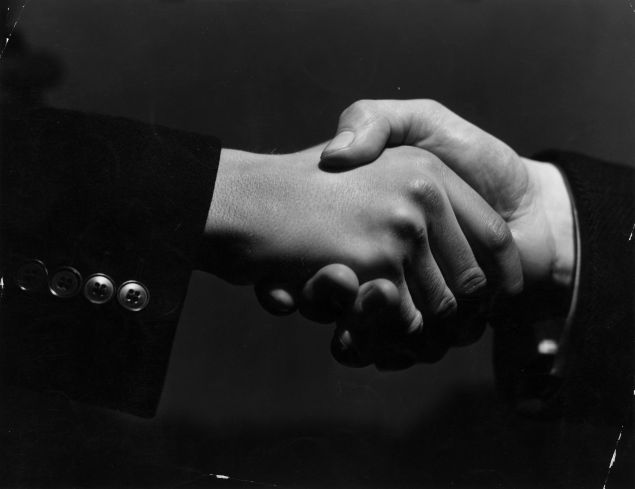 Switzerland is a country that conjures up images of banking secrecy, fine chocolates, watches and international neutrality. But there was nothing neutral about Swiss behavior recently when authorities ruled that a Swiss tradition designed to promote politeness and respect trumped recent immigrants' religious values.
Shaking a teacher's hand before and after class is an important part of Switzerland's social fabric. Two brothers, ages 14 and 16, recent immigrants from Syria, refused to shake their teachers' hands; they said that Islam did not permit physical contact with members of the opposite sex, with the exception of immediate family members.
"We cannot accept this in the name of religious freedom," Justice Minister Simonetta Sommaruga said in an interview with Swiss-German broadcaster SRF. "The handshake is part of our culture." A follow-up statement by Swiss authorities noted "the social gesture of handshake is important for the employability of the students in their later professional lives."
The boys will have to shake teachers' hands, like every other student is required to, or their parents will have to pay a fine of 5,000 Swiss francs, about $5,050.
At first, school officials in the small canton tried a compromise, saying the boys did not have to shake male teachers' hands either. But the reaction of people throughout Switzerland—and across the entire political spectrum—was so clear and so loud that officials reversed their position. The boys will have to shake teachers' hands, like every other student is required to, or their parents will have to pay a fine of 5,000 Swiss francs, about $5,050.
Switzerland, like most European nations, is struggling with how to absorb the huge influx of Muslim refugees. There are approximately 400,000 Muslims in Switzerland, some 5 percent of the nation's population of 8 million. (Germany has the largest Muslim population in Europe, approximately 5 million—almost 6 percent of its total population. France has the next largest, also numbering about 5 million—approximately 7.5 percent of its population.) The desire to welcome people fleeing civil war or atrocities carried out in the name of religious purity is understandable. But so is an insistence by the host nation to maintain national or cultural traditions.
The responses by Islamic organizations in Switzerland to the handshake rule have been enlightening. The Federation of Islamic Organizations in Switzerland said that the shaking of a woman's hand by a man was theologically permissible. But the Islamic Central Council of Switzerland criticized the ruling, saying it was "totalitarian" because its intent was to "forbid religious people from meeting their obligations to God." Given that most European countries are dealing with mass migrations of Muslim refugees, we have little doubt this debate over the balance between assimilation and multiculturalism will escalate.
There is much to be said for common experiences and shared values, particularly in an era that places so much stock in diversity. As we have watched our own society move away from the acceptance of a great melting pot toward some oddly defined mosaic, we are happy to see the Swiss value civility, tradition and assimilation; and to recognize that those verities are not inconsistent with religious freedom.