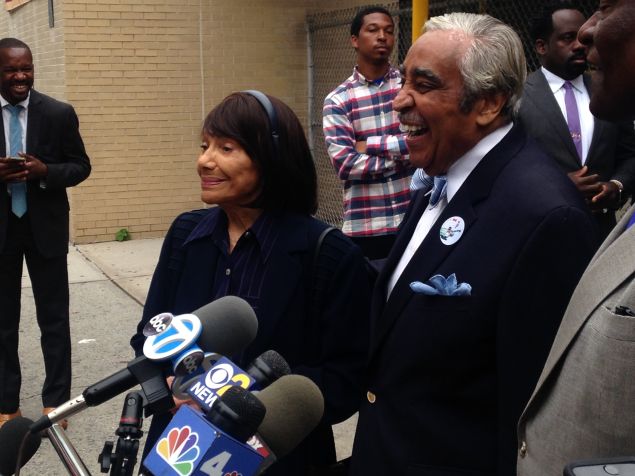 Congressman Charles Rangel cast his vote in the Democratic primary this morning—and, for the first time in 46 years, his name wasn't on the ballot.
The retiring lawmaker went to his polling place, P.S. 175 on 134th Street, with his wife Alma and his favored successor: Assemblyman Keith Wright. The trio spoke to the press before entering, with the 86-year-old representative promising to carry on his civic engagement.
"Even though I'm leaving Congress, you bet your life I'm not leaving politics," Rangel vowed. "I didn't know I could feel so good emotionally as I feel now politically and emotionally."
He asserted he had fully prepped Wright for Washington, and Washington for Wright—noting the assemblyman has gotten the endorsement of nearly the entire New York Democratic delegation to the House, and from Sen. Kirsten Gillibrand
"When I went to Washington, the leadership wasn't waiting for me the way they're waiting for him," he said. "There's no way that a person in Congress could be more briefed, more prepared to take on our agenda."
Asked after coming back outside how it felt not seeing his name on the ballot, the congressman first turned to his wife.
"I learned a lot, it was a great experience. Now, what do I do with him at home?" she laughed.
Rangel described "mixed feelings," noting his retirement follows half a century in politics: four years in the Assembly, 46 in Congress.
"There has to be a void there, for 50 years I've held elected office," he said. "But, from a political point of view, I feel so excited. Because if I was just walking away, there would be a vacuum there. But I feel so excited that someone is picking up the ball, younger than me, more excited than I am. And he's going to move forward."
He told reporters he intended to spend much of his time raising money for scholarships at City College of New York, where a center for grad students bears his name. Raising money for that same center landed Rangel in trouble several years ago, as he used his congressional stationery to request donations from companies with business before the House Ways and Means Committee, which he chaired at the time.
"So long, gang!" he added, before heading for his car.
Wright is far from assured of victory, however. He faces stiff opposition from State Senator Adriano Espaillat, who scraped close to Rangel in two Democratic primary challenges, and from a half dozen other candidates.