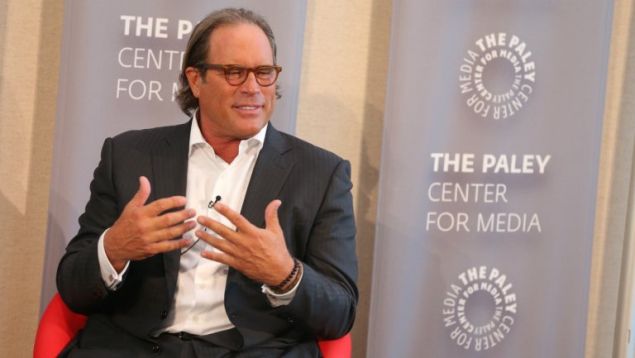 It's not often that the chairman of a studio exits his job and then sits down in a room full of industry insiders to answer questions as to why he did it.
That's just what Steve Mosko did Thursday night.
On Wednesday, news broke that Mosko was leaving his post as head of Sony Pictures Television. As the announcement was rippling through the industry, many wondered if he would keep his pre-planned talk at the Paley Center in Los Angeles on Thursday on the books. Surprising many, he did.
In fact, the moderator of the discussion, Indiewire's Michael Schneider, flat out admitted that he called Mosko directly the night before and said, "Are we still doing this?"
Mosko was all in. In fact, he seemed quite jovial and, to just the average spectator, almost gleeful about the end of his Sony tenure and the beginning of what might be next for him.
"It's been brewing for a while," Mosko said of his departure. "I just turned 60. … It was a really good time to take a step back and decide what to do for the next five to ten years. In life, if you're not 100 percent in on something, you need to take a deep breath and figure it out. You're always going through times where you're in a process of something and you look at it and say, 'You know what, it's time to do something different.'"
While Schneider didn't shy away from asking the tough questions, specifically trying to get Mosko to admit that it was due to reported company infighting, specifically with Sony Pictures Entertainment CEO Michael Lynton, that he led to his leaving his post, Mosko wouldn't bite, only saying, "People are going to believe what they're going to believe, but we built an amazing organization during our 13-year [run together]."
Mosko, whose contract was set to expire in November, had been in the midst of conversations about his future with the studio, which is currently home to a slate of highly acclaimed series, including NBC's The Blacklist, AMC's Better Call Saul, Starz's Outlander and syndication giants Wheel of Fortune and Jeopardy.
 Following news of his departure, SPT announced Thursday morning that Mosko will transition to a consulting role with the studio. As part of a structural realignment of the television unit, SPT leadership will be shared among co-presidents of U.S. programming and production Zack Van Amburg and Jamie Erlicht; Andy Kaplan, president of worldwide networks; Keith Le Goy, president of distribution; and Amy Carney, president of advertiser sales and research. Each will now report directly to Lynton.
 Schneider attempted to get Mosko to comment on the fact that under his leadership the television division at Sony had been contributing more than 60% of the studio's operating income, but a leaked email during the Sony hack showed that Mosko felt the television division wasn't getting the respect it warranted within the company.
"I don't think that's a 'Sony issue,' but an industry one," Mosko stated firmly. "Television tends to be somewhat the stepchild of the industry and it is what it is," he said. "The Hollywood machine is built around big movies. Television is this little bit blue-collar business… it's the working side of the business."
Speaking specifically about the hack, Mosko said, "The bottom line, when you go through something like that, when you are attacked, and your character is attacked and everything about your being is under siege… It was like being at war in a foxhole. The whole experience brought everybody closer together."
Just hours before Mosko's Q&A, Sony lost another exec as the president of the Motion Picture Group, Doug Belgrad, announced he was leaving after two years in that post. Belgrad had been with the studio for 27 years. He'll now move into a producing position.
Amid all of these announcements, the Sony board was meeting held in San Diego Thursday.
As Schneider joked that this conversation was actually Mosko's exit interview, Mosko seemed to go along, using the time to reminisce about some of his successes, saying, ""One of the things I'm most proud of about my time at Sony is that I was involved with the best comedy of all time with Seinfeld," he said. "I was [also] involved with the greatest TV drama of all time with Breaking Bad."
When asked about his about his future plans, Mosko was resolute in his response. "Let me be clear about this — I'm not going away, I'm just changing addresses. I'm keeping my mind wide open to a lot of different opportunities. But I love television."