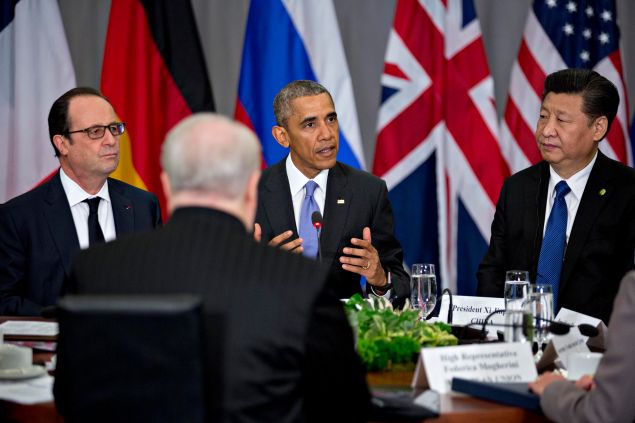 Two extraordinary public statements about the Obama administration's foreign policy went largely unnoticed this past week. They deserve special attention not just because the policies desperately need a course correction, but because the people who made them deserve our praise for speaking out candidly and fearlessly.
First, CIA Director John Brennan testified before Congress and said that despite our attacks against ISIS, we have hardly made a dent in their capabilities. ISIS can draw on a "large cadre of Western fighters" that could attack in the U.S. "Unfortunately, despite all our progress against ISIL on the battlefield and in the financial realm, our efforts have not reduced the group's terrorism capability and global reach," said Brennan.
"The resources needed for terrorism are very modest, and the group would have to suffer even heavier losses of territory, manpower and money for its terrorist capacity to decline significantly," Brennan added. "In fact, as the pressure mounts on ISIL, we judge that it will intensify its global terror campaign to maintain its dominance of the global terrorism agenda."
He also warned that the group already is preparing more attacks, including by infiltrating refugees into Western nations. He estimated that ISIS still has about 18,000-22,000 fighters in Iraq and Syria, 5,000-8,000 fighters in Libya and an estimated 7,000 in Nigeria; plus hundreds in Egypt, Afghanistan and Pakistan. Brennan emphasized that "We need to take away their safe haven." He noted that these areas provide ISIS with the ability to train its operatives and generate revenue.
No president likes to be told his strategy is not working.
Sadly, as we listen to President Obama, we have little sense that he shares this perception.
Second, 51 career foreign service officers signed a confidential document saying our Syria policy was a dismal failure, and called for targeted military strikes against the Damascus government. They urged regime change as the only way to defeat the Islamic State.
The vehicle for their remarkably candid opposition to the Obama policy was an official State Department "Dissent Channel," a forum that allows foreign service officers to express views contrary to established policy. While State Department regulations expressly prohibit retaliation against any employee who uses the channel to voice disagreement, there is always a legitimate fear that careers could be derailed.
There has been nothing from the president or his alter ego media manipulator Ben Rhodes to suggest that the administration is reconsidering its Syria policy. But it should. That so many career diplomats were willing to go on-the-record in opposition to what is clearly a failed strategy is both an embarrassment to the administration and a measure of how badly things are going; even his own secretary of state, John Kerry, is said to favor a change in Syria policy.
More than 400,000 Syrians have been killed and millions more displaced. Russia has taken advantage of our leadership vacuum and Syrian dictator—sorry, we mean president—Bashar al-Assad shows no sign of departing or compromising.
No president likes to be told his strategy is not working. And even fewer people are willing to speak truth to power. That Brennan and the State Department 51 were willing to do so is telling. We urge President Obama to listen carefully, admit that his finely honed messages are more effective than the policies behind them, and take corrective action. But not against the messengers.