Memorial Day aside, the official start of the summer season in the Hamptons can be marked by an overwhelming influx of charitable events. For some, the start of the season can be attributed to the School's Out party, which is now in its 18th year and serves to benefit the Hetrick-Martin Institute.
The Institute is a resource and safe haven for LGBTQ youth, between the ages of 13 -24. By providing the young community, and their families, with services and programs that foster development, it has become major resource for teens and young adults. "I worship what HMI is doing to create an oasis for LGBTQ youth," said interior designer and home goods guru, Jonathan Adler. "I was lucky enough to have my own support system as a kid, and I'm glad to be able to play a role in creating a similar community today."
This year, the chic East Hampton fête will be taking place on Saturday, June 11 at the home of Lisa and James Cohen. And you can expect there to be a strong turnout, with previous attendees including Andy Cohen, Brian Atwood, Joseph Altuzarra and Katie Lee. But there's more than just a star studded crowd to look forward to this year.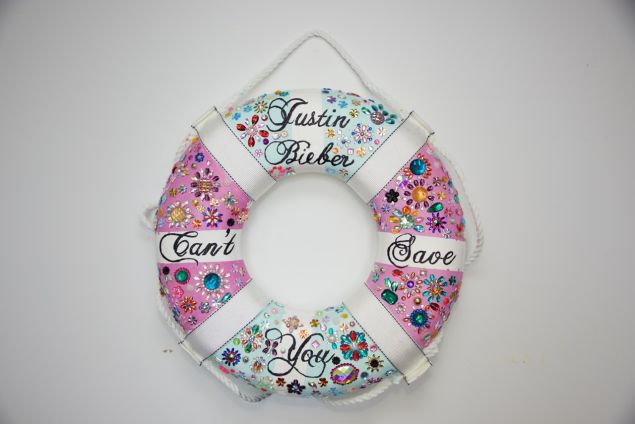 Artists such as Jonathan Adler, Ashley Longshore, Donald Robertson, Mickalene Thomas and Serena Dugan each designed a life preserver, which will be auctioned off on Paddle8, in conjunction with the Hetrick-Martin Institute. Ralph Lauren Home even designed one. These aren't your average water-bound floating devices; they are ideal pieces of art to hang in your summer home, preferably one by the beach. Can't you just see Robertson's version stealing the scene in a white, modern abode?
Each designer took their own approach to decorating the life preserver, but most are a nod to the work that HMI is doing. Take, for example, artist Matt Albiani: "The inspiration for my piece came from the idea of my book Lifeguard on Duty. I've always loved the idea of someone being saved, and the concept of HMI really saving the lives of these kids in a way is inspiring to me."
The 11 pieces of art will be on auction from June 10-24, on Paddle8.com.