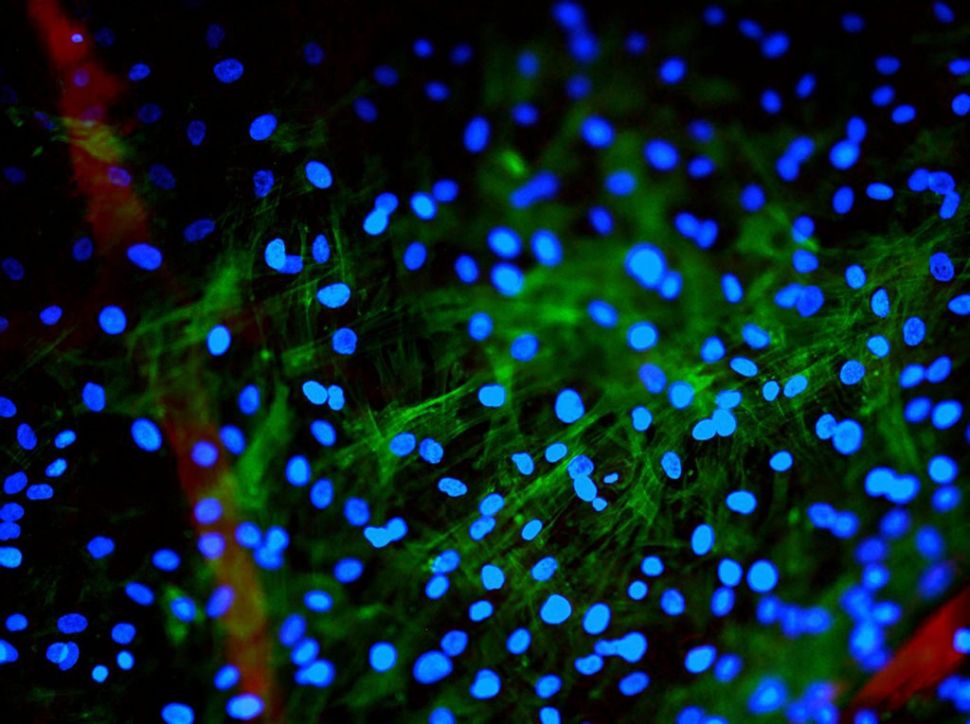 In my early 20s, I remember one day at the gym with a guy I used to play Ultimate Frisbee with, and I asked him whether or not he ever worried whether all our exercise would end up wrecking our joints. He said something to the effect of, "I always just assume that by the time my knees go bad they will be able to fix them." By "they" he meant the medical establishment.
Cartilage doesn't really heal, I thought, so how could scientists solve that conundrum? It turns out, that isn't really true. It's just that cartilage is crappy at healing, because it doesn't have much of a blood supply. "Inside your knee, when you injure your cartilage, your knee is just terrible at healing cartilage," Dr. Adam Anz of the Andrews Institute for Orthopaedics and Sports Medicine, in Gulf Breeze, Florida, told the Observer. "We believe that if you inject stem cells into a joint after a surgery, that's how we get that knee joint to heal cartilage."
Dr. Anz is collaborating with Khay Yong Saw, in Kuala Lumpur, Malaysia, who has conducted animal trials using minimally invasive procedures to inject stem cells into joints in 2006. And now, "we're working together with him to do a multi-center, randomized controlled trial," he said.
Here's how the procedure would work, if it attains FDA approval:
"We can give people an injection under their skin that causes stem cells in their bone marrow to be released in their blood system," Dr. Anz explained. These can then be collected directly from the person's blood using what's known as apheresis. This part of the process is well established in current medicine. The harvested stem cells can be saved in vials for later treatments, post-surgery.
The question is whether or not the FDA can be convinced that treatments with the harvested cells later do any good and don't cause undue pain or risk, as Dr. Anz explained. "The therapies that most likely are the future, they've deemed as drugs and need and need to go through the drug pathway," he said. 
Regulators here will want to see evidence that the treatment actually works to heal cartilage, but fortunately magnetic resonance imaging (MRI) is now sensitive enough that clinicians can measure a difference in before-and-after images. "I've been involved in looking at all the data and there is regeneration of the cartilage and the cartilage looks good on the MRI," Dr. Anz said.
In fact, he believes there is already evidence that the body does something like what the Andrews Institute is proposing, naturally. "We are about to publish a study looking at how cells are mobilized to your knee at the time of your knee injury," Dr. Anz said. The team has observed fat cells delivering fluids to injured knees, which the team takes as an attempt by the body to provide healing material. If the body does it, he argues, that's good evidence that a treatment that helps it along could be helpful. 
Dr. Larry Goldstein of the University of California at San Diego told the Observer that the United States is competitive with all other countries, in terms of FDA-approved, peer-reviewed treatments. "Historically, the only proven stem cell treatments are bone marrow transplants, skin transplants in burn victims and for some eye diseases," he said.
Orthopedic treatments, like the Andrews Institute is pursuing "are at this point unproven," he said. "We are all vigilant and worried about the placebo effect." Several institutes, he said, are pursuing orthopedic trials right now. The Andrews Institute will soon begin its own clinical trials for a treatment of knee arthritis.
While Dr. Anz spoke to the importance of regulation as a way to protect patients, he contends its due for reform in an era of biological treatments. "Regulation is good, but that regulation needs to be tailored toward these emerging technologies, and right now the FDA is retrofitting a drug pathway onto biological products," Dr. Anz said. 
Drugs are quickly reproducible products. A researcher can easily produce a bunch and see what happens in a trial. For stem cell treatments, it's more work. The "drug" in this case is cultivated from the person's own body, so the Andrews Institute and peer organizations are developing complex services, which makes clinical trials much more expensive per patient. Couple that with the fact that the researchers pursuing the treatments aren't big pharmaceutical companies, but modest sized clinics or university research labs.
Dr. Anz pointed to the REGROW Act as a direction for reform. If enacted, after initial human trials provided preliminary proof of its safety and efficacy the legislation would permit clinicians to fund trials by charging patients for participating. The bill has two co-sponsors in the Senate, where it was introduced by Sen. Joe Manchin and Sen. Susan Collins, and three in the House, so it has a long way to go before becoming a part of Washington's agenda.
Still, Dr. Anz is optimistic about the way forward, arguing that stem cells will be the biggest development in orthopedic treatment since the anthroscope, the tool that made minimally invasive surgery possible. He said, "In my mind there was a paradigm shift in thinking about how can we get cells in our bodies and use those in the least invasive way to help with injury and recovery."
In other words, if you're cool with playing a little odds, beat the hell out yourself on the fields, bros. Odds are getting better they will be able to fix you by the time you need it.