"My world of events is somewhat chaotic, filled with color, craziness and all kinds of mad stuff," admitted David Stark, the party guru who is on speed dial to Manhattan's elite. Curled up barefoot on a chair in his living room, he explained, "I wanted a place that was calm and felt removed from the hectic nature of my job, but that also felt sophisticated." The designer of lavish bashes for Tory Burch, the Whitney and Louis Vuitton is often called upon for his vibrant, yet elegant, taste.
For his home, Stark turned to MADE and Jane Schulak to transform an 11th-floor Brooklyn Heights apartment. They gutted the dark, two-bedroom apartment and replaced it with a loft-like one-bedroom, complete with a glass wall that separates the kitchen from the bedroom. Everything in the space is deliberate, from the focus on entertainment to the white walls, which allow the unobstructed views of Manhattan to be the center of attention.
First of all, tell us about this graphic tiled floor! It's cement tile, from Cuban Tropical Tile Co. in Miami. Ultimately, it's in every single space in the apartment, from the bathrooms to the closets. We made it so the direction of the tile changes in the saddle of the doorways; that was a trick of MADE's.
What features did you develop to maximize the entertaining experience? I'm fond of the living room bookcase because it opens to reveal a television. I'm not anti-TV; I just don't want to look at the screen all the time. The kitchen is great for entertaining, too. I really love the dining area and its proximity to the kitchen, it feels separate but also connected. I love gathering around the island, which feels like a beautiful piece of furniture to me and not just a kitchen counter.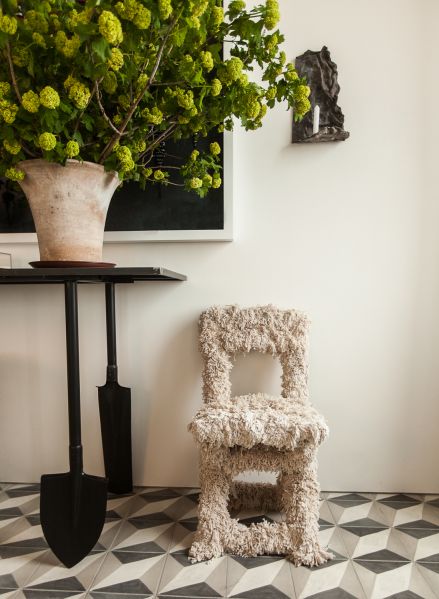 How often do you entertain at home? We have people over to watch awards shows! Also, we invite friends for dinner all the time and we cook a lot. We've probably had 12 or 15 people in here at once. As a person who plans events, I'm constantly amazed that people don't entertain much in their home. In this city, you can be close friends with somebody for 20 years and have never been to their home.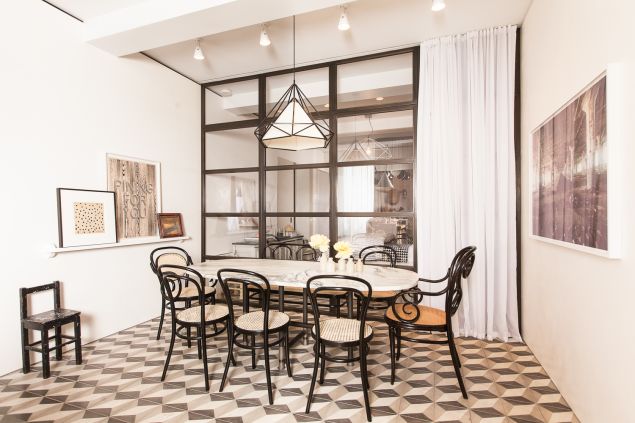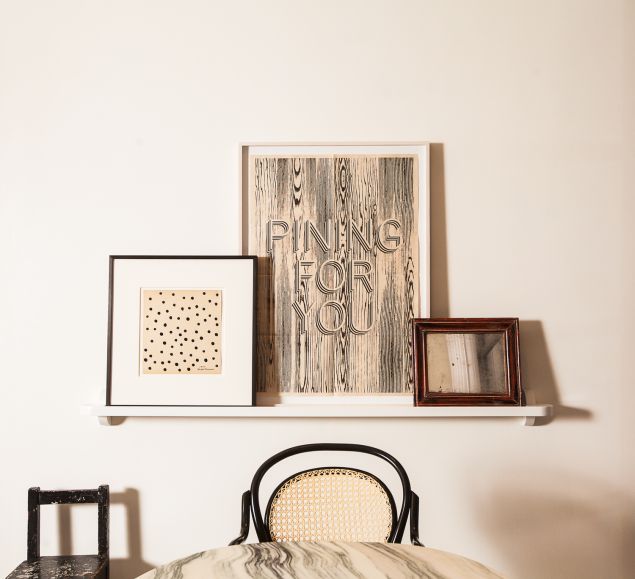 How do you spruce up the house before hosting guests? I try really hard to make it not look like I've decorated. Most of the time I go to Borough Hall Greenmarket, right in front of the Court House. If there's nothing great in flowers, I might buy a bunch of parsley and that's the arrangement.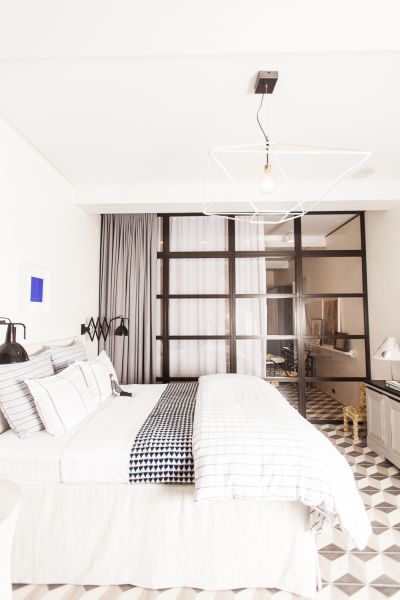 How do you select the artwork for your home? At this point in my life, I want an atmosphere to live in that is not dissimilar to what we do in our events: create a unique world that is unlike anything else. Some of the stuff I've collected over the years, like the Yves Klein hanging in the bedroom, but others are pieces that somebody made for us, like the painted lampshade in the living room. We have a friend named Dominique Bouillon who lives in Paris and is one of the foremost decorative painters in the world; the Louvre would call if they needed to restore something. We showed him pictures of the lamp and when he came to town, he painted it in an hour.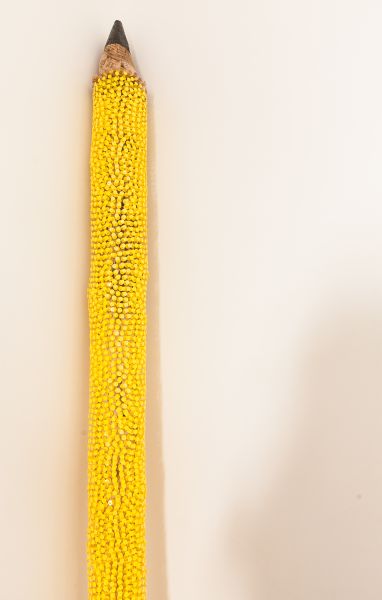 What touches can be attributed to your husband, artist and performer Migguel Anggelo? I will own the idea that I've been in charge of architecture and decor. But he's a wonderful visual artist, so it's been really fun to lasso his talents and commission him to make things that complement the look and feel here. This match table is one of the most recent things he's made. He had to look everywhere for black matches. He also made the matchstick chairs and the big pencil sculpture.
Are there any eco-friendly details in here? All of the black kitchen cabinetry is made from a material that's called Richlite, which is a composite made from recycled paper. It's very heavy duty and is often used for cutting boards.
You're in the midst of designing a new studio for your party-planning business. What will that look like? We've been in a space in Carroll Gardens for 25 years and we're moving shortly to Industry City. Our space was about 6,000 square feet and we're now moving into 35,000 square feet. In the old office, you could pull up a milk crate and sit on it; now we're getting real furniture. We are designing the space properly and we're figuring it all out.