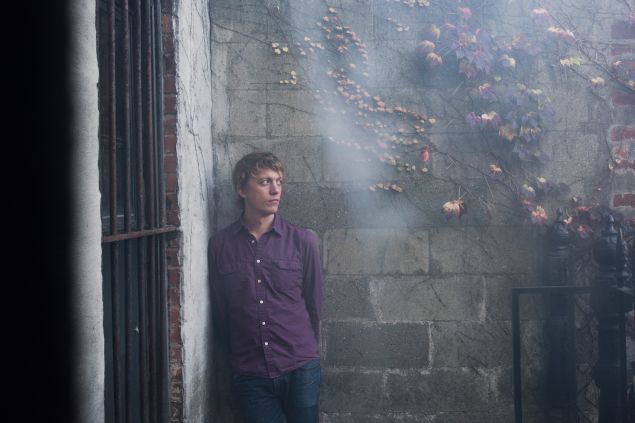 A few weeks before six-string slinger Steve Gunn was set to release his first solo album for Matador Records, Eyes On The Lines, the label threw him a premiere party of sorts, an open bar at Lower East Side's tiny club Berlin packed with label folks, press and friends.
Though it was a celebratory event, a huge hit to Matador just hours before could have put a damper on the festivities—Matador sent out a mass email about the following day's new release. Car Seat Headrest had used a portion of The Cars' "Just What I Needed" on his new record for Matador, with a good faith blessing from the publishers, only to have Ric Ocasek deny them the right to use it at the last minute. Thousands of vinyls were destroyed, the physical release of Car Seat Headrest's record was delayed, and Matador had more reason than ever to hug that open bar.
Turns out Berlin's artisanal goth-inspired cocktails had nothing on Mr. Gunn's new songs and their power to soothe.
Though he's released 13 albums either solo or in collaboration, Eyes On The Lines finds Mr. Gunn stepping back from the more technical, virtuosic finger-style exploits of his folk Americana to let the songs go where they ought to. He'd already come a long way from his years as Kurt Vile's backing guitarist, and showing us his chops with a generous helping of road riffs. Though still dusted with soot, these new songs give Mr. Gunn more room to breathe, reflect and emerge as a singular voice. He'd sung before, sure, but never so matter-of-factly, and never so bold.
Mr. Gunn's live band The Outliners filled out his new songs with the steady, locked-in pulse of the city even as the melodies stay rooted in the soil. Songs like "Full Moon Tide" groove along to an optimistic pulse of forward momentum as Mr. Gunn recommends making a space in our minds to lose it every once in a while. "Hypnotized, your mind finds the time, made you blind, full moon tide." As Mr. Gunn closed with Eyes stunner "Park Bench Smile," a bite-sized morsel of British-inspired folk psychedelia set to a regal trot, the whole room could tell that even if all those destroyed Car Seat Headrest vinyls were a real kick in the ass, everything was going  to be just fine. "Moving with a slight of hand pushing on a cosmic plan, summon all those tricks now for a song," he sang.
The Observer recently talked to Mr. Gunn over the phone as he toured through Europe. We learned how he channels the good and the bad through his work in equal measure, why he couldn't have made a record like Eyes on the Lines until now, and why he decided to take a step back from being a showman for the sake of the music. Somewhere along the road, Mr. Gunn learned how to turn personal memories into mythologies for all of us. If you ask us, those of us willing to go along with him on this breezy but heady trip are all the better for it.
[youtube https://www.youtube.com/watch?v=0UjVXkeFvmc]
How's Europe?
It's been great. We're on our seventh show so far. It was rainy at first, and we're kinda getting into it. It's good to play the new record live and finally get some shows under our belt.
Where are you now?
I'm right outside of Stuttgart.
You play a pretty distinctive brand of Americana. Are there any unexpected ways that the Europeans might respond to you that are different from the vibe here?
Yeah, there's a different level of appreciate for American music here obviously, and especially in Germany there's a crowd for it. There's a different kind of audience that comes out, which is cool.
Well congratulations on the new record. I discovered you through Kurt's music, and saw you and your band open for him, but something that's always interesting to me—I get the sense that you're a dude with technical chops who also knows when to focus on the good of the song. You meet a lot of technical players who are great musicians, but it gets hard for them to step outside of that, and maybe underplay or do whatever at a certain part of a tune if the structure calls for it. But I feel like you've got the thing down on this record.
That's really cool that you recognized that. That's still something I'm kind of trying to address, because I went down a real rabbit hole as a guitar player and I was getting too technical, when I was writing songs the songs were über-complicated. It took me a while to simplify things and be comfortable with playing simple stuff. Be more instinctual and all that. With this album I was really trying to not overcook, to live in the song structures a little more rather than trying to push it.
I think that lends itself to the psychedelia aspect of the album, too. You have a lot of complex riffs going on but you let them breathe. There's something to be said for that. I guess journalism shorthand would say "Jerry Garcia is jamming with Sonic Youth."
I can live with that, I can get behind that!
There's a city vibe here for sure, the pulse of it. It locks in. It's interesting to see how you found that over the last couple of records, it's awesome. Is this Steve Gunn's grand statement as the songwriter?
Well, I've been sort of building up to it. I've sort of been learning the process? Walking myself through it pretty slowly, and I think everything kind of happened at the right time for me.
How do you reconcile that growth with your ability know when to let people you're playing with take over and steer the music? I'm thinking of [the folk legend] Michael Chapman, who appears in your "Ancient Jules" video, because he's such a capable bandleader but so much more comfortable going solo. When do you know to let them fill out a lick or a phrase?
Well, I really trust the band, and I'm pretty secure with knowing that what they can come up with is better than what I can think of. It's always a really cool exchange, with me coming up with an idea for a song and then kind of letting it form in the band setting.
You've been traveling so much the past few years as your solo career has been taking off, and there's a lot of wanderlust on this album. A lot of moving around, stopping and looking at seemingly obvious scenes very deeply. The moon, the tide, a park bench. Do you feel like you could have made this album had you not been living the life you'd lived already. Could you have made this as a younger dude?
I think if it were a different time in my life it would be a different record. It's self-reflective in my own personal way, and it does have to do with my experiences that I've been building up to and all that stuff. It feels very present to me, not just conjured in any time in my life. It's who I am at the moment, and I'm reflecting on it in that way.
[youtube https://www.youtube.com/watch?v=W79x_WuvQ5Y]
It feels very intimate. The vibe is very "come on in, the water's fine" but you reference someone named Jules, and you're walking around at night alone at some point. Were there any moments of this album that were hard for you to take a long look at, to put out there in the world? Is that a new experience for you?
It is. I try to veer away from the overly confessional personal songs, but a lot of the subject matter is sort of vague, and I like to put it out there and keep it open for people to interpret in their own way. But a lot of the songs are very personal, for my own sake. The stuff reflects on the different aspects of what I'm doing—being grateful, being anxious. Combinations of positive and negative things. Overall the songs are hopeful, which is something I was trying to convey with the album as a whole.