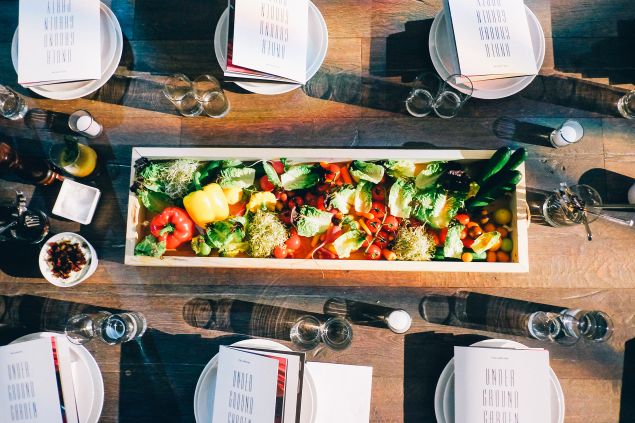 We would need to make the salad ourselves, a woman in a crisp white dress explained. She gestured at a box of prettily arranged lettuce leaves and whole tomatoes, cucumbers, peppers and radishes. There were the garden gloves for plucking ingredients, the cutting board for slicing them, a bowl of feta and a jar of vinaigrette for flavor, with a metal bowl and tongs rounding out the tableau. The only thing missing, we reflected as we crunched dirt between our teeth from the sad-looking pile we'd assembled on our plate, was a sink in which to wash all those emphatically fresh veggies.
Then again, eating soil-encrusted lettuce at a fundraiser for an underground park makes a certain amount of sense. The Lowline—as the aspiring public space in an old Lower East Side trolley terminal is known—has been inching toward existence for nearly a decade. Its concept is similar to the High Line's (repurposed transit infrastructure, trendy and slightly gritty host neighborhood, the name) though it lacks the latter's chief virtues. Namely, views, light and air.
Still, renderings of the subterranean green space possess a slightly spooky sci-fi glamour, as does the out-there-sounding concept of channeling sunlight to photosynthesize greenery. Naturally, the project became a cause célèbre. By last fall, the founders had opened a lab on Essex Street to show off the sunlight-funneling technology, a windowless space was where the evening's fundraiser—replete with performers and servers clad in flesh-toned underwear, body glitter and garlands of leaves—was held. (A look inspired, the program noted, by Hieronymus Bosch.)
"It's been kind of a stunning success—first of all it works!" project co-founder James Ramsey crowed to what was surely the relief of at least a few attendees. "Now we're entering a more ambitious phase of planning—the research and design to turn this into a reality."
A blonde in a garden-print dress seemed equally excited about the entrees—two-tiered planks of roasted beets and salmon garnished with fish heads. "Everything is made to look as though it's sustainable—solid colors—it's awesome!" she declared.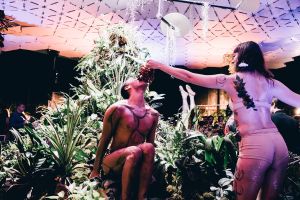 In response, her date described a place he'd read about where you can make an ice cream sundae with your own hands, which proved more mesmerizing than the DIY spread on the table.
Perhaps it was the double-braided male auctioneer expounding at length on the value of a personalized video message from Sia, but other guests seemed to be growing weary of the rustic ruse as well. Other guests seemed to grow weary of the rustic ruse as well. "We're supposed to eat this with our hands?" one cried in dismay as a platter of short ribs appeared.
The woman next to her attempted a different tack. "If I were to ask you for a fork and knife…" she said, fixing the server with a coy look.
By the time the bowls of strawberries hit the table, not even the nearly nude nymphs wielding tubes of crème fraîche could keep the exhausted guests in their seats. Turns out, making dinner is a lot of work.