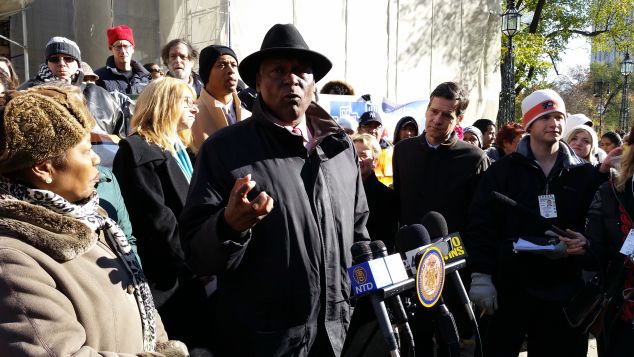 A major sugar conglomerate is demanding a candidate for retiring Congressman Charles Rangel's seat stop attacking one of his rivals for taking its money.
The Observer obtained a cease-and-desist letter that an attorney for the Fanjul Corp.—owner of Domino and Florida Crystals, among other brands—shot off to Assemblyman Keith Wright, Rangel's favored successor. The corporation, belonging to a trio of Cuban-born brothers, demanded Wright stop circulating literature highlighting its long history of alleged labor violations and the $13,500 the Fanjul family donated to State Senator Adriano Espaillat's bid for the same House seat.
The lawyer, Lawrence Norton of the D.C.-based firm Venable LLP, took particular issue with the mailer's claim that "Fanjul Corp. was Adriano Espaillat's single largest donor."
"You are certainly aware that it is unlawful for corporations to make contributions in connection with any election of any candidate for federal office," Mr. Norton's letter, dated June 9, reads. "Wright 2016 has mischaracterized personal contributions by employees of Fanjul Corp. as illegal contributions by their corporate employer. This misrepresentation by the campaign, which has been repeated in media reports, has caused, and continues to cause, irreparable harm to the company."
The literature in question also cites news reports of abuses in the Fanjul's massive sugar plantations in Florida and in Mr. Espaillat's native Dominican Republic. Mr. Norton, however, disputed these charges and threatened legal action against the Wright campaign unless it publicly retracts them.
"These allegations regarding workers and other labor issues are false and misleading," the lawyer wrote. "If Wright 2016 is unwilling or unable to comply with the above demands, Fanjul Corp. will consider taking appropriate action to protect its rights, up to and including pursuit of administrative and injunctive remedies, and all damages, costs, and attorneys' fees available to Fanjul Corp. under applicable law."
Nonetheless, the Fanjul Corp.'s American farming and processing facilities have faced a multitude of fines from the federal government over substandard working conditions. They have also battled decades'-worth of lawsuits from workers, many imported from Jamaica, claiming extensive and systemic wage theft.
The company's Dominican subsidiary, Central Romana, is the island nation's single largest landholder and employer. The U.S. government has placed Dominican sugarcane, much of which comes from the Fanjul's 200,000 acre operation, on its list of products created through forced or child labor.
Mr. Norton's letter demanded the Wright campaign acknowledge and acquiesce to its requests no later than June 13. But the candidate's team told the Observer they have no intention of complying.
"High priced lawyers are trying to stop the public from finding out the truth," Wright spokesman Hank Sheinkopf told the Observer. "[Espaillat]'s top donors have a documented history of exploiting and abusing workers. Espaillat should return this tainted money as the Wright campaign has asked him to do."
But Espaillat's camp has pointed to the candidate's personal history as an immigrant and his sponsorship of a New York State farmworkers bill of rights. They contrasted that with the Mr. Wright's getting named a "friend" of the New York Farm Bureau, which has opposed the agricultural laborer legislation and efforts to increase the minimum wage.
"Adriano Espaillat came to this country as an immigrant, and he will never forget the hardship and exploitation that Latino, African and all immigrant populations face. There is no amount of money in the world that could influence his fight to bring undocumented workers out of the shadows and ensure they are treated fairly," said spokesman Tyrone Stevens. "That's why right-wing groups like the anti-immigrant, anti-minimum wage Farm Bureau will never consider him their 'friend.'"
The Fanjul brothers are renowned for their influence over an array of American political figures, ranging from ex-President Bill Clinton to Sunshine State Sen. Marco Rubio. But both liberals and conservatives have bemoaned the way federal subsidies and price supports have fattened the clan's fabulous fortune.
The family also enjoys a warm relationship with the government of the Dominican Republic. If victorious, Espaillat would be the first Dominican-American to serve in the House of Representatives, a point he repeatedly made when he challenged Rangel in 2012 and 2014.
The Democratic primary, which Wright, Espaillat and a slew of other candidates are competing in, will take place on June 28.