When you hail from a particular economic class in life, the concept of spending an evening in the company of the uber-wealthy and the supermodels their ilk are often flanked by is a lofty one to say the least.
But it's possible. Like this past Thursday at the second annual Fight for Education black-tie gala at the Hammerstein Ballroom, where lords of finance, fashion, sports and entertainment swarmed around the unctuous energy and shimmering presence of Victoria's Secret and Sports Illustrated cover supermodel Petra Němcová.
For those that have never been exposed to Němcová's story, the gist is this: In 2004 she and boyfriend Simon Atlee were vacationing in Thailand when a devastating tsunami wiped out entire communities, ravaged the area's schools and educational infrastructure and killed over 200,000 people, including Atlee. Němcová was badly injured but eventually physically recovered. And Thursday's gala was for the 11th Happy Hearts Fund Němcová has willed into existence after the tragedy, building 130 schools and empowering 50,000 students in 10 countries around the world since its inception in 2006. No small feat, supermodel or not.
Any lingering, bitchy doubts that such an endeavor is the absentee pet project of one of the Beautiful People for a little piece of mind evaporates when taking in the whole story. Or, by reading the room of hedge fund managers bidding on the auction items. Two of the flush gents in particular—seated near my table as Němcová was cheekily prodding everyone to jack up the value of the auction items while she lurked behind them—single-handedly donated enough money to build a brand new school. Each.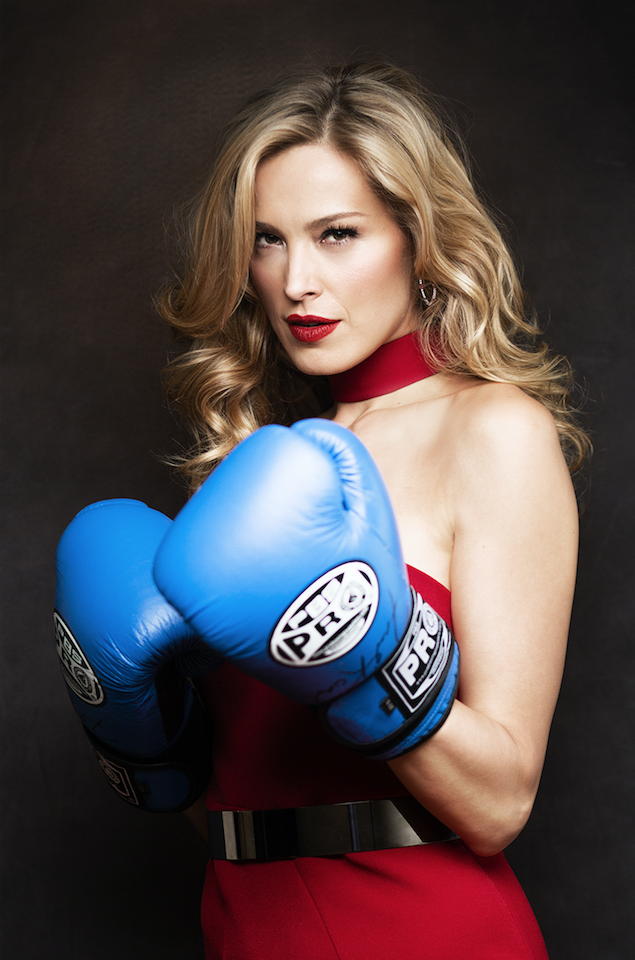 According to Němcová's sister Olga, who runs the ground game for the event, most of the guests are returning donors. For her, that's because of a demonstrated belief in the goals of the gala and the passion of her sister for the mission at hand. Admirably, Němcová even attended London Business School to acquire the skill set needed to build a stable foundation from top to bottom, ensuring its success as a company and as an agent for good around the world.
  Before the main event—a bizzaro reality suggesting comedian Dane Cook would willingly heave haymakers at a face like Němcová's with a twist—Victoria's Secret models Arlenis Sosa and Hind Salhi threw fists and shins in their aptly padded kickboxing match. I'm guessing it was the caliber of class in the room (think $25,000 per table kind of room), but it was refreshing not to hear anyone barking out any "catfight" howls from the audience made up of a cheery mix of professional UFC fighters, close friends of Němcová from the fashion and entertainment industry, actors (see: Tony Hale of Veep and Arrested Development) and at least one bearded journalist imposter who slithered in for this dispatch wearing his lone, slightly wrinkled suit.
And of course, comedian Dane Cook. Now, depending on your stand-up sensibilities, Cook is either a stand-up god or an unmitigated obnoxious wild man, whose legions of Affliction T-shirt-wearing bros orbiting his particular celebrity made his cordial and affable demeanor through the event that much more endearing (still, fuck Affliction shirts).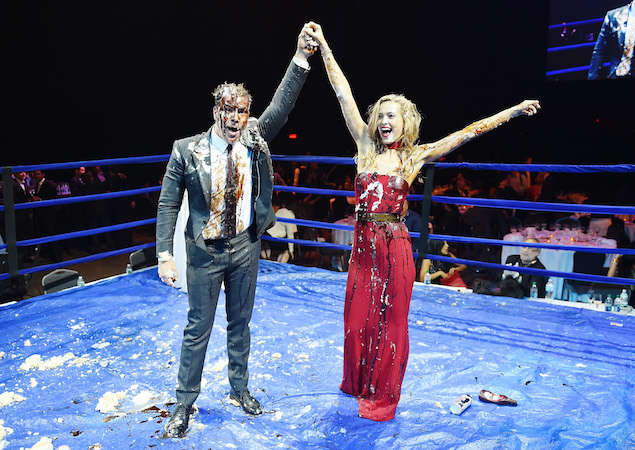 After, he and Němcová laced up with comically humongous gloves, threw a few punches and then just opted for a giant cake and a cart full of ice cream sundae accoutrements in the ring to douse each other with thoroughly. It was a curve ball, but I did ask Cook how the fight was actually going to go down before the match, and he cryptically telegraphed, "It's going to be delicious…" Mm.
I also stole a few minutes with the supermodel (a line I will likely never get to repeat again), who trains with Manny Pacquiao's boxing coach Freddie Roach. As Němcová said, "I've been a fighter my whole life from Czech Republic, been fighting for the fashion industry, fighting for children and fighting for a greater good. Our foundation was started by women, and this really is a women-driven event in a finance-industry world. Women kick ass."
Amen.