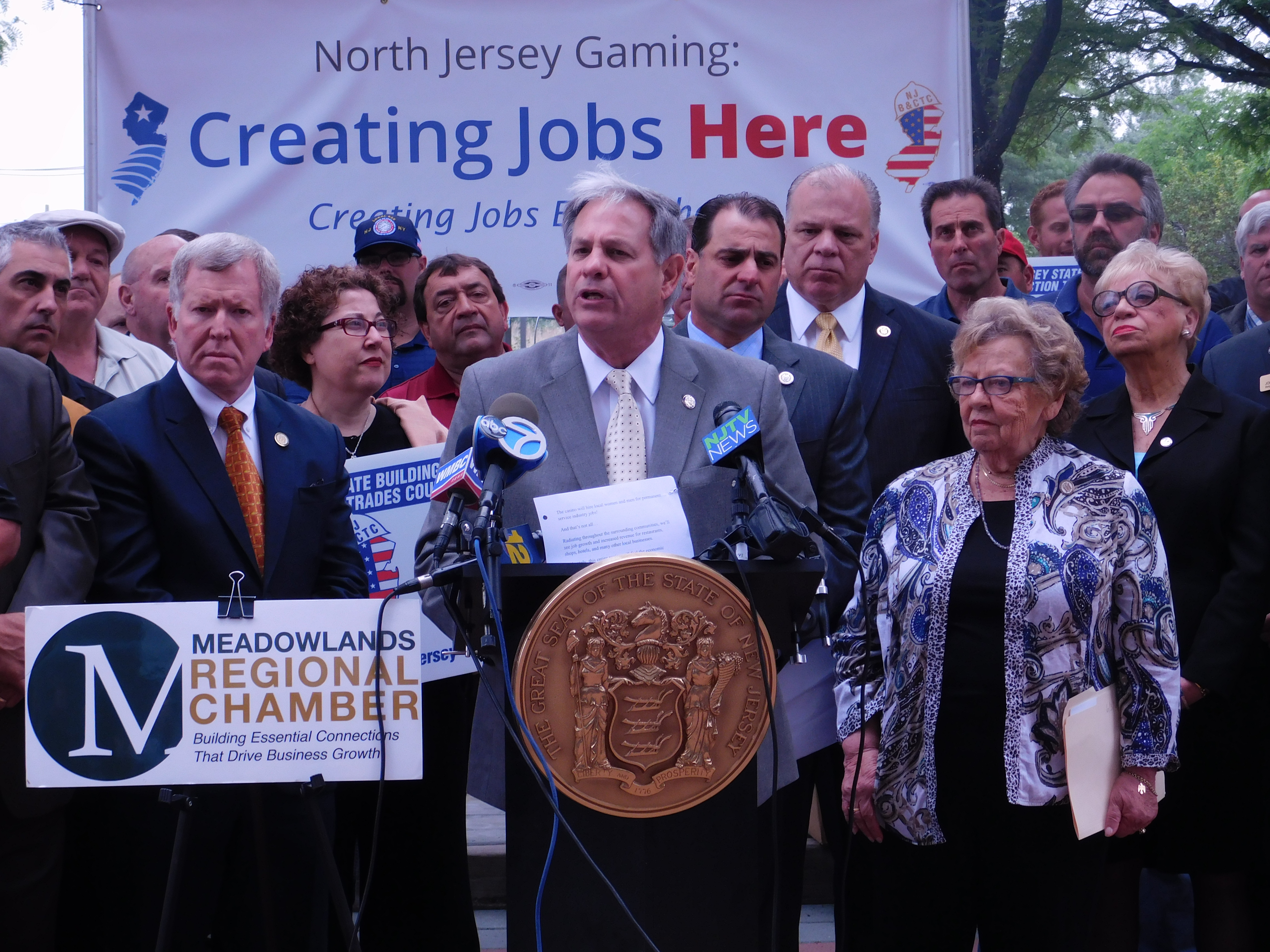 RUTHERFORD – A coalition of New Jersey legislators gathered in front of the offices of the Meadowlands Chamber of Commerce to highlight what they feel is a necessary expansion of casino gaming away from only Atlantic City and into North Jersey. At the event Democrats Senate President Steve Sweeney, Senator Paul Sarlo, Senate Majority Leader Loretta Weinberg, Senator Bob Gordon, Bergen County Executive Jim Tedesco and several Bergen County freeholders spoke in favor of the expansion.
"Politics are politics but this is about people," Sweeney told the crowd. Friday's event was well attended by members of New Jersey Building Trades unions. According to Sweeney—an ironworker by trade—new casinos will create jobs throughout the state.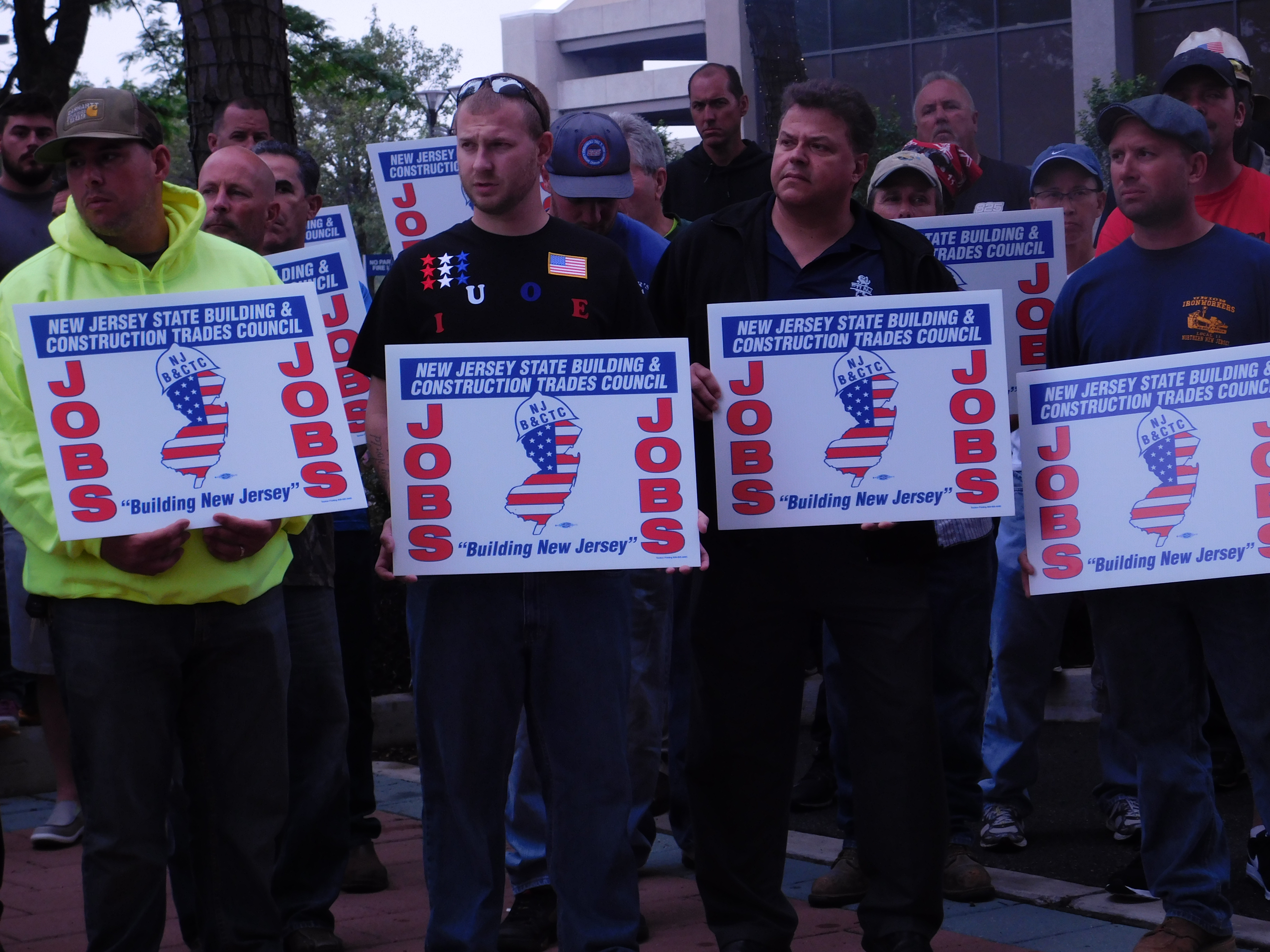 This November the public will have the chance to vote on whether or not casinos should be expanded via ballot question. If voters decide gaming should be expanded, up to two casinos can be built at least 72 miles north of Atlantic City but no two casinos will be allowed in the same county. Proponents of the expansion say the increase will boost the economy for all of New Jersey, primarily because about $200 million of the annual revenue generated in northern casinos will be redirected back into Atlantic City to be spent on infrastructure and creating a diversified economy. None of the money generated will be diverted into Atlantic City's government. Proceeds from northern casinos also stand to bolster senior and disability services in the state and offset transportation infrastructure costs, according to the legislators.
One topic that the legislators hammered home during the event was the idea of creating a unified New Jersey that does not focus so heavily on North vs. South. Because revenue from northern casinos stands to be distributed throughout NJ, lawmakers claim that the barriers must come down in order to allow progress statewide.
"Lets do something, not for South Jersey, not for North Jersey, not for central Jersey. We are one state," Sweeney said. "Advancing the plan for casino expansion into North Jersey is critical for New Jersey's economic future. We need to take advantage of the opportunity to create jobs, provide a boost to the economy and build the foundation for long-term growth. That growth will be felt statewide. The casino expansion will help generate funds supporting investment in a new future for Atlantic City, a future that sees the city's return to its role as a premiere vacation destination, bolstering the state's billion dollar tourism industry. We can't afford to have this opportunity lost to further delay or political inaction."
According to County Executive Tedesco, building northern casinos stands to have a ripple effect that will be a boon to the statewide economy, not just Bergen County where he serves.
"The best is yet to come, especially when we add casino gaming to the mix," Tedesco said of the Meadowlands. He called the area a "premier entertainment destination" because of the presence of MetLife stadium, the large-scale concerts and the currently in development American Dream project.
For Weinberg, the Meadowlands also represents the "perfect spot" for expanded gaming.
Meadowlands Chamber of Commerce President Jim Kirkos also spoke at the event. He agreed with the idea that New Jersey must focus on unity.
"We can have both," Kirkos said. "We can rebuild Atlantic City into a fantastic resort destination and have a casino here. We need to show the voters this project gives them a better New Jersey."
The focus on northern casinos and North/South unity comes at a critical juncture for South Jersey native Sweeney as he readies to make a gubernatorial run in 2017. If the casino referendum passes this year, it will strengthen his candidacy statewide. Additionally, the event on Friday demonstrated the wide support he stands to keep in Bergen County among electeds looking at the 2017 election. If casinos pass—something Bergen County's lawmakers want—Sweeney will come out a winner and secure alliances in New Jersey's most populous county.
According to figures released by New Jersey Senate Democrats, the casinos could generate an estimated $4 billion in economic activity, 10,000 to 20,000 construction and permanent jobs in North Jersey and $3 billion and thousands of jobs in the Atlantic City region. In addition to the proposed Meadowlands location, other locations in Hudson and Essex County are also under consideration.