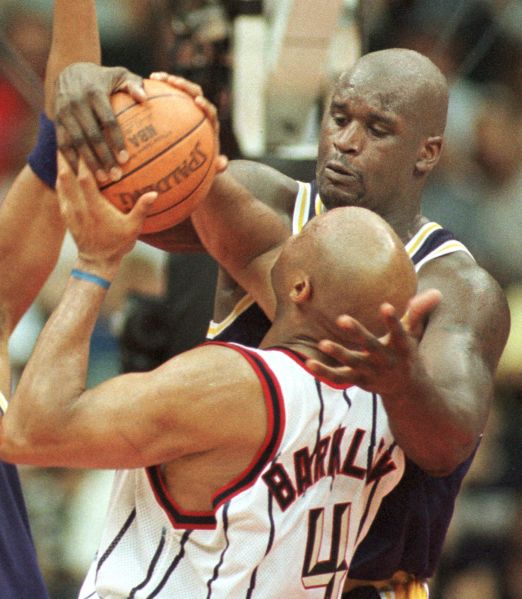 We want to believe that all professional athletes —except fighters—reject the idea of intentionally disabling an opposing player. That is not how top competitors send a message. Sadly, a recent exchange between former basketball greats (and now commentators ) Charles Barkley and Shaquille O'Neal, has made me wonder.
"I got to vent," declared Barkley recently, opening the post-game show on ESPN. The Cleveland Cavaliers had just trounced the Atlanta Hawks in Game 2 of their 2016 playoff series, and set a record for 3-point baskets. "The Atlanta Hawks got to take somebody out, Ernie," the often irreverent 'Sir Charles' proclaimed.
"When you say 'take them out,' what do you mean?" demanded an obviously startled Kenny Smith, fellow athlete and co-commentator.
Ernie Johnson, the host, stepped in and clarified the question: "Touch him up or take 'em out?"
"No, TAKE em OUT!" Barkley insisted, brushing aside anything less.
"Take em out means hurt them," Shaq stated authoritatively.
"Just say 'touch em up,' Shaq sternly corrected Barkley's word choice. Then, with a touch of righteous indignation, he shifted to obvious principles of right and wrong. "You can't hurt nobody, Chuck."
"You're not trying to hurt 'em," Barkley said, leading one to wonder how you physically disable an athlete without hurting him. Break his wrist or ankle painlessly?
"Take em out means hurt them," Shaq stated authoritatively.
"When a team is just embarrassing you, shooting 3's when the game is way over, just trying to set a record," Barkley explained, justifying as principled his call for violence, "You have to knock the hell out of them. . . . If you keep shooting 3's, I got to take you down one time, really hard," Barkley insisted. 
"I agree with that, Chuck," said Shaq in his lowest moment of this exchange, casting doubt on his earlier protest as merely a quibble about the right words to use, ambiguously followed by, "Not take em out though, just touch em up a little." Was he essentially agreeing with his buddy Barkley but still urging him to shut up? Or was Shaq vigorously denying the right to disable a fellow athlete?
Barkley apparently got the message to correct his language, but continued his call for violence. "You got to touch em up good, though. Send them a message."
"Oh, you're right," said Shaq, trying to smudge the divide.
"'Take em out' is a really, really negative kind of connotation," Johnson, the host, protested, offering Barkley another chance to disavow it all.
"You never want anybody to get hurt," agreed Barkley. "In hockey, you send your goon out there. We don't have a goon. So we send Shaq out there. To touch him up." Charles Barkley embraced Shaq's label, but continued to insist on Atlanta's duty to violently send a message.
Outside the realm of sport, if a person on TV publicly urges one gang to "take out" someone from an opposing gang, prosecutors could prosecute for criminal solicitation. And if that leader incentivized a follower actually to "take out" an opposing gang member, he could become an accomplice to that assault. During thousands of hours interviewing street criminals inside prisons these past decades, dozens of convicts have justified their crimes of violence to me, sounding eerily like Charles Barkley. 'They disrespect us, so we take them out. Teach one of them a lesson and send a message to the rest.'
"If you close to something historical, you can't go for it?" Kenny Smith protested at one point, defending the Cavs as having done nothing wrong in trying to break a record. On one level, Barkley and Smith had entered an ongoing philosophical controversy: With victory secured, does the dominant team rightly convert the contest over victory into a test of their own long range shooting prowess?
"When you got a 40-point lead and you say 'Let's toy with these guys. Let's don't take layups. Let's go for 3's.' That's disrespectful. The reason I would have did it. I've got to set the tone for the next game."
And as they went off-air for a commercial break, Shaq, perhaps not realizing the mike was still live, again scolded Barkley for his choice of words. "You can't say 'take em out.' Say, 'touch em up.'"
And as they went off-air for a commercial break, Shaq, perhaps not realizing the mike was still live, again scolded Barkley for his choice of words. "You can't say 'take em out.' Say, 'touch em up.'"
By competing, professional basketball players implicitly acknowledge the sanctity of each athlete's trained body, risked only within the confines of the sport. Charles Barkley apparently forgot that in sport, competitors also cooperate with their opponents in their mutual quest for excellence. Barkley's own blatant disrespect for the physical integrity of his fellow competitors should disqualify him as a public counselor of young athletes. This Hall of Fame former professional athlete may not care what the American people think, but the American people should care whether he poisons our children's values.
I hope ESPN touches up Charles Barkley. Or better yet, takes him out.
Robert Blecker teaches criminal law at New York Law School and writes about cheating, scandal, and sport.