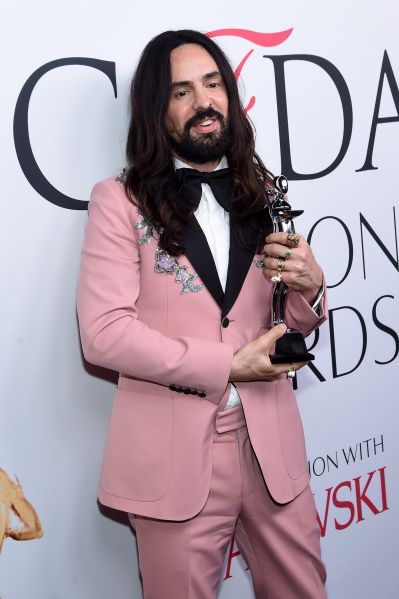 Though excitement bubbled during the day with Beyonce rumors circulating, somehow the atmosphere took a while to warm up at last night's CFDA Awards.  Sticky traffic gave way to a slug-like red carpet in the pre-amble, where the not-that-famous hogged the paparazzi and bigger stars waited on the sidelines.  Cocktail hour dragged on until finally everyone was corralled in for the main event which began on time.
A subdued audience of biz insiders clapped the procession of fashion stars to take the stage, with Jenna Lyons and Lena Dunham piercing a hole in the heavy atmosphere and igniting lots of guffaws. The crowd warmed up and offered big cheers for Donna Karan who accepted the Founder's Award in Honor of Eleanor Lambert from her close friend Calvin Klein. "Donna was the most attractive, friendly girl you'd ever want to meet." He told the crowd, of their first meeting in the 1970s. "She's still the same Donna despite all of her extraordinary successes. As two New Yorkers who made their name in fashion we understand each other really well." Ms. Karan mentioned working with Eleanor Lambert, the namesake of her award, at fashion's famous Battle of Versailles in 1973, "all held together by Liza Minelli."
Brandon Maxwell brought the house down with his acceptance speech for the Swarovski Award for Womenswear telling the crowd, "I feel so happy and incredibly nauseous. A year ago my life was in such a very different place and I can't believe what has happened.. First I want to thank the CFDA and I'm not in the CFDA, so Diane, Steven, Anna…" he said reeling off the list others had thanked verbatim and triggering much good-natured laughter.
Huge applause erupted for Anna Wintour, who announced Hillary Clinton's ascension to the position of presumptive Democratic nominee when she took to the stage. Ms. Wintour presented Gucci's Alessandro Michele with the International Award. Mr. Michele read his prepared speech with a sweetness of spirit and soft voice that raised the mood of the room out of the kind of "Who's looking at me?" "Where's my assistant" crankiness and up into the fashionsphere, a place that few of us seem to glimpse much these days. As well as giving thanks, he spoke humbly about the joyful experience of having people truly appreciate his creativity.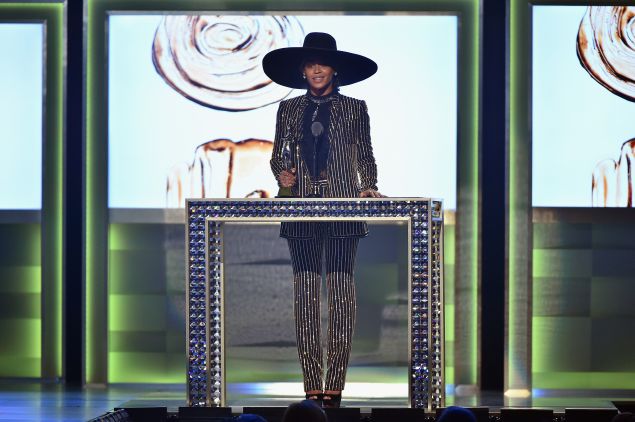 Though Mr. Michele was our highlight of the night, naturally Beyonce elicited the biggest cheers when she accepted her Fashion Icon Award. Saying the clothes her Mom designed for her 'House of Dereon' line made the younger Beyonce feel like Khaleesi from Game of Thrones. Beyonce also wowed everyone with her 'Lemonade' hat, including 'Becky with the good hair' or Rachel Roy as she prefers to be known. Things wrapped up speedily after that, everyone left as quickly as they could afterwards for their respective after-parties where, it's probably fair to suggest, the real celebrating kicked in. For a full list of winners check cfda.com