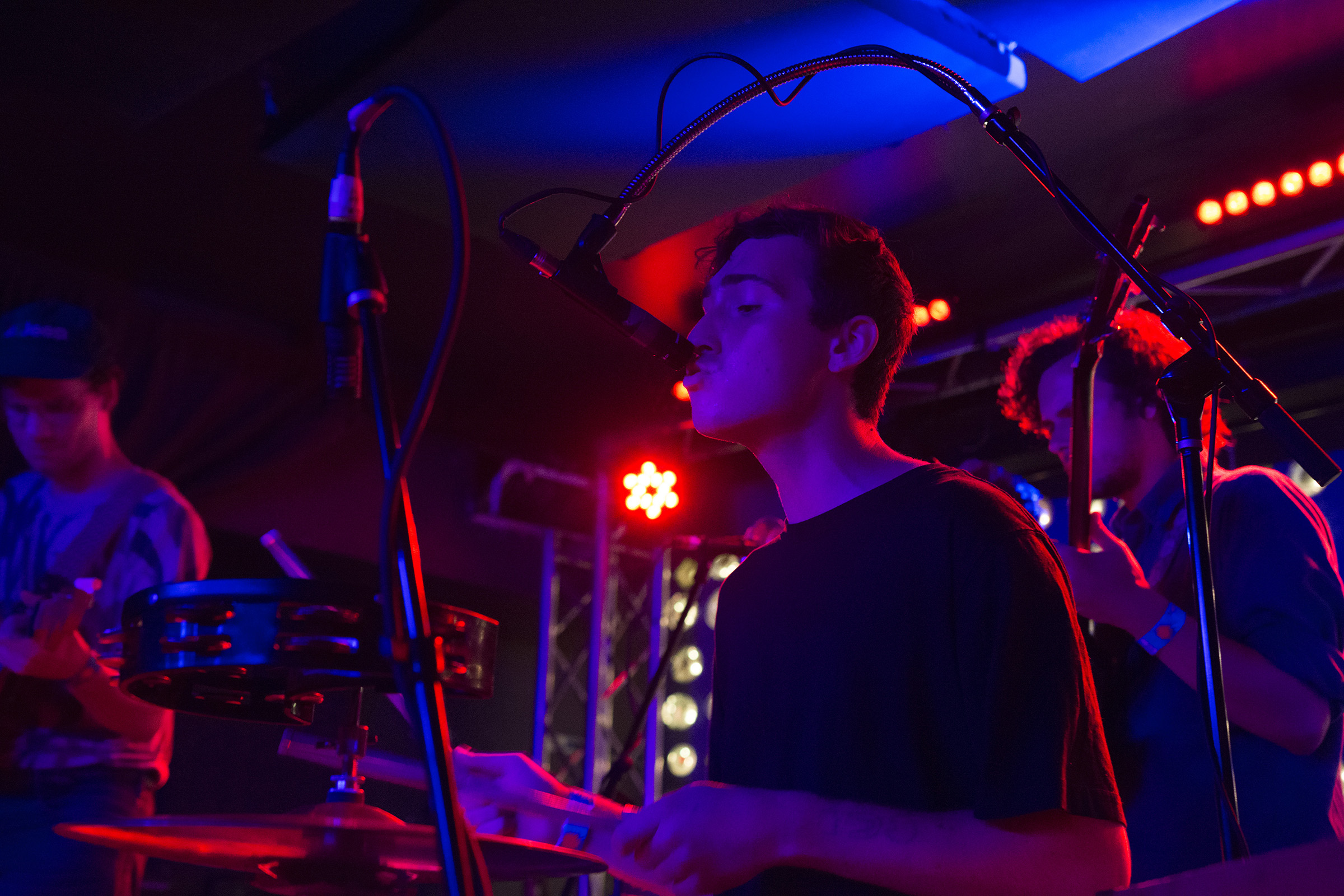 The last weird, cramped venue left in Williamsburg, Baby's All Right brings the cool kids further down Broadway, below the BQE, past the landmark Williamsburg Savings Bank and Peter Luger's steakhouse.
Situated just above the neighborhood's Hasidic housing projects, the funky and cramped back-room venue at Baby's recalls an older Williamsburg from just two years ago, when the Southside's block of DIY venues (285 Kent, Glasslands and Death By Audio) gave music fans some sweaty, loud art spaces where they could dance until 4 a.m. while depleting serotonin or lose shoes in the pit while Parquet Courts channeled the Zen apathy of Tom Verlaine onstage.
Vice Media bought that block, though, giving the only remaining alternative music space Baby's a unique degree of piety and purpose, no matter how goofy those frozen boozy grapefruit "Pink Babys" appear. Hell, get there for happy hour and pair one with some Thai sliders, dude. No one will call you bougie, promise.
And though the 280-person capacity of that venue means it's still for up-and-coming bands, the house board guys know what they're doing, too. Baby's hosts showcases for just about every festival that comes through BK these days, from CMJ to this week's Northside, and the parties run long.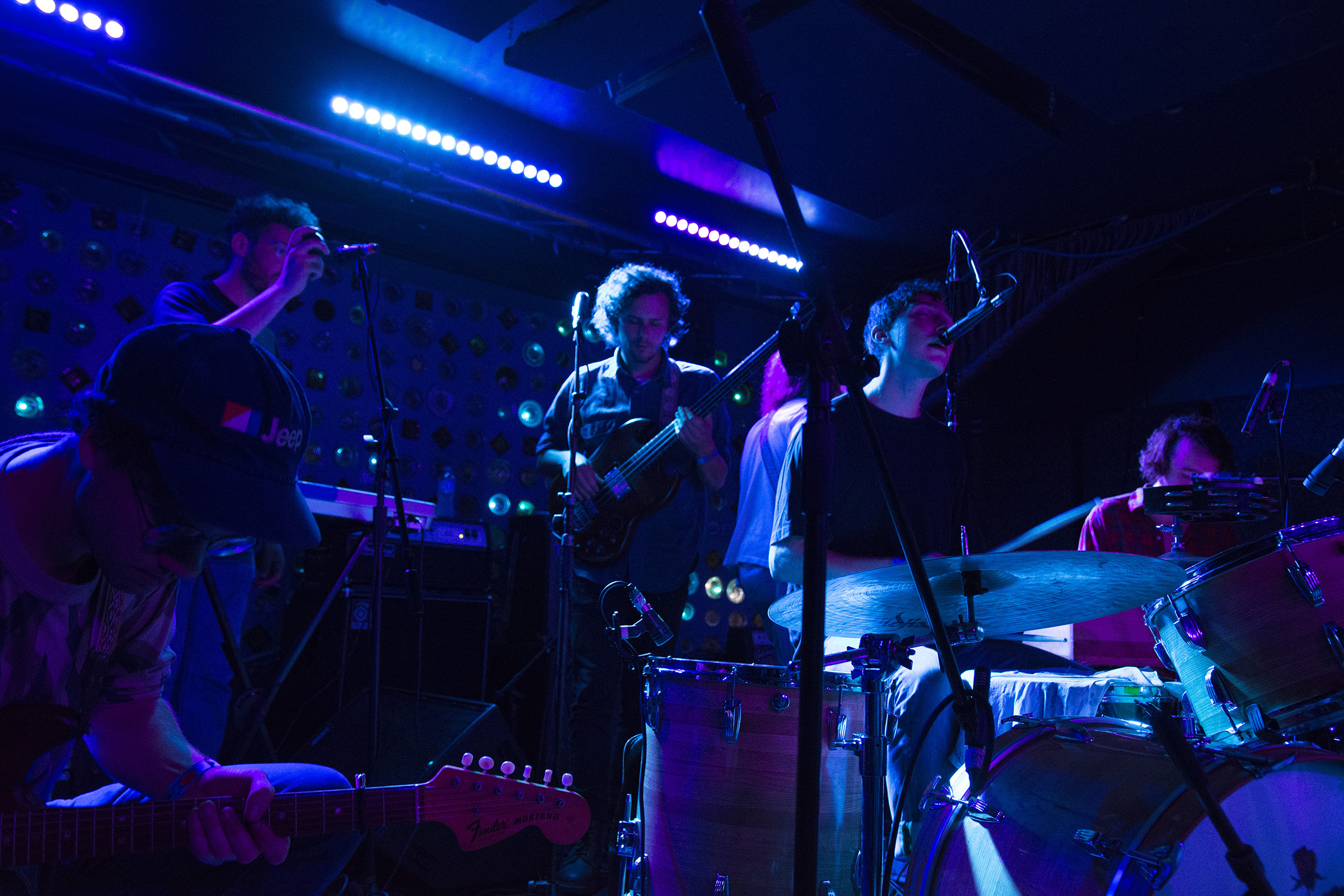 The Observer showed up for one such up-and-comer, Whitney, playing a sold-out album release show on the day that their wonderful debut, Light Upon The Lake, dropped.
Formed by ex-Unknown Mortal Orchestra drummer Julian Ehrlich and ex-Smith Westerns guitarist Max Kakacek, Whitney eschew the sound of both of those bands in favor of fine-tuned country-soul. With Ehrlich's kit positioned front and center to reinforce his role as lead vocalist, he transformed into the surrogate Levon Helm figure of the group, leading the other six members through Whitney's short catalog with his drumming high in the mix. Only his falsetto, reminiscent of Bon Iver or Jim James from My Morning Jacket, cut above his snare hits.
The band sounded great, of course, and that's why they came through to Baby's.
[youtube https://www.youtube.com/watch?v=CGKN6qiDqnk&w=560&h=315]
Presenting New York with the live incarnation of a record that sounds very homespun and warm, Whitney played several sets around the city that weekend (including a bittersweet gig at Other Music before they close forever),  but Baby's was definitely the place to be seen for the Bridge & Tunnel folks who wouldn't be caught dead in a record store or venture further into Brooklyn.
Opener "Dave's Song" set the tone with rolling guitar and bass interplay as Erlich sang, "I don't wanna be saved, keep me in your heart again." Seated at the kit until the point in the song where his drums take over, his frontman croon soon supplanted by his drums added a dynamic heft to a genre that often turns frou-frou mighty fast.
It's one of the many tricks Whitney implements to flesh these songs out live, like when trumpeter Will Miller's harmonizer pedal makes him sound like a whole horn section on the rapturous "Polly"; it was thrilling to see Whitney bringing such immaculately-arranged sonics to the tiny Baby's. They pulled off the cover of The Everly Brothers' "So Sad" with flying colors, but Bob Dylan's "Tonight I'll Be Staying Here With You" was a tougher sell. (It's unlikely that anyone could cover that tune better than Bob himself on the Rolling Thunder Revue recordings.)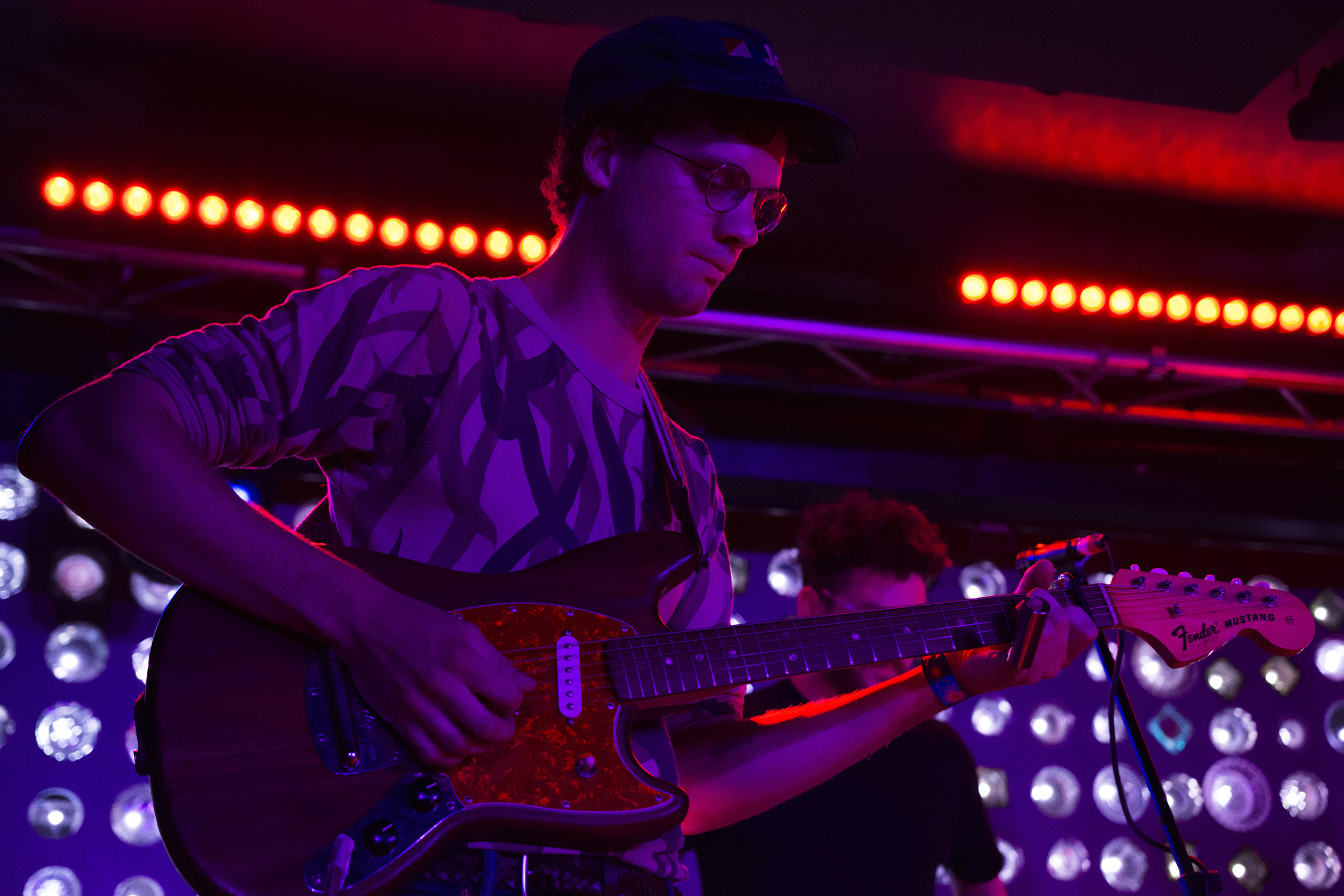 More important than the success of those covers, though, Whitney proved that Baby's is the best venue in the city for any sonically ambitious band to have their debut.
The venue never has any of the sound muddiness problems that riddle Bushwick's Palisades or the louder-is-always better approach of venues like Shea Stadium and Market Hotel. Whitney also prove to be the most successful example of a popular trend playing out in 2016, in which established musicians transforming their work into new, fresher projects.
Aside from Whitney's debut, you've got Paul Westerberg officially bidding fuck you to The Replacements again by collaborating with Juliana Hatfield as The I Don't Cares for Wild Stab.
Anhoni has fully embraced her new identity and channeled her social outrage on the stunning electro-pop debut Hopelessness.
[youtube https://www.youtube.com/watch?v=pD4vNt3ISbA?list=PLaOcrabY_U4C1c-5JP4XBVARZShenwclW&w=560&h=315]
Mark Kozelek and Justin Broaderick helped each other out with this year's Jesu/Sun Kil Moon collaboration—Broaderick's heavier instrumentation rounds out Kozelek's heavy themes, and vice versa.
Don't call any of these vanity projects or make-overs; they are the sounds of established artists consciously working to make something new and bold.
In proving that these new sonic directions are to be taken seriously, the live presentation is essential, and Whitney were smart for throwing their party at Baby's on the day that Light Upon The Lake was released.
Local power-pop group EZTV opened, playing some fantastic new songs from their eagerly awaited follow up to last year's catchy-as-fuck debut, Calling Out. Nimai Larson and Ryan Sciaino from local New-Age pop deities Prince Rama DJed the front room, too, sprinkling the air with old Dead cuts and kitschy pop gems. With so much local talent constantly in the building at Baby's, the space becomes more than just a venue for touring bands to show our borough what they've got—it's a place to mingle, to acclimate and to schmooze.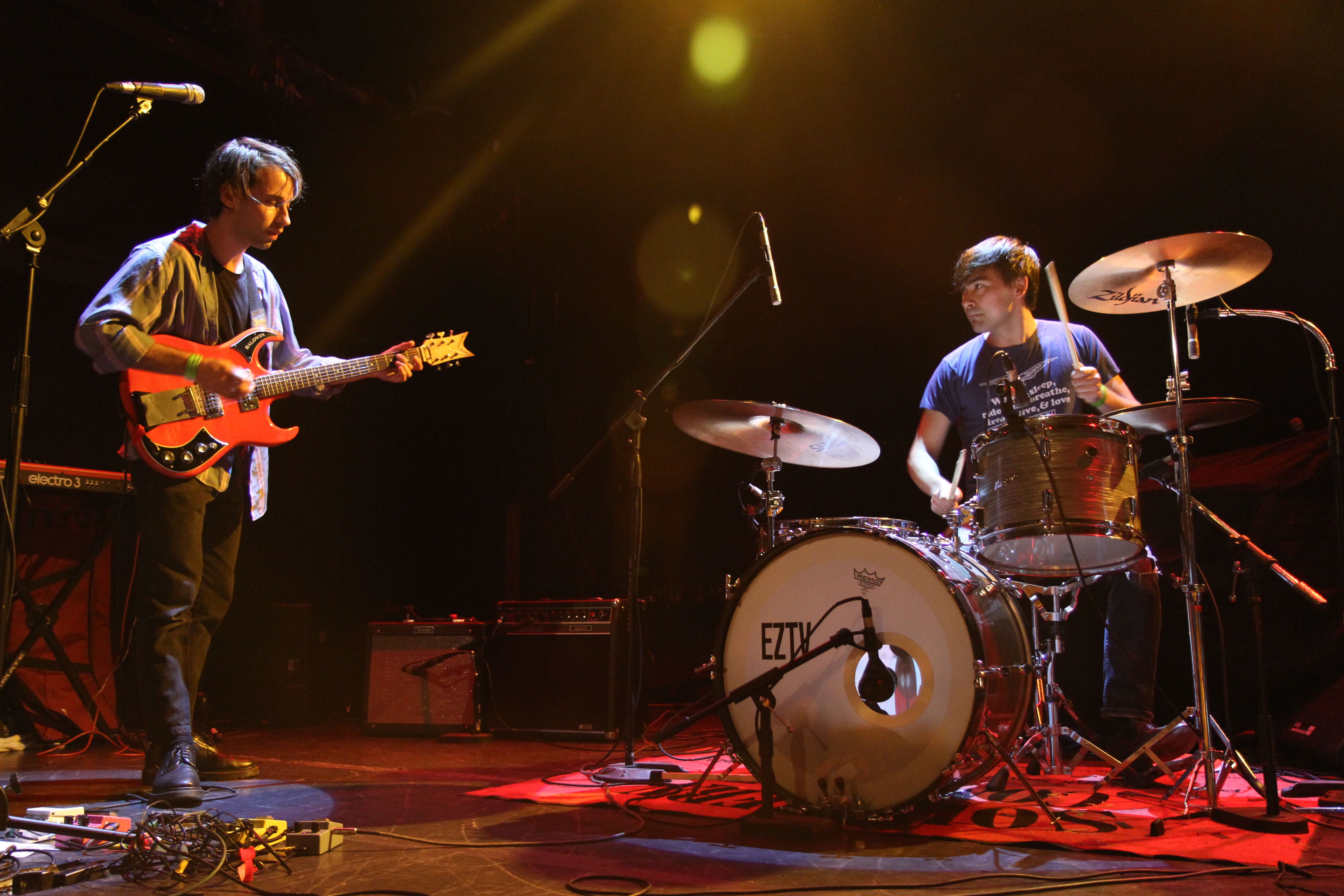 Other artists with strong 2016 debuts have relied on Brooklyn venues for their grand coronation ceremonies, too, albeit at different venues.
Hinds, a band of young women who play ferociously fun garage-pop, toured incessantly around the city late last year in preparation for their debut LP release in January. Before we heard the studio versions of the songs on Leave Me Alone, we were sweating to them them at Palisades and Shea.
The stunning debuts of 2016 that have not been explored in our smaller local spaces for one reason or another are nonetheless making waves.
By the time the official debut 3001: A Laced Odyssey dropped, hip-hop crew The Flatbush Zombies already had some mix-tapes, an EP and enough love from Joey Bada$$'s Pro-Era crew to sell out bigger spaces. Ditto with Kaytranda, whose fresh, futuristic and sample-heavy take on R&B and electro was explored on several EPs before XL released his debut, 99.9%, last month. No wonder he just sold out the Highline Ballroom.
There are many ways to generate buzz around a debut, but all roads lead to a solid live presence. It's not just because the live-music industry is one of the only resources for artists to make a living off their music anymore, but because music fans want to know that an artist can conjure up their magic IRL.
Cheers to Whitney, and all the others who take the time and care about their sound enough to pull it off in a small setting. The bands that seemingly materialize at larger, festival stages out of nowhere (remember Alt-J?) always lose something in their thirsty ascension that those who take the time to incubate their live sets get to keep—proof that their magic is real.