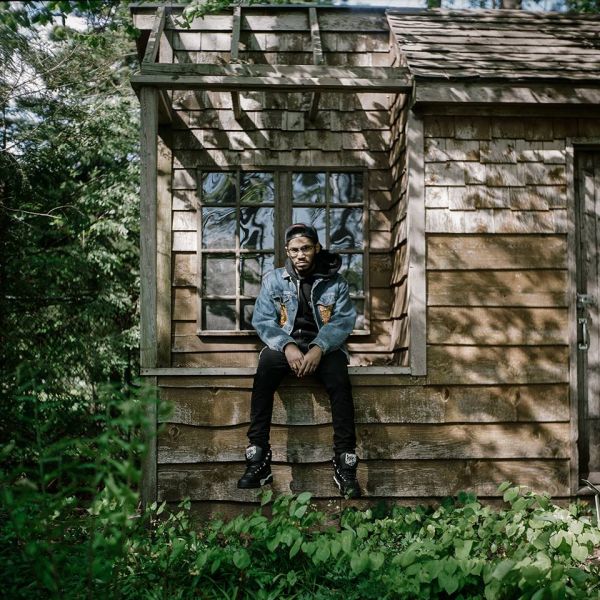 Rappers have been singing their own hooks for decades now; most of the time, it's terrible. Nobody has ever accused Eminem, KRS-One or Biz Markie of having a golden throat. DMX, however, could have had an amazing alternate career as a blues singer. Honestly, the only cat who was masterful at both rhyming and singing back in the day was the late, great Prince.
But if 2016 is to be defined by anything in regards to the current state of hip-hop, it ought to be known as the advent of the "singing rapper"—the MC who is not only nasty on the mic, but can sing his ass off as well. The women of hip-hop have excelled at this for years, as Queen Latifah, MC Lyte, Lauryn Hill and Lisa "Left-Eye" Lopes have so brilliantly displayed in the past. But it's about time the fellas are showed us what's up, as the Top Five of this hip-hop mid-year report so exuberantly professes.
Make no mistake, without fresh beats and dope rhymes you're nothing in hip-hop, no matter how well you can sing, something well evidenced by the bottom half of this list. But when you have the trifecta, you truly possess the hip-hop Horcrux. Here are our picks for the 10 best hip-hop albums of 2016 (so far).
10) Kaytranada, 99.9% (XL Recordings)
[youtube https://www.youtube.com/watch?v=KZnou4zthz4?list=PLxbwKBr2yFRCp2Z0RfncRDLHCc1kWti9G&w=560&h=315]
For a guy who still shares a bedroom with his little brother, Haitian-Canadian producer Kaytranada has earned his rep like a true G, spending the good majority of SoundCloud's existence filling up his page with some of the hottest beats to ever emerge from Montreal while also producing and remixing for such names as Vic Mensa, Talib Kweli and even Janet Jackson.
For his XL Recordings debut, this amazing talent—who in April came out as gay in a feature for The Fader—breaks down the walls of hip-hop not only socially but aesthetically as well, recruiting the likes of Anderson .Paak, Phonte of Little Brother, AlunaGeorge, BADBADNOTGOOD, Little Dragon and UK garage soul great Craig David among others to create a beautiful pastiche of rap, house, funk, jazz and trap that's unlike anything you've ever heard.
99.9% is a testament to every talented producer working quietly in their bedrooms that if you keep the hustle strong on sites like SoundCloud, BandCamp or DatPiff, your discovery could be just an email or PM away.
9) Seanh, Sadevillain EP (self-released)
[youtube https://www.youtube.com/watch?v=zfNAtGbh_Sw?list=PLbJ3VMmxqdGWcpZQ4IDEqKcdcSkC-Vdqp&w=560&h=315]
There's a ton of dumb thuggery to contend with on the mixtape site DatPiff. But every now and again something magical appears that transcends all the floss and flash. This year it was site member Seanh's mashup of Sade grooves over MF Doom rhymes, which comes together like two lost halves finally reuniting as a perfect whole.
The only thing that sucks about this EP is that it's only about 20-something minutes long. If there's one thing that's always made Doom so damn distinctive, it's not so much the density of his verbosity as it is the smoothness of his delivery. And the combination of the former Zev Love X and Ms. Adu with Sweetback is so fluid you can only hope Sean goes a full 79 minutes for volume two.
8) DJ Shadow, The Mountain Will Fall (Mass Appeal)
[youtube https://www.youtube.com/watch?v=8gJ3HzBbdxI?list=PLbTS8Gca4AX3yKr3XQcshhRwm3vDDyXuN&w=560&h=315]
Twenty years ago, turntablism innovator DJ Shadow released Endtroducing, an album that revolutionized the concept of beatmaking, his multi-layered soul style inspiring everyone from Radiohead to Four Tet to Diplo to Prefuse 73 to the current Brainfeeder/Low End Theory movement in Los Angeles. Following a pair of wildly uneven albums in 2006's The Outsider and 2011's The Less You Know The Better, Shadow triumphantly returns to his original recipe on the excellent The Mountain Will Fall.
His first for the Nas-backed Mass Appeal label, these 12 new compositions don't merely mirror the glory of its iconic predecessor. Rather, the man born Josh Davis utilizes his past to launch a new means of beat building, one rooted in an intrinsic fusion of live instrumentation and sampled sounds and yielding such hypnotic science as "Depth Charge" and "Suicide Pact". Meanwhile, the guest list on Mountain is a brief but brilliantly curated elite force of acts representing the best of their crafts, from rap (a never-better Run The Jewels on "Nobody Speak"), experimental classical (German pianist Nils Frahm on "Bergschrund") and progressive UK jazz (Manchester trumpet great Matthew Halsall on "Ashes to Oceans"). Throne reclaimed.
7) Mr. Lif, Don't Look Down (Mello Music Group) & 6) Aesop Rock, The Impossible Kid (Rhymesayers Entertainment)
[bandcamp width=350 height=470 album=3570889117 size=large bgcol=ffffff linkcol=0687f5 tracklist=false]
There aren't two better lyricists outside of El-P himself to have thrived within the annals of Def Jux's halcyon days than Long Island's Aesop Rock and Boston's Mr. Lif. Signing both men at the beginning of their ascent into underground hip-hop superstardom, the releases of their respective full-length masterpieces Labor Days and I, Phantom solidified both MCs as the measuring sticks for microphone mastery in the early 2000s. Fifteen years later, both Aesop and Lif return to the original recipe that put them on the top of El's want list in the first place with their best albums since the Jux era.
[youtube https://www.youtube.com/watch?v=PQF6x_FgnJ0&w=560&h=315]
Both The Impossible Kid and Don't Look Down contain some of their most personal material, compounding the science of their craft with the gravity of their histories. In a time when their former boss is experiencing one of the best second acts in hip-hop history as half of Run The Jewels, it's a beautiful thing to see his most reputable signees continue to make such important and impactful street science as they enter their 40s as well.
5) Drake, Views (Young Money-Republic)
[youtube https://www.youtube.com/watch?v=ltGltaUs_S4?list=PLddSkUxmPEC8f-EW_wvYwQgKl8w_Drou-&w=560&h=315]
Toronto's most prolific teen idol continues to master his own take on the singing rapper game he helped cultivate with his third straight classic in a row. Originally titled Views From The 6, this homage to his hometown is a CD-defying 82 minutes long and filled with the brooding rap-soul he's been perfecting since Take Care. And with longtime producer Tony "40" Shebib behind the boards for the majority of the tracks and Drizzy crooning more than rhyming out his pain, Views is his most potent work yet.
4) Domo Genesis, Domo Genesis (Odd Future/Columbia)
[youtube https://www.youtube.com/watch?v=EtEKzt_e6c8&w=420&h=315]
Every classic multi-member rap squad has always had its secret weapon. And in the case of Odd Future, their resident Inspectah Deck is Domo Genesis, whose proper debut not only builds upon the promise of his mixtapes but exceeds them in every way. In spite of the litany of guest cameos (Kendra Foster, Wiz Khalifa, Mac Miller, Juicy J and Tyler, The Creator among others), Genesis is a deeply personal album that serves as a proper missing link between Frank Ocean and Earl Sweatshirt in a way that's as psychedelic as it is street.
And while Domo himself doesn't sing, he's got the musical mind to employ friends who perfectly accent his flow, like Tay Walker ("Wanderer"), Cam O'bi ("Faded in the Moment") and Anderson .Paak ("Dapper"). Years from now when scholars of the game look back on this period of hip-hop and Odd Future's place in it, don't be surprised if Genesis is near the top of the essential list.
3) Anderson .Paak, Malibu (Steel Wool / Obe)
[youtube https://www.youtube.com/watch?v=KXdW0g6jAxE?list=PLkLZNGcjKAQ_T6e9HD9YRiUcE85vouttE&w=560&h=315]
Malibu is a district of Los Angeles not exactly synonymous with the California rap scene. But following his breakthrough appearances on Dr. Dre's Compton, former Hellfyre Club member Anderson .Paak continues to unearth the creative purity that exists in the most unlikely places with this most crucial third LP, an album that maximizes Anderson's aptitudes both as a rapper and a singer-songwriter. In his great Pitchfork review, Marcus Moore stated Malibu moves in "multiple directions like a classic '70s double album." If that's the case, then consider this Tusk.
2) Chance the Rapper, Coloring Book (self-released)
[youtube https://www.youtube.com/watch?v=mFYLd3FsxUg&w=560[youtube https://www.youtube.com/watch?v=H6C0dfq4ZWM&w=560&h=315]&h=315]
Taking a cue from his mentor Yeezus, Chance doubles down on the gospel element on his latest mixtape, available for free at all the places you know about. But the Chicago MC born Chancelor Bennett really aims to take you to church with one of the purest and most creative fusions of gospel and hip-hop to ever emerge, complete with a Kirk Franklin cameo! And the fact that he can carry a tune and is as hot on the mic as Kanye and Common almost simultaneously offers a positive forecast for the amazing music still to come from this young man.
1) Kanye West, The Life of Pablo (Def Jam)
[youtube https://www.youtube.com/watch?v=zdE1EV13j48&w=560&h=315]
Perhaps the most intriguing aspect of the publicity pipe bomb that was the release of Kanye West's The Life of Pablo was just how much more attention was paid to the Chicago hip-hop icon's antics online than the actual music he delivered, for free no less, to the masses. It's unfortunate, because a lot of people out there will never see beyond his or her perceived disgust/annoyance/hatred for Kanye to truly appreciate the great, honest song cycle to be discovered on Pablo.

It's also a conundrum that begs the question of how Brian Wilson might've behaved had there been a continuous portal to the public at large like Twitter been available in 1966. One could only imagine how all that internal wildness would've shaken out had Wilson been connected to Facebook, Instagram, Snapchat or Tumblr.
While Kanye is clearly a more volatile individual than the sweet and gentle Brian, there's a strong chance the fallout would've been as equally concerning and confounding to say the least. However, in terms of sonic scope and confessional forthcoming, Pet Sounds was instrumental in paving the way for Yeezus himself to bare his soul on Pablo, whether it's a gospel song about coming to grips with the death of his mom ("Ultralight Beam"), his relationship with his dad ("Father Stretch My Hands Pt. 2"), brushing off corporate tomfoolery ("Facts"), flipping an Arthur Russell sample to reminisce on an old relationship or getting Rhianna to sing Nina Simone on "Famous".
If the genius of #TLOP is any indication, the impact of Pet Sounds on its 50th anniversary is only getting bigger, better, faster and stronger with each passing generation.