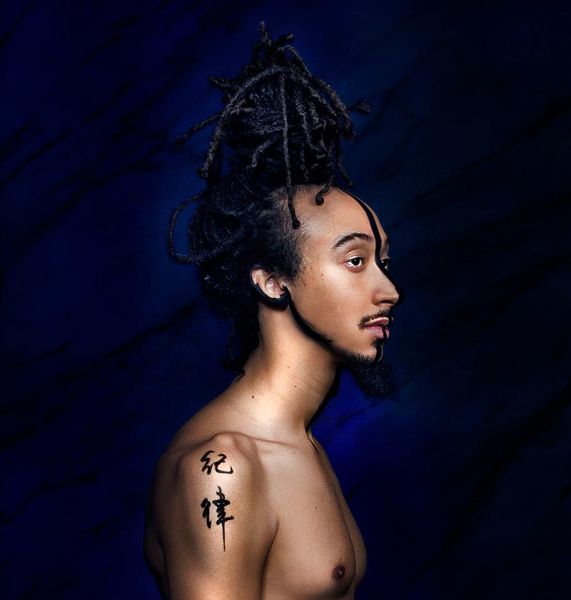 We're already six months into 2016, and jazz is maintaining the momentum it enjoyed in the wake of the breakthrough year that was 2015.
Hip-hop continues to imbue the corners of 21st-century bop, no doubt. But as these 10 amazing new titles make abundantly clear, the ways that some of today's bright young talents are paying homage to the history of their craft is what is making this particular moment in jazz a most exciting one indeed. Dig in and take notes.
10) Theo Croker, Escape Velocity (O'Keh)
[youtube https://www.youtube.com/watch?v=c2Kt8hKjRlU?list=PLnDBR5wZJr9zqP8zb-IsQdWqvs95gSEU8&w=560&h=315]
As the grandson of legendary Dixieland trumpeter Doc Cheatham, it was natural for Oberlin Conservatory graduate Theo Croker to pick up the horn in kind. However, what this young man has created on Escape Velocity goes far beyond his Big Easy pedigree as he and his group DVRK FUNK, comprised of reedist Anthony Ware, pianist Michael King, guitarist Ben Eunson, bassist Eric Wheeler and drummer Kassa Overall, explore a middle ground between electronic and acoustic jazz that is equal parts Mac Rebennack and Mark Morrison's "Return of the Mack." This is headphone bop of the highest order.
9) Snarky Puppy, Culcha Vulcha (Universal Masterworks)

[youtube https://www.youtube.com/watch?v=-Lq_Xiq4_Zs?list=PLYyvEcIXgxTyo1_3KzOUa5rLcW6c1Vju5&w=560&h=315]
For the last three years, genre-bending Brooklyn/Dallas jazz collective Snarky Puppy have been displaying their prowess on the concert stage with a trio of excellent live albums in 2013's Family Dinner Vol. 1, last year's Sylvia (recorded in the Netherlands with the Metropole Okrest) and this winter's second volume of Family Dinner. And with seven of their 11 albums being of the live variety, it's pretty clear the big band founded by bassist Michael League a decade ago kicks ass on stage. However, as their first studio LP since 2008 showcases, these guys need to get into the studio more often.
Culcha Vulcha might be a silly way to say it, but it very much serves as the chief indicator as to what to expect from this hour-plus journey into sound, as the group absorbs everything from South Asian percussion to New Orleans parade rhythms to psychedelic funk to August-era Eric Clapton to the kind of smooth electric dalliances with Mediterranean music that made Robert Plant's Now & Zen such a great listen into their perpetual orchestral groove. And at its best, as on such hypnotic cuts as "Beep Box" and "Palermo," the songs come across like Lalo Schifrin for the Tumblr generation, while even the weaker cuts like the over-the-top "Big Ugly" cannot be denied because of the pure oneness of this mighty orchestra.
8) Marquis Hill, The Way We Play (Concord)
[youtube https://www.youtube.com/watch?v=Jb_pUnAQNcc&w=560&h=315]
From Louis Armstrong's famous Hot Fives and Hot Sevens recordings in the late '20s to the third eye modality of Lester Bowie, Chicago has always enjoyed a solid rep as one of the great cities for jazz trumpet. At 29, Marquis Hill continues this lineage with a sound that embodies the history of his city while also pushing its legacy into the 21st century with his esteemed Blacktet: saxophonist Christopher McBride, Justin Thomas on the vibes, bassist Joshua Ramos and drummer Makaya McCraven.
On his Concord Jazz debut, this native son of the Windy City pays homage to his town, first and foremost, by opening up The Way We Play with a soulful reading of the Chicago Bulls theme music from the Michael Jordan era. From there, this incredible ensemble delivers futuristic re-imaginings of such jazz standards as Horace Silver's "Moon Rays", fellow Chicagoan Herbie Hancock's "Maiden Voyage", Donald Byrd's "Fly Little Bird Fly" and "Straight, No Chaser" by Thelonious Monk, whose International Trumpet Competition Hill won in 2014.
Meanwhile, a steamy rendition of Victor Young and Ned Washington's "My Foolish Heart" with vocals by singer Christie Dashiell, is indeed more KING than Nat "King" Cole. The Way We Play is more than an album; it's a calling card assuring that classic Chicago jazz is alive and well in the hands of one of its most talented young lions.
7) Anat Fort Trio with Gianluigi Trovesi, Birdwatching (ECM)
[youtube https://www.youtube.com/watch?v=eD4E5Zt6u8s&w=560&h=315]
Ornithology has always been on the of the more intriguing thematic points of interest within the context of jazz music. Ornette Coleman, Dave Holland, Donald Byrd and, of course the original Birdman of jazz, Charlie Parker, have all paid sonic homage to birds and birdwatching throughout the years. For her third LP for ECM, Israeli pianist Anat Fort follows along this inspirational trajectory in her art, not only naming her new album after her favorite pastime, but spreading her proverbial wingspan as well with some of her most expansive compositions yet.
On Birdwatching, Fort returned home to Tel Aviv, where she performed a series of concerts with one of the pianist's favorite artists, Italian horn player Gianluigi Trovesi. The successes of these performances inspired the trio, rounded out by her longtime rhythm section of bassist Gary Wang and drummer Roland Schneider, to head into the studio with Trovesi and record this exceptional collection of 12 compositions. This is a classic blend of Hebrew and Mediterranean sounds that intersect one another like the delicious fragrances coming from a marketplace in old Brooklyn, creating a listening experience as colorful and calming as the hobby it was named after.
6) Logan Richardson, Shift (Blue Note)
[youtube https://www.youtube.com/watch?v=gftN8IQpp0k&w=560&h=315]
Pat Metheny has only appeared on two Blue Note albums over the course of his career: Once in 1994 on a stunning duet album with fellow guitarist John Scofield called I Can See Your House From Here, and again in 1999 when he was one of the guests on Cassandra Wilson's homage to Miles Davis, Traveling Miles. That is, however, until this past winter when the guitar legend was placed in a starring role in the label debut of saxophonist Logan Richardson, performing alongside an A-list squad rounded out by the magnificent Harish Raghavan on bass, Jason Moran on piano and his drummer Nasheet Waits.
READ THIS: The 20 Best Jazz Albums of 2016
For many fans of modern jazz, this lineup is something of a dream band and they do not disappoint in the least on Shift, where Richardson pays homage to his Kansas City roots with a sense of unconventional daring that goes from the chamber jazz stylings of "Slow" to a moody rendition of Bruno Mars' Police-jacking "Locked Out Of Heaven" with seamless ease.
5) Alfredo Rodriguez, Tocororo (Mack Avenue)
[youtube https://www.youtube.com/watch?v=TlnhEWAM40k&w=560&h=315]
Following up on 2014's Invasion Parade, pianist Alfredo Rodriguez continues to pay full homage to his Cuban heritage with an album that could easily be considered his most adventurous to wit. Named after the national bird of Cuba, Tocororo celebrates his motherland's newfound freedom by collaboration with an enclave of musicians from all around the globe, including France, Spain, Lebanon, Cameroon and India, all under the watchful eye of executive producer Quincy Jones.
The result is an equal parts worldly and otherworldly cousin to Q's own Walking in Space, a celebratory lifting of the embargo that offers Cuban musicians full reign to explore sonic landscapes beyond the parameters of their island to craft a quintessential sound of creative freedom taking first flight.

4) Miles Davis & Robert Glasper, Everything's Beautiful (Columbia-Legacy)
[youtube https://www.youtube.com/watch?v=MrAzXh00Q4A?list=PLUtxKQAI-tcpl_W4n1sj4RG8ty2IaxRBt&w=560&h=315]
May 26 would have been the 90th birthday of Miles Davis. Now imagine if the jazz legend had lived to see that landmark day, and the way he and his trumpet would have absorbed the '90s and '00s. Robert Glasper, who also produced the soundtrack for Don Cheadle's excellent biographic fever dream Miles Ahead, offers perhaps the most convincing hypothesis yet with Everything's Beautiful.
What we have here is a revolutionary revision of original Miles recordings through the piano maverick's innovative eye, flipping the evolution of his eternal groove to include appearances by some of the top acts in the alt-soul game, including Ledisi, Erykah Badu, KING, Bilal, Laura Mvula and Hiatus Kaiyote, to usher in the Man and his Horn into the 21st century. Other guests include Phonte of Little Brother, longtime Miles guitarist John Scofield and, perhaps most importantly, Stevie Wonder, finally bringing together these two giants of American music after so many years of wondering "What If?"
3) DeJohnette/Coltrane/Garrison, Movement (ECM)
[youtube https://www.youtube.com/watch?v=YmksrygU7ls&w=560&h=315]
Jack Dejohnette only played with John Coltrane once for three songs in the early-'60s. But a half century later, the iconic Chicago drummer finds himself leading a group comprised of Trane's son Ravi on sax as well as Matthew Garrison, the son of longtime Coltrane bassist Jimmy Garrison. And all you have to do is listen to the opening strains of their version of Papa's "Alabama" to get the gist of the futuristic modality these three men bring out here.
Together, this incredible cross generational trio ushers in this great jazz legacy into the now with an incorporation of electronics that offers a nod to the skills of the youngest member of the esteemed Coltrane/McLeod clan, Flying Lotus, thanks to the laptop knowhow of bassist Garrison. The trio even does a beautiful meditation on Miles Davis' "Blue In Green", a loving homage to both Ravi's pops and Jack's old charge in the same cool breath. In Movement is, in a word, magnificent.

2) Jeff Parker, The New Breed (International Anthem)
[bandcamp width=350 height=470 album=1307492242 size=large bgcol=ffffff linkcol=0687f5 tracklist=false]
Though there are many who love them regardless of the direction they take, there is very much a minority of Tortoise fans who have been supremely bummed since the Chicago post-rock supergroup began going in a less-jazz, more electronic- and rock-oriented direction following the release of 1998's TNT. However, if you've been following the solo career of their longtime guitarist Jeff Parker, you will quickly realize that the pastoral nature of his main band is still alive and well in the heart of his own recorded work.
The New Breed, his first for the amazing International Anthem label, perhaps cuts closest to the cloth of the classic Tortoise sound many of us love and miss so much more than anything the band themselves has released since Standards. Rooted in old home recordings and beats that have been sitting on a hard drive or on his dormant MySpace page since the late-2000s, Parker revisited these relics with a killer ensemble comprised of cats who've worked with Me'Shell Ndegeocello (bassist Paul Bryan), Esperanza Spalding (saxophonist Josh Johnson) and Robert Glasper (drummer Jamire Williams), and updated them to fit his recent obsession with the Brainfeeder label and its accompanying Low End Theory movement.
Tortoise's newest LP, The Catastrophist, has been panned by many of those aforementioned fans as the group's weakest work to date, particularly due to the fourth-wall-breaking move of incorporating vocals into their sound. Luckily, The New Breed provides a perfect counterpoint.
1) Julian Lage, Arclight (Mack Avenue)
[youtube https://www.youtube.com/watch?v=yWAT8CDm3lo?list=PL-JEV4IIffCXda4-vc7WlEoHolS4EfAxW&w=560&h=315]
For his official debut as a leader on the Mack Avenue imprint, former child prodigy Julian Lage continues to prove why he is the best guitar player in modern jazz with this dazzling tribute to his electric guitar heroes of the early 20th century. If you are hearing aspects of Chet Atkins and Les Paul throughout the course of Arclight, that's because Lage and his mind-blowing rhythm section of bassist Scott Colley and drummer Kenny Wollesen pay homage to the guys Chester and Lester were influenced by like Merle Travis and George Barnes, crafting a mood that is equally in step and out of time to brilliant effect.
The Observer spoke with Lage over the phone earlier this year. We discussed his fantastic album, Arclight, his favorite guitar players and the enduring influence of the blues on his recent work.
You play the Telecaster on Arclight. Was it a particular kind of Telecaster you used for this album?
It's a Telecaster made by a guy called Dan Strain. It's a "Danocaster," actually [laughs]. Dan makes some of the best replicas of the old style Telies. They're what you call relics, in that they're made to look old, to feel old and to sound old, especially versus buying a new one off the rack. It's got like an early-'60s style, a little brighter and lightweight. It's really a great guitar.

And you were definitely going for that vibe for this album, yes?
I was, definitely. I was going for that early electric guitar style of George Barnes, who gets credited as the first to play the electric Spanish-style guitar. He was really the first guy to come out of the gate and plug in; Charlie Christian was a little bit after that. And some of the early lap steel players from Hawaii, which really launched me into a whole new world of exploration, which is always a good thing. Eddie Durham was another one who I really love as well. 
READ THIS: A Tribe Called Quest Sparked Hip-Hop's Love Affair With Jazz on 'Low End Theory'
You can definitely hear some Chet Atkins influence here as well, but it seems like you were inspired by the guitarists he must have been listening to while honing his craft.
Chet was probably a contemporary of those guys I just mentioned, maybe a little bit younger. But I get the sense that the application of the electric guitar had already been established by the time Chet really began dominating the guitar world. But you definitely get the sense that he was picking up a lot of stuff from the likes of George Barnes and Eddie Durham.
There is definitely a heavy blues influence on Arclight as well. It's odd how much of the modern guitar-based rock music, especially in the indie world, is kind of devoid of the blues for the most part.
I feel more and more like a blues guitar player these days, really. It's the music I've been drawn to play lately. And I don't think it's super different from jazz, in a way. There are just certain sensibilities, especially on the guitar that I lean towards. There are also sensual things about the blues in terms of how do you touch the instrument, how you bend the strings or whatever. So the blues is alive and well, at least on my part. In fact, probably the first famous guitar player I ever got to meet was John Lee Hooker when I was about 5 or 6. I had a friend who very graciously ushered me backstage and John Lee Hooker signed a guitar of mine, which I unfortunately don't have anymore. He was one of my first guitar heroes.
What did he say to you when you met him?
Honestly, I was so little I don't even remember [laughs]. But he was sweet and very nice and I remember him just sitting there holding court backstage. I wish I could remember any kind of conversation we might have had, but it's fuzzy.
Having been a former child prodigy, what is your following among children like? I'm sure your story has been a big inspiration for kids who get into jazz guitar.
Honestly, I don't know. The kinds of places that I play don't cater to young people as much as I'd like. But that's just the nature of playing clubs or halls or other places where children unfortunately are not permitted to be inside. I'd certainly love to see more young people in the audience at my shows, and we do see some young people if we ever do like a Sunday matinee or if I do something at a school. Young people, children especially, just soak everything up and they're incredibly honest. They'll either like it or they don't [laughs]. There's no artifice.