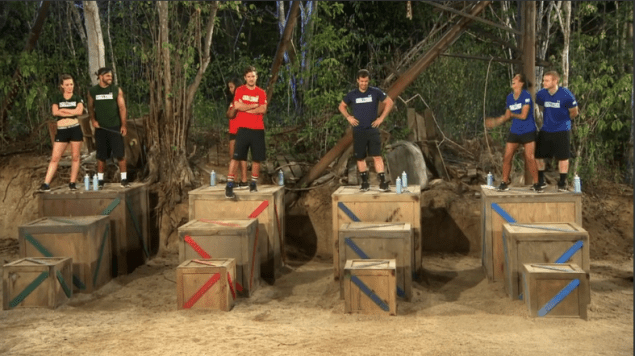 When the late-night has come
And the lights on the set of The Jungle are dark
And the moon from John Bananas pants pulled down is all we see
No I won't be afraid
Oh, I won't be afraid
Just as long as you "attaboy" me
So Camila, Camila
Attaboy me, oh attaboy me
Oh attaboy me, attaboy me
ATTABOY ME
This is excerpted from the closing number debuting in my new Challenge-inspired Broadway hit, Tony Raines: The Musical. Also, this week's ep is titled Stand By Me, so yeah how could I not? Ben E. King, you magical Drifter, you. So Tony hates his partner Camila. We know this because Tony takes every opportunity to tell anyone that he HATES her. Tony was walking to the bathroom in the club and he bumped into a potted plant and the plant was like "…" and Tony was like "I HATE my partner" and kept walking. It seems like the reason Tony hates Camila is because Camila won't give him the "attaboy" he really wants. But also, drunk Tony seems to hate most everything including his brother, paying bar tabs, and his ex-girlfriends. Sober Tony–people like him. Drunk Tony–different story. Tony and Camila were fighting last week. And now, Tony and Camila are fighting this week. Devin is in the middle of the fighting because he is Tony's friend but also he is interested in Camila romantically.
Everyone is drunk when they get back home. John Bananas plays a trick on his cousin Vince, which somehow leads to Vince mack-trucking over Camila and putting her onto the veranda. As someone who has fallen on ceramic vista tile, I'll tell you that stuff is harder than Wun Wun's fists. Camila goes down but gets up because she is the Brazilian T1000 and begins to go in on Cousin Vince. Camila is mad because Vince is acting like he isn't sorry, mostly because he isn't sorry. Camila is like "why are you acting like this is funny" and then Vince goes "because it was kind of funny." Then Vince calls it "a chain of events that was unforeseen" which theoretically is every chain of events ever but now more than anything do I want a Final Destination 12 that ends with a character named Cousin Vince played by Cousin Vince utter his final dying words "now that was a chain of events that was unforeseen" as the poison he accidentally drinks thinking it was Duke brand Kentucky Whiskey kicks in.
Camila is flipping out and so John and Vince come up with maybe the dumbest idea of all time aside from when the Monstars thought they could beat any team with Michael Jordan on it. They wake up drunk Tony. You. Never. Wake. Up. Drunk. Tony. If Tony is asleep and the house bursts into flames, you don't wake up Drunk Tony. He'll have a better chance of surviving getting pulled out in his sleep because if he's up he'll try to literally fight the fire with his fists and words. Tony gets right up in Camila's face and demands she go to bed. She obviously doesn't like that so they start to argue. Tony has Camila up against a wall and he's prob def like a foot taller than her and just shouldn't be acting like this even though Camila is a warrior and can handle herself. The whole time Devin is screaming "Tony don't do this, I'm your guy, this isn't cool" but Tony is very dead behind the eyes. They finally separate the two of them and Camila throws a glass at him. Tony goes off to scream more about how much he hates his partner. Nany and Nicole try to calm Camila down in the most Nany-iest way possible which is basically just screaming at her until you get fed up and then screaming some more. Tony remembers none of this the next day or at least says he doesn't which could mean anything because words and their true meanings don't necessarily come into play when Tony is using them.
The next morning TJ surprise shows up at the house, looking none-too-pleased. He makes it clear that he is not there to drink with them, that they are out of control, and it needs to stop. This season has had the least amount of chill, which is I guess what you want from your reality tv. But I've never seen more people leaving the show for other reasons aside from eliminations. It's every week. Because the house has been warned already, Tony and Camila get kicked off. Everyone feels bad, especially John. He's like "one could argue if Vince and me didn't wake Tony up this wouldn't have happened, I guess we could be responsible." Well, yeah duh. You never wake up Drunk Tony. Lessons to live by. Never get less than 12 hours sleep. Never play cards with a guy named after a city. And never wake up Drunk Tony. Look, it's impossible to know what anyone is like off the show, but if Tony does drink too much I hope he takes care of it because he is very entertaining and is about to have two kids, and I just kind of wish for the best for all of these people in real life.
After all the drama unfolding, Wes gets a text that the next challenge is in 20 minutes. Nobody has really slept or napped or whatever it is they do during the daylight hours. So of course, this challenge requires them to stand on boxes with each other through the whole night. TJ gives them a hint that they need to pay attention because there is a part two. Which is dope because like five hours into it at around 2:45 AM, Christina is finally like, "I think I need to be paying attention to the stuff going on." The challenges this season have been especially strong and this was another good one. Everyone went absolutely batshit loopy being up all night. And the things that were staged for them to remember were incredible. A mariachi band came out and played the same song over and over. Then a guy almost fell off a scaffolding. A dude set another dude on fire. There was a dirt bike and a donkey cart full of tacos, and they got to take pictures with a giant iguana. All while standing on these boxes. The dopest part was a guy chasing another guy with an actual chainsaw. All he had to do was trip and there goes an arm. Imagine seeing any of this at five AM with no sleep. Johnny Bananas broke out his TJ impression which was very funny. A lot of eyebrows and squinting. Nate and Christina were playing rock, paper, scissors. Vince was copping feels on Jenna. Devin was being overzealous. And you weren't supposed to get off the box the entire time. But clearly (see header pic) Sarah disappeared at some point so I guess Christmas, and Easter, and the tooth fairy, and reality tv aren't real. Seriously, is that an optical illusion or is Sarah gone? I need answers about this. Finally TJ showed up at 10:30, meaning they were out there for a good ten or twelve or fifteen hours. And then they had to start a puzzle. Another to be continued so we'll see how they do next week.
So Camila, Camila
Attaboy me, oh attaboy me
Oh attaboy me, attaboy me
ATTABOY ME