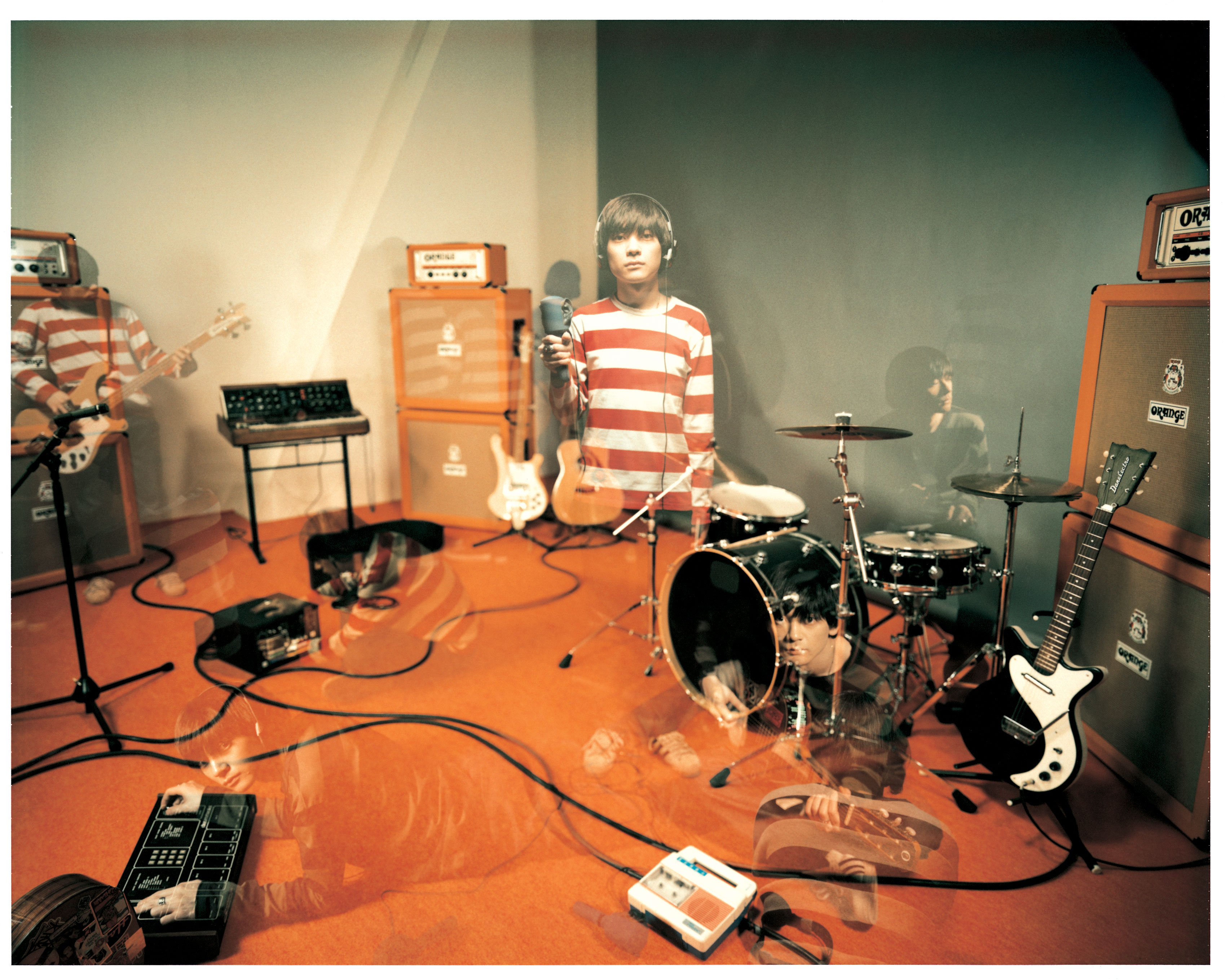 Japanese producer and bandleader Keigo Oyamada's Fantasma begins with the sounds of a cigarette being lit, a soda can being popped open and a sample of cats meowing played in different keys. It's Oyamada's "Mic Check," and in the larger body of his work as Cornelius, it's also a tongue and cheek acknowledgement to the Western stereotypes of Japanese culture on an album that effortlessly channels Eastern sounds aplenty—krautrock, psych-folk, shoegaze, jazz, bossanova, you name it.
As is the case with most things strange and unusual, my first introduction to Cornelius was in college.
A fellow writer friend and heir to the head of a prominent literary agency unwrapped the plastic to 2007's Sensuous, hungry to return home from Newbury Comics and put the record through his hi-fi system. He sat in his favorite chair, smoked his favorite cigar and drank his favorite bourbon. For this collector of culture, Sensuous contained everything niche, nerdy and cooky about the fringe genres of alternative music, while still managing to sound smooth. For this college-kid and his level of familiarity with the disparate sounds being interwoven on Oyamada's albums, Cornelius was a gateway artist.
[youtube https://www.youtube.com/watch?v=L5xwwpNwQ70]
Sensuous was the last Cornelius album to grace our ears, nearly 10 years ago. This week though, the reissue deities have descended upon Cornelius, as his third album, 1997's Fantasma, sees a deluxe re-release via Lefse/Post Modern records.
Fantasma often gets referred to as a "cut and paste" style of making music (see: Beck, Avalanches, etc.,) where samples and found sounds serve to transition and shift a song, the veritable bonding agent between Cornelius' different genre explorations. To Japanese ears though, the term "Shibuya-kei" proves far more fitting.
Emerging as Japanese retail music from the Sibuya district, Shibuya-kei wove in sounds of Brazillian bossanova, the French "ye-ye" lounge-pop of singers like Serge Gainsbourg, and the orchestral pop of composers like Van Dyke Parks and Brian Wilson. Shibuya-kei looked at these sonic hallmarks and imposed upon them instrumentation and production styles that were purely Japanese. The term started as a sort of slang for a regional style, but it stuck for a reason.
Fantasma's "Clash" sums up Shibuya-kei better than any other track on the record, starting as a comely bossanova before the chorus explodes into chamber pop. It's a reminder that Brazil has more Japanese residents than any other country outside of Japan, after an influx of emigration to Brazil following an end of Feudalism in Japan that saw the nation's poorest workers searching for a better quality of life.
Elsewhere, on the lush "Star Fruits Surf Rider," the shimmering, synthesized electronics of 1997 Japan push a cool jazz vibe into breakbeat, sunshine-pop eargasm. Its main melody emerges to remind me of the soundtrack to those first wave Nintendo 64 games that came out the year prior, like Wave Racer. Try to disassociate the sound of that whistling synth lead from a scene of a jetski cutting through the ocean waters, seriously. It's damn near impossible.
[youtube https://www.youtube.com/watch?v=BszGwCRdnWE]
There's a kitsch factor at work here for sure, especially when elements of the electronics on Fantasma sound a little bit dated. Those keys definitely sound like they're from '97, but so does the sunshine pop of "Chapter 8," which features Apples in Stereo frontman Robert Schneider and brings a modicum of American paisley baroque pop into the rest of the sonic wash. (The Apples had their heyday around this time, too, releasing their synth-heavy Tone Soul Evolution that same September and championing their label, the Athens, Ga.-based Elephant Six Collective as the foremost heralds of late '60s sonic sunshine.)
That Cornelius even linked up with such seemingly disparate talent reflects his broad palette, as does the My Bloody Valentine-esque shoegaze of "New Music Machine," and "Free Fall," the muzak of "2010" and the hoedown bumpkin affectations of "Thank You For The Music."
"Music is not actually a concrete thing," Oyamada told Pitchfork in 2007. "It's more of a vibe that spreads through the people."
In the 10 years since his last album as Cornelius, and the near 20 years since Fantasma, Oyamada has honed his skills realizing that vibe. More pressing, still, Oyamada knows that even if the vibe spreads through people on its own, it takes someone with a composer's hands, a producers ear's, and an artist's sense of wonder to orchestrate it.