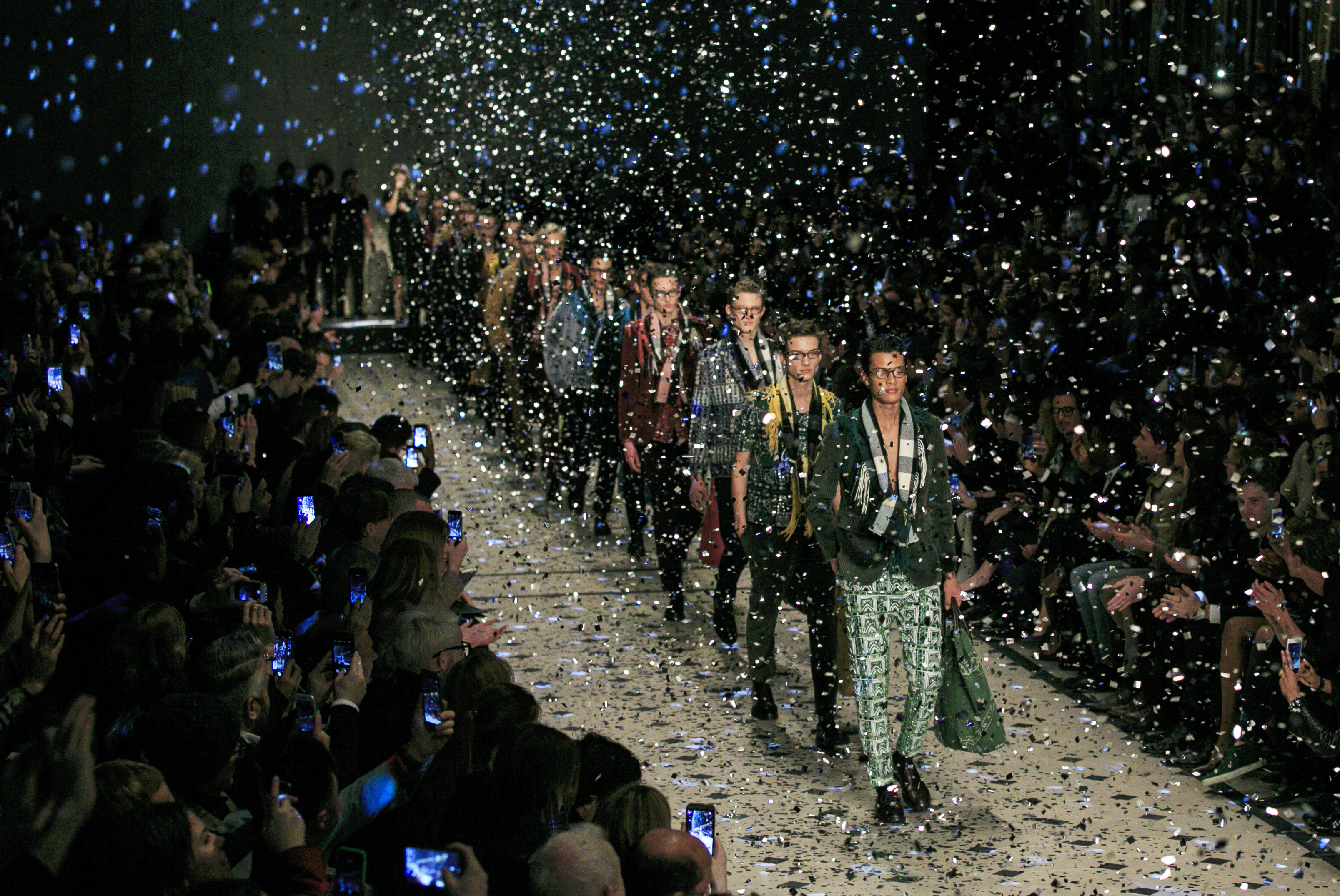 Fashion's DNA: six monthly cycles of seasons showcasing clothes we'll be wearing a year hence has been speed-evolving into some pretty weird and wonderful shapes of late. It's as if fashion's sense of itself since the 1970s with the birth of ready-to-wear has been grabbed by a bunch of avant-garde fashion students and reconfigured for the digital age.
Purchasers of high end fashion now expect to buy clothes from their favorite designers straight from the runway, a feat of production and distribution cleverness kicked off by British  luxury giant, Burberry. Tom Ford is following close behind. Ford says the 'see now buy later' model of fashion is, "an antiquated idea that no longer makes sense". Neither of these houses showed their menswear at LCM—London Collections Men— last weekend as they had done for the past three years. Instead, they will be showing their men's and womenswear simultaneously in September. The gravitational force of change from such industry giants, will inevitably lead the way for others to follow.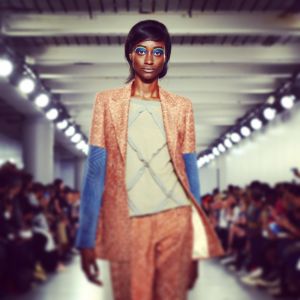 This is the biggest shift happening right now: the merging of men's and womenswear collections into a single show season. Which of course puts LCM: London Collections Men, under a looming question mark. Will it even exist in year's time? As if to make this fear explicit, Casely-Hayford used their LCM catwalk slot to showcase their new womenswear line of boldly printed duster coats and graphic swinging mini-skirts. The disruption of change couldn't be more explicit.
Yet the forces behind the event, which has been running as an independent fashion week for the past three years presented a firm, business-as-usual attitude over the four days.
"We have more foreign press in London this season for LCM than ever before," Caroline Rush told me on first day of the jamboree which also, fittingly, marked the Queen of England's 90th birthday. This explained why London was overrun with Union Jack flags, pomp and circumstance and thin-as-a-rake male models. "We've seen particularly strong presence from the east and far east markets in terms of press," she added as if to mollify the doubters.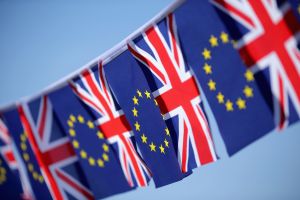 The new-ish wave of menswear designers such as JW Anderson, Nasir Mashar, and Grace Wales Bonner who set the agenda of the weekend as British heritage accessory and tailoring brands such as Dunhill (who only showed a classy eyewear collection after the recent departure of their creative director, John Ray) and Gieves and Hawkes kept a lower than usual profile. Burberry's abrupt absence from the LCM show schedule seems to have had a bigger effect on the confidence of traditional labels but not on the edgy creativity of the millennial designers.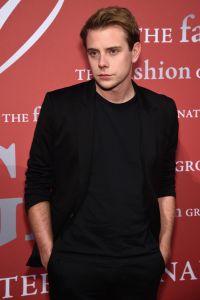 JW Anderson's collection almost sang out, "Who needs Burberry?" and cheekily kicked off with a trench coat for its first look. The wearability of his well-made outsize flight jackets, long-sleeved colour blocked shirts and straight-legged cropped trousers saw the former winner of designer of the year for both menswear and womenswear in 2015 on top from. The designer described his collection as, 'opulent in a childlike way'.
A new wave of tailoring ideas came via the Caribbean in the work of Grace Wales Bonner who is only 25. Imagining Ethiopian president Hailee Salaise visiting the islands, featured artisan handicraft details such as a crochet belt dangling below a closely fitted jacket. This was only the fourth collection Wales Bonner has ever shown, but it should be no surprise to hear she's short listed for the prestigious LVMH prize to help emerging design talent.
Nasir Mazhar's bold, graphic, gritty sportswear played to his already faithful crowd of club kids. But it's his new approach to distributing his wares that is most counter-intuitive. Pulling back from wholesaling his collection, the designer will only be available to order from his website and those few carefully chosen outlets who've supported his rise. In other words, the digital fashion revolution is already here.