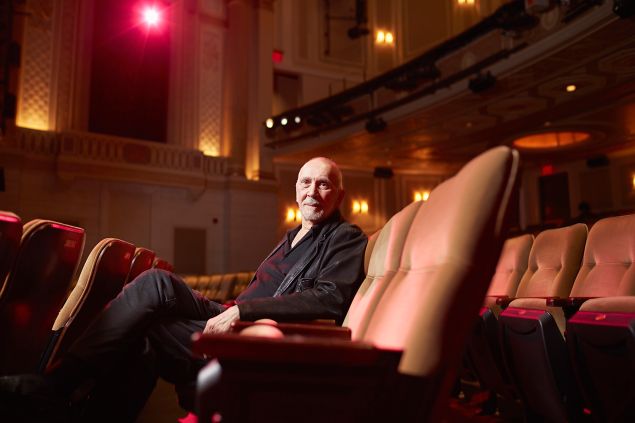 Ever realize how many years Frank Langella has been giving "the performance of a lifetime"? Critics keep trotting out that old chestnut, and he keeps calling them on it. They said it about his Frost/Nixon—play and film. They said it about his King Lear—in Chichester, England, and Brooklyn. And they're still saying it: "In 40 years of watching Langella on stage, from Seascape and Dracula in the 1970s through Frost/Nixon and Man and Boy just recently, I've never seen [him] come as close to full exposure as in the just-opened Manhattan Theater Club production of The Father," wrote no less an expert witness than Jesse Green in New York magazine. "Langella gets so close to strip-mining the core of his gifts that you think he may cave in, or that you will."
There's a logical progression that's brought him to his present "performance of a lifetime." Just going on his recent stage work—from a president who suddenly, on camera, realizes the error of his ways, to a king who makes bad judgment calls about his daughters—one can't help wondering, "Can Alzheimer's be far behind?"
And, sure enough, here it is—full-blown and frightful to watch. In The Father, which Christopher Hampton translated from the French play by Florian Zeller, he is 80-year-old Andre, a proud man humbled by dementia. That mellifluous voice is still intact, but it's squandered ridiculously on petty quarrels and browbeating rants.
It's like watching the Rock of Gibraltar crumble away to see someone of Langella's trademark intelligence and dignity reduced to sword-fighting fog, collapsing into a heap of tears and confusion, crying for Mommy. When did you ever see him do that!
The play is told completely from Andre's skewed point of view, and the audience is manipulated into sharing this: His supporting cast doesn't always stick with their assigned characters, switching roles every scene or so; blinding flashes of light separate those scenes, facilitating extensive set switches and furniture rearranging.
"It was a very difficult rehearsal period and stressful in the previews because we were still trying to discover it," the actor remembers. "I said to the director, Doug Hughes, 'Oh, God, this is really tough.' And he said, 'One day, joy will come.' And it's come—if you can call this kind of thing joyous. In the last month or so, there is a freedom that comes from having gone through all the circuitous routes to get there."
Now that he mentions it, Langella does seem to be sitting pretty in his star dressing room backstage at the Friedman on this matinee day—cucumber-cool, despite the slippery-sloped Everest awaiting him in an hour. For now, he's in a state of calm.
"I don't get nervous. To me, that's a big waste of time. I get 'creatively anxious' about how I'm going to chart my way through. When I first read this play, I thought, 'Oh, I don't recall ever being asked to play anything like this before. Can I?"
"I would say healthy fear plays a great part in my work—taking on things that scare me. I don't get nervous. To me, that's a big waste of time. I get 'creatively anxious' about how I'm going to chart my way through. When I first read this play, I thought, 'Oh, I don't recall ever being asked to play anything like this before. Can I?'
"That's how I felt when I did Nixon and Dracula. Uncertainty is great for you creatively. It makes you not sit back on the things that have worked for you in the past. That's a big danger for actors. You go to the theatre and watch somebody who's been around a long time and you pretty much get the package they've decided works for them. It does, too. People come to see them. But what I want to see when I watch a performer are two things: I want to see danger, and I want to be surprised."
You get to see double barrels of both in Langella's Andre. "One of the things about the part that is so captivating to me every night is to realize it isn't a normal role," he says. "A normal role, if you want to call it normal, takes you logically from scene to scene. With a well-made play, like an Arthur Miller or a Tennessee Williams, you have your opening, your exposition, your conflict, and, at some point, you have your resolution, then your denouement and The End. You follow that path as you create your character. With this guy, the minute he exits a scene, he doesn't know what he did. Because I'm logical, I kept thinking, 'Now how do I string these together?' In time, I came to realize I didn't need to. Each scene is Andre's truth in that scene."
In a very real way, he believes that Lear led him to Andre. Both, after all, are lives fragmenting in front of the audience. "I discovered in each of these plays—instead of thinking of it as one arc—I think of it as, in this, 15 scenes, 15 little plays. I don't have to carry over anything from scene to scene. When Lear comes back in the second act, he's nuts with a bird-nest on his head, and it's totally unrelated to the last time we saw him. The audience has seen those psychological/logical leaps so you just have to leap. It's all happened while I was in my dressing room having a nap. Then I got up and put on my dirty face and came out there crazy as a loon."
Andre makes similar psychic lunges. "Alzheimer's patients just do the whole gamut of emotions in seconds," Langella says. "The sparkplugs, the pistols, are shattering inside their brain, so they can go from total compos mentis to crazy in a heartbeat."
Trying to act that, though, is a tricky proposition, he found. "Throughout my career, I've been praised for my gifts, but I have also, in certain quarters, been criticized for being too big an actor—too grand, too theatrical—so this has been an interesting test for me. At first, I was afraid I'd look too theatrical. Then, every time I went and visited a home—and I did it many times—I thought, 'Well, that's really what it is.' The older I get, the more comfortable I am with the moment-to-moment simplicity of film acting and finding that in theater acting."
Langella didn't have to travel far to find a suitable case to study for Andre. "Anyone you know can tell you a story about this," he says with granite certainty. "Both of Doug Hughes' parents went through long, protracted illnesses. [His father, Barnard Hughes, in fact, won the '78 Tony for Da over Langella's Dracula.] And I have a brother who suffers from this. He happens to have the same name and be the same age as the character in The Father. I think facing it in your own family, as I'm doing now on a daily basis—I go out there to see him as often as I can—has helped me in a way. If you're an actor, everything is grist for your mill, but watching my brother, Andy, wrestling with the simplest things, reaching for something, is heartbreaking."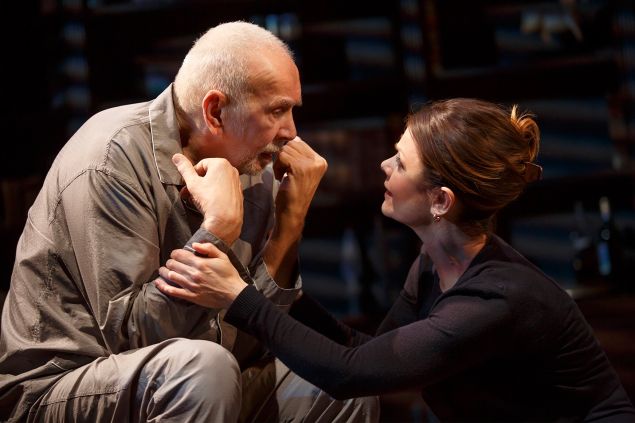 For 53 of his 78 years, Langella has been a New York actor, starting with the lead in The Immoralist waaaay Off-Broadway at the Bouwerie Lane Theatre in 1963. You can practically chart The Ages of Man just on the performances that won him Tonys, starting in the primordial where he played (literally!) Leslie the lizard. He only took Seascape because of the second of three acts—when he cavorted in the sand with a girl lizard—but, on the first day of rehearsal, the director (also, Edward Albee) cut it.
Fortune's Fool, which finally reached Broadway a century and a half after Ivan Turgenev wrote it, won him his second Tony, again as Featured Actor. He was the definitive dandy, a foppish Russian country lord. His co-star, Alan Bates, who won in the lead Tony category, discovered during the run that he had cancer and died shortly afterward, prompting Langella to pen an eloquent salute. That led to a book of short remembrances of the late greats that he has known. He called it Dropped Names.
Frost/Nixon elevated him to a starring Tony Award. His peak moment was a lulu—Nixon's moment of truth—and the look of horror that slowly crept across his face at what he had done was on par with King Kong's look of annoyance at the airplanes.
Which brings us to the blur of Andre and the brink of another Tony—a subject Langella gingerly ducks. "If you're the one they say 'It's his!' and you don't get it…I try not to listen. I've been through every possible stage of this. I've been not nominated for something I wanted to be, I've lost, I've won, I've been a favorite, I've been a dark horse, so now I just accept the fact that it's still the same old horserace."
Only one male actor has four Tonys—Boyd Gaines, and his wife is the actress who plays the nurse cradling the failing, flailing Andre in her arms: Kathleen McNenny.
"When I look back over the roles I've chosen, all of them have reflected something of where I was in my life at the time—every one of them. This one is more resonant than others. My brother was stricken very close to the time the play came to me.
"I once did a play of William Gibson's called A Cry of Players where I played young Will Shakespeare, and I remember Bill quoted something. I was really a kid when I did that play. I was nowhere near his wisdom at the time, and he quoted me a line—I think it was Carl Sandburg's—'The past is a bucket of ashes.' I loved that quote because everything that's gone up to Andre and The Father IS a bucket of ashes.
"To me, the greatest horror in my life would be someone saying, 'You were so great in Dracula.' That would be to live on past things—to stew too much about the award I didn't win or the part I didn't get. How exciting it is that I have a task today! It's much more youthening, if that's the word, to know that I have got to accomplish this today than to think about any of the three awards I've won. It keeps me young."
And tomorrow? The septuagenarian has plans for that, too: "I am doing something that I've wanted to do for two decades. I have always wanted to play a full-out female—not a transgender, not a trick, not a mockup of a woman—a real woman. I've gone through all of the ones played by men. I didn't want to do Lady Macbeth. I didn't want to do Lady Bracknell. For a while, I thought I might try Mother Courage."
Then, over lunch with playwright Arthur Kopit, the clouds lifted, and there she was: the mother-smothering Monster Mom that Jo Van Fleet played in Oh Dad, Poor Dad, Mamma's Hung You in the Closet and I'm Feeling So Sad. "Arthur wants to revive it but needs the right actress. I said, 'I'm your actress. Send me the script.' I read it, optioned it and we'll do it at La Jolla in the spring. If it works, we'll bring it in."
How's that for "danger" and "surprise"? At this late date, Langella revels in working without a net. "You have two choices when you get old," he contends. "One is to lock down into what you've always been, out of fear of death. That's worked for me. The other is to take what I consider the more dangerous side—to let go and be more vulnerable, more open, more ready for the final chapter, whatever it's going to be.
"About a decade ago, I thought I'd really better take the second road. The last thing I'd really want is to be carrying the burden of all those things I created for myself when I was young just to get me through—y'know, the pretensions, the arrogance, the stubbornness, the ambition, all those things. I don't regret any of them, mind you, because they're all part of life's passage. In many ways, these are glorious years for me because I'm free of all my defenses so when—whatever the inevitable is that will come to me, as it comes to all of us—I'm unburdened with the things that most people in our culture hold on to, out of fear of facing themselves toward The End."
Right now, his life with Father is full enough. "We try to keep it at a high level, so I don't think we ever do have a bad show, but last night something happened in the final scene. Something unlocked in the audience so that the level of tears and crying and sighing was really loud. From the back of the theater came a gasp so profound it unlocked it in me, and I began. There was this unity of shared grief—I could cry now just telling you about it—but it was everything that one would want in the theater.
"In college, I had this teacher who said, 'You're going to be in the theater all your life, and let me tell you some Wednesday afternoon, on a rainy cold winter's day, you are going to be playing a part you've played for weeks to maybe a third of the house, and you are going to fly like an angel through that performance. It's going to be magical—beyond anything you dreamed it could be—so much better than it had been before and, maybe, never as good again.' I was 18 years old, and I remember him saying, 'On that rainy winter's day, when you and the audience come together in some way and you don't know why and then you leave, that feeling will keep you working.' "