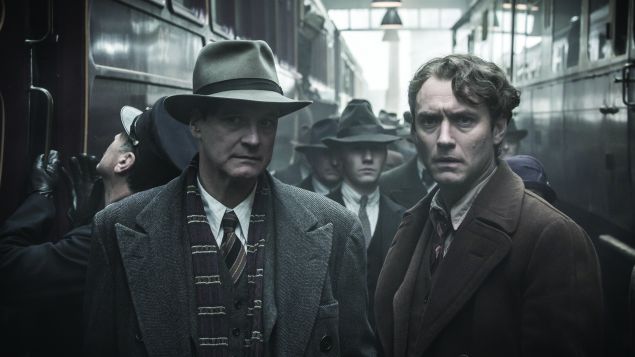 It's so rare these days to see a film that is really about something that I find myself overlooking its flaws in gratitude for its accomplishments. Such a film is Genius, the studious, beautifully conceptualized and penetrating true story of legendary editor Maxwell Perkins, whose vision and passion for literature red-penciled F. Scott Fitzgerald, Ernest Hemingway and Thomas Wolfe to literary glory. It's slow and literary with an often dusty whiff of archival Depression Era solemnity that seems jarring in an age of fast-moving movie action. But a sound, perceptive screenplay by John Logan, a set of judiciously understated performances by an all-star cast headed by Colin Firth, Jude Law, Nicole Kidman, Guy Pearce and Laura Linney and profound direction by Michael Grandage, the British theater sensation fresh from his revolutionary reign as artistic director of London's Donmar Warehouse, inform and elevate it above and beyond the mundane level of formula filmmaking. Colin Firth is brilliant as the patient, uncompromising and introspective Max Perkins, and the explosive performance by Jude Law as the wild, unpredictable and tragic Thomas Wolfe is one of the greatest triumphs of his career. I was spellbound.
---

GENIUS ★★★1/2
(3.5/4 stars)

Written by: John Logan
Directed by: Michael Grandage
Starring: Colin Firth, Jude Law and Nicole Kidman
Running time: 104 min.

---
Although Max Perkins guided a number of literary lights to glory, Genius focuses on his personal and professional relationship with the fiery, undisciplined and rebellious North Carolina poet and author Thomas Wolfe, whose rambling work he rescued from a slush pile of unsolicited manuscripts in 1929 (after the writer had been rejected by every New York publisher), savagely edited and published at Scribner's for a $100 advance. Most of the film reduces the years of tumultuous collaboration that followed to a fine sauce with only rare insights into the great editor's influence on the sensitive, alcoholic Fitzgerald (Guy Pearce) and bombastic, suicidal Hemingway (Dominic West), shifting their importance to back burners while the combustible Wolfe boiled away. The film shows in painstaking detail how Max helped shape the style that dominated Of Time and the River (Hemingway called it "crap") and Look Homeward, Angel, suggesting that the editor wrote whole passages of it himself. "The only ideas worth writing about are the big ideas," Wolfe says, and Max encouraged him to pursue his own awkward, stupefying prose that equaled Proust. But in Jude Law's oversized performance, Wolfe is not the quiet, introspective Southern writer I have always imagined. He's loud, noisy and given to grand gestures, slashing his wrists in despair one minute, erupting like Vesuvius the next. He's more complex than most 20th-century writers—tumultuous and tortured, drinking and vomiting, whoring and incapable of love, seeing life in a perpetual crisis. By contrast, Max Perkins was a family man with five daughters and boundless patience (the first draft of Of Time and the River was 5,000 handwritten pages before he chopped them to everlasting, unforgettable shreds). While Law rants, Firth immerses himself gallantly as a pipe-smoking fixture in his book-lined Scribner's office domain. It's a rare glimpse into the life and mind of a man with a talent for pruning mountains of rolling prose into stark, precise brevity, word by word, line by line. In the end, he's the only person in the world Thomas Wolfe ever really loved, and his farewell letter is a heartbreaker. The film shows, in exhausting detail, the impact the two men had on each other; it's not only about the genius of Wolfe but also the genius behind the genius.
It also reveals the pain and hopeless self-doubt of Fitzgerald, facing eclipse after the commercial failure ofThe Great Gatsby and his draining despondency resulting from Zelda's descent into madness. It's hard to imagine that he said to Max, "I'll write you a great book," and Max replies, "I know," or that Hemingway sniffed, "He was the most elegant writer I've ever known—now he can't string five sentences together." But thanks to Guy Pearce's moving portrayal, his scenes with Max are the ones that best reveal the publisher less as a studious brain and more as a real person touched by human frailty. I raised an eyebrow when Wolfe shrieks, "The hell with Flaubert and Henry James. Be original! Blaze new trails!" and compares his free-style form to the improvised notes of jazz musicians. (Maybe he means Harry James!) 
Circling the flames in supporting roles are Laura Linney as Max's devoted wife and Nicole Kidman as Aline Bernstein, the married woman with grown children who sacrificed her settled life for a long, self-destructive affair with the struggling Wolfe and resented Max for replacing her importance and influence in his life. For a director with no film experience, Grandage makes a striking first-film debut. The New York sets, constructed on a London sound stage, replete with rain-soaked streets, smoky bars, Jazz Age speakeasies and authentic period billboards for Wrigley's chewing gum, are haunting and colorful in an otherwise bleached patina. Genius combines elements of intellect, cinematic artistry, emotional intensity and entertainment value to form a motion picture of uncommon vitality and imagination.