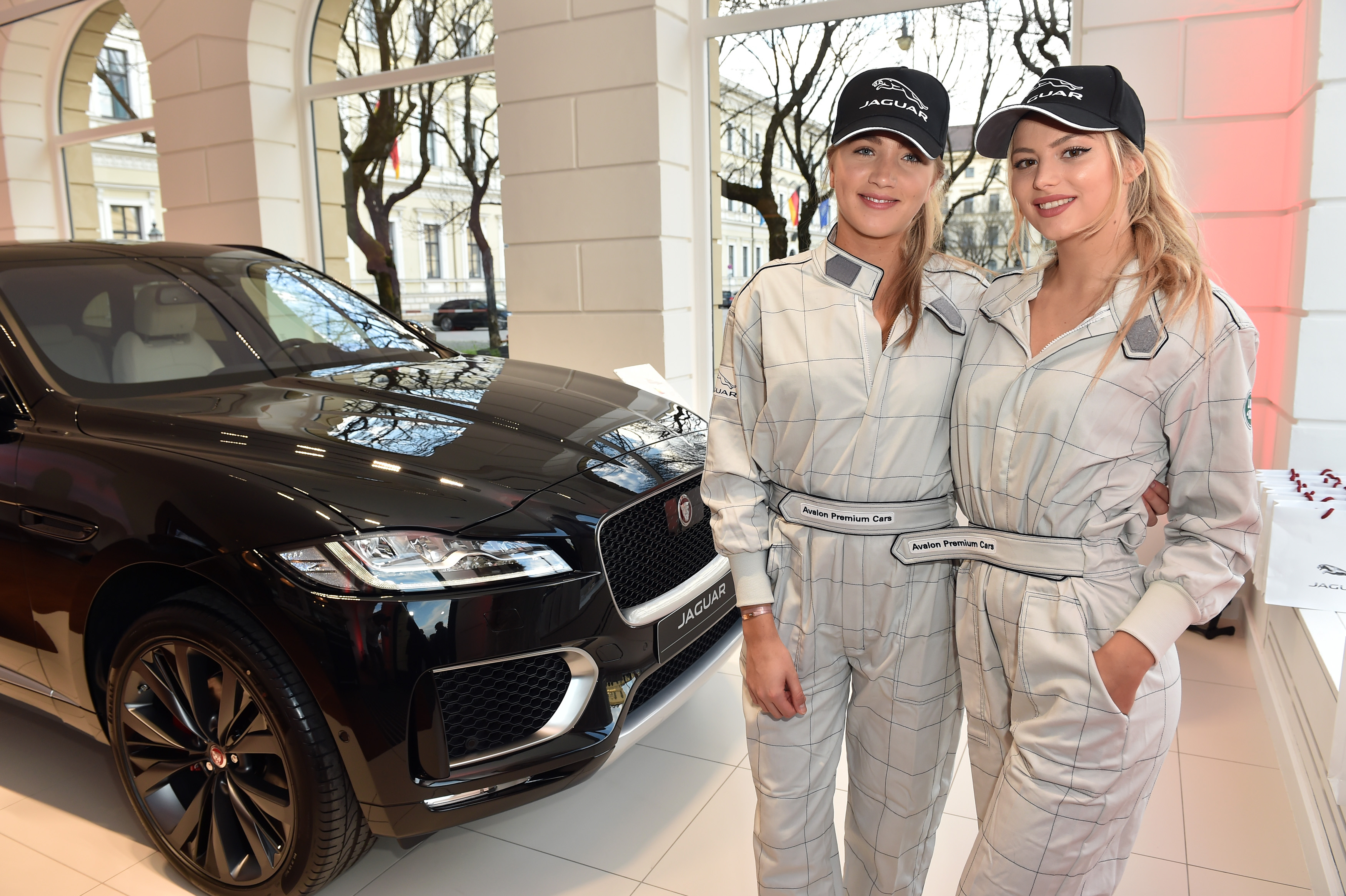 As I pulled the Jaguar XJL Portfolio, a fine cigar of a luxury sedan, into the parking lot, the valets parted sycophantically, deferring to its majesty.
"Do you want my keys?" I asked.
"Oh, no, sir," they said. "You can park wherever you want."
This was a Jaguar event, one of dozens being held across the country to unveil two new models to the finest people who cared to attend—the "New Generation Of Jaguar," in the form of the compact sports sedan XE and the compact luxury SUV F-Pace. By driving the old generation of more expensive Jaguar, I represented a prize fish on the hook, even if I was actually more like catch-and-release.
As I pulled the XJL into a prime spot, I wanted to say to the valets, apologetically, "I don't own this car, I'm a writer, I have eight dollars in my wallet to last me the rest of the month," but I didn't. Every time I pull that shtick, it just confuses people. They don't care. No one does. Let them think I have $86,733 to spend on a long-wheelbase sedan with a 340HP V6 supercharged engine and suspiciously plastic fixtures. I'd been roaring it so hard for the last week, having so much fun, that I was almost beginning to believe I deserved this high-end British-designed coffin. That's the promise and danger of automotive journalism, the world's oldest profession.
As the city's worst musician played Hootie covers, I entered the Umlauf Sculpture Garden, the only remaining place in Austin that hasn't been turned into a mixed-use condo development. A full array of quality foodstuffs was on display, as they always are at Jaguar events, which is one reason you rarely see a negative assessment of a Jaguar. I loaded my plate with luxurious meats and cheeses and salmons, a fine Scotch egg, a heaping sample of lobster mac and cheese and a mini key-lime pie. Popping a Lactaid, I sat down at a table with Jaguar enthusiasts.
One older guy (though, let's face it, he was probably only seven years older than me), who looked and smelled like real estate, couldn't stop praising his Jaguar.
"Which one do you drive?" I asked.
"A 2008 XK," he said.
"Zoinks!" I said. That was the last model year that Ford owned Jaguar, a notoriously bad-quality brand marriage that presaged the automotive end times. "You must always have that thing in the shop."
"No, it's been great," he said. "Thirty five thousand miles, and no problem."
'Our customers aren't going to take this off-road. They're going to take it to the grocery store.'
Hell, I thought. You could ride a lawnmower 35,000 miles without a problem. Come 40,000, that XK's rear bumper was going to fall off in traffic.
I turned to the guy at my right, way younger than me.
"Why are you here?" I said.
"I wanted to check out the new Jaguars," he said.
"Do you drive one now?"
"My friend does," he said, his head dipping in the way it does, a way I know all too well, that says I'm poorer than I want to be.
"So what do you drive?" I said.
"It's embarrassing," he said.
"Don't be embarrassed."
"A 2000 Chrysler Concorde," he said, wincing.
At the time it was released, the Concorde—a kind of pre-Cambrian ancestor to the growly Chrysler 300—sniffed around the gates of luxury. This guy, a well-meaning regional bro who wanted to appear to be doing better, was Jaguar's target market. All those pretentious commercials featuring toffy British actors who play superheros for a living had successfully invaded his brain space. He longed to be a "British villain."
At last, a mumbly local Jaguar dealer introduced the cars to be unveiled this evening. This was a nice humble change from Jaguar press launches, which often feature Daniel Craig jumping out of a helicopter or Lana Del Rey appearing on a smoking Paris runway. The sheets came off, and there sat the XE and the F-Pace, in all their soon-to-be-glory.
The crowd approached to pay homage to their new gods. Black-on-black, the XE didn't look much different than an Audi A3 or a BMW 3-Series or even, Kate Middleton forbid, a Lexus IS. It garnered only moderate interest, despite the fact that early reviews are promising, gas mileage is nearly 30 MPG, and the base price of just over $34,000 puts it in league with upper-tier Hyundais. There will never be a true "Jag for the masses," but the XE is as close as it gets.
The F-Pace, on the other hand, got swarmed as though it were Brad Pitt and this were World War Z. Here you go, Jaguar's first SUV, weighing about 4,000 lbs, getting 18 MPG in the city, delivering more than 300hp and costing anywhere between $40,990 and $69,700. "The cat that got the cream," one luxurious review crowed. "The F-Pace will be the savior of the Jaguar brand," said Motor Trend, after a neo-colonialist global launch of the car in Montenegro. Jaguar has already taken 15,000 pre-orders for this giant sportscar, 2,000 in the U.S. alone.
I went up to a Jaguar dealer, who was looking as beleaguered as an employee at a children's jumpy-gym.
"So what's the difference between this and a Range Rover?" I asked.
Not much," he said. "It's got the same engines. There's a 340hp V6 and a 380hp V6."
"So you can take it off-road?"
"I wouldn't," he said.
"Really?"
"Would you go off-road in a Porsche Cayenne?" he asked.
"Probably not." I said. "Maybe in an emergency."
"There you go. Our customers aren't going to take this off-road. They're going to take it to the grocery store."
All week, my feed fills up with automotive news for a new era. Ford, General Motors, Toyota and Volkswagen are making nine-figure investments in ride-sharing services. Google, Apple, and random madmen are engaged in a beep-boop race to see who can make a self-driving car the fastest. Elon Musk is building a secret gigafactory near Devil's Tower. Meanwhile, in the real world, actual humans are clamoring for an unhealthy Range Rover engine slapped into a jacked-up Jaguar F-Type with a creamy, pretentious interior. Is this it? Rather than the coming era of self-driving solar-powered electric Ubers, is this what people really want?
I guess it's better than a Chrysler Concorde.
Neal Pollack is the author of ten semi-bestselling books of fiction and nonfiction, including the memoirs Alternadad and Stretch, the novels Repeat and Keep Mars Weird and the cult classic The Neal Pollack Anthology Of American Literature. For some reason, his byline has appeared in numerous automotive publications, includingCar & Driver, Road & Track, and Yahoo! Autos. He lives in Austin, Texas, against his will.