Evan Peters doesn't seem tired. The 29-year-old actor is currently on a press junket for his reprisal of Quicksilver in this summer's X-Men: Apocalypse film—Good Morning America one day, ringing in the NASDAQ the next—but Mr. Peters, much like his Marvel character, is revved up and ready to go-go-go.
"Everyone was super…I don't want to say stoked," Mr. Peters tells me of the reaction to his character's first appearance in the previous film, X-Men: Days of Future Past. "I'm trying not use that word anymore. Yeah, O.K., people were kind of stoked when they saw my scene." Mr. Peters has a dimpled grin and a sort of wry "aw-shucks" demeanor that makes him simultaneously genuine and a little bit silly: he's the "best friend of your brother" type. The "let's do shots and you teach me how to do that 'Cups' song from Pitch Perfect" type. The "I'm the sleeper fan favorite in a summer superhero blockbuster with Michael Fassbender, Jennifer Lawrence, Hugh Jackman, James McAvoy, Nicholas Hoult, Olivia Munn, Oscar Isaac, Rose Byrne and the chick who plays Sansa Stark on Game of Thrones. And I literally don't show up till halfway through the movie!" type.
To say Evan Peters shines brightest in large, ensemble-driven projects would be somewhat missing the point; between X-Men and FX's American Horror Story, he's carved a pretty singular niche as the guy who can stand out in a celebrity stunt-casting equivalent of Where's Waldo?
"It was so fun, for me especially, because I'm a fan of the comics," Mr. Peters admits, dutifully. But you believe him, partly because Mr. Peters seems like he might be "a comic book's worth of attention span" type of guy, and then manages to back up his claim by citing several Quicksilver plotlines from the comic series and how they diverge from the movie's material. "It goes back to Bryan Singer reading H.G. Wells' short story, The Great Accelerator. In it, these guys take a potion that makes them go so fast that time stops. Their clothes smoke and things like that."
"And…like that," Quicksilver was born, or actually, reinvented: from a relatively "meh" mutant in the comics to the hyper-kinetic, ADHD-addled version as portrayed by Mr. Peters. He's got that all-gray manga hair, ping-pongs around his mom's basement, practically vroom-ing through the quippy dialogue and making it sound half a shade more clever than it actually is. (Also worth noting: Quicksilver is the only mutant who refuses to slow down for lingering periods of deep depression or social justice debates.) Both Apocalypse and Days of Future's Past have their best scenes trained on Quicksilver, as we experience how the world appears to him and not the other way around. In the last film, he broke Magneto out of a maximum-security facility in the Pentagon while jamming out to Jim Croce's "Time in a Bottle." This time he's saving the whole Mutant Academy from a fireball explosion while the synths of Eurythmics' "Sweet Dreams" wah-wah behind him; a gentle reminder to the audience that no matter how fast Quicksilver runs, he's still stuck in the '80s with the rest of the cast. (At least for this installment.)
[youtube https://www.youtube.com/watch?v=1NnyVc8r2SM]
Mr. Peters, who barely grew up in the '80s, is much more about the now, as evidenced by the millions of followers he has on Instagram, his Benedict Cumberbatch-level of Tumblr fandom and his TMZ-headlined love life. (Mr. Peters and Emma Roberts—niece of Julia— broke off their engagement earlier this month for the second time.)
So why hasn't Mr. Peters achieved the same level of household fame as the rest of his mutant co-stars?
The answer is pretty obvious: it's all Ryan Murphy's fault.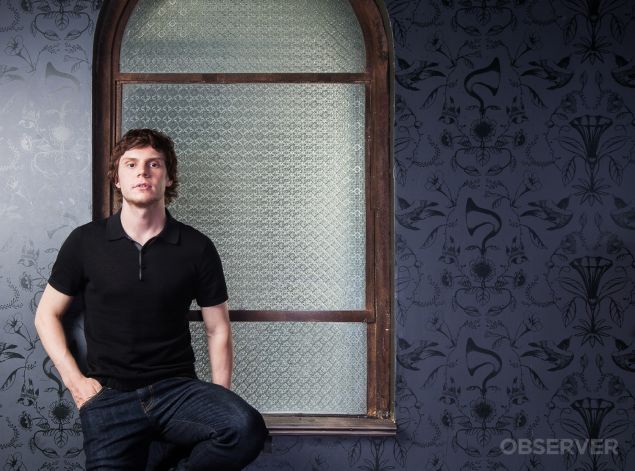 The inaugural Murder House arc was arguably the best installment in American Horror Story's "anthology seasons"—the sixth of which is gearing up this fall—weaving together as it did homages of scary classics like Beetlejuice, Rosemary's Baby, The Intruders, The People Under the Stairs and The Changeling into a larger narrative about a family who moves into a house haunted by approximately a million ghosts, all of whom had their own afterlife agendas. Originally, we may have tuned in to see the celebrities Mr. Murphy and his creative partner, Brad Falchuk, brought to the series: Friday Night Lights' Connie Britton, Mena Suvari, grand dame Jessica Lange, Dylan "Not Dermot Mulroney" McDermott and the ghost of Zoe Barnes' future (Kate Mara).
But by the time the credits rolled on the first episode, a relatively unknown young actor had revealed himself as American Horror Story's beating and bloody heart. Evan Peters, from the moment he appeared on screen as Tate Langdon, was the coronated Prince Joffrey of American Horror Story's Westeros. With his tousled-blonde mop of hair and shy smile, Tate somehow straddled the line between a young, Kurt Cobain-inspired Romeo and a sociopathic, Columbine-inspired mass murderer. He was all hangdog charm and ghoulish intentions, croaking out plaintive soliloquies about love one minute and then setting people ablaze the next.
Several months after American Horror Story wrapped its initial mini-series installment, the internet would be ablaze with discussions about Claire Danes' "ugly cry" face on Homeland, but she was handedly predated by a then 24-year-old Mr. Peters, who set the bar for realistic on-screen waterworks in 2011. The second half of American Horror Story: Murder House could be summarized by the series of Tumblr GIFs made by instantly smitten fans: close-up on Mr. Peters, sobbing out morbid teen platitudes to his warm-blooded crush Violet (Taissa Farmiga). What girl can resist a cute guy who sometimes dresses up in a latex gimp outfit, bleating stuff like "You know why I'd leave you alone? Because I care about your feelings more than mine!" or "You're all that I have! You're all that I need!"
Not since Jordan Catalano on My So-Called Life has hormonally-induced histrionics looked so good.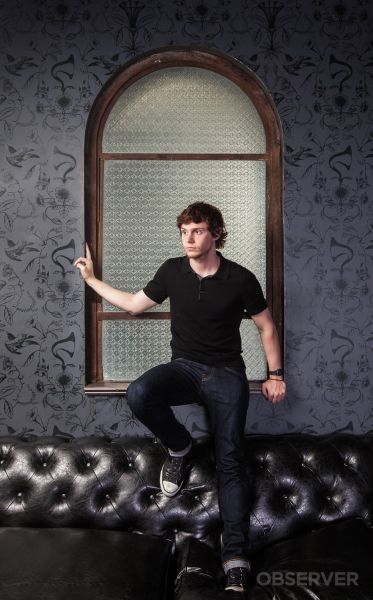 "I had no idea what I was signing up for," said Mr. Peters. "All I knew was what I was told right before my audition, and that was everything that Ryan Murphy touched turned to gold."
"No pressure though." Mr. Peters has a signature throaty chuckle, and though it's been five years since he played Tate, the actor is still outfitted head to toe in black and blue, as if somewhere along the way his personal brand just became indistinguishable from the American Horror Story aesthetic. Mr. Peters' career is unique in its fidelity; until fairly recently, he's been all but tied up exclusively with his different roles in every iteration of American Horror Story. He's the only actor to play a prominent role in all five seasons so far, not including Sarah Paulson, who had a small role that first year, but has since moved to center stage and top billing. (Though, oddly enough, Ms. Paulson really came into her own earlier this year playing Marcia Clark in Mr. Murphy's The People V. O.J. Simpson: American Crime Story. Despite sharing showrunners, a network, confusingly similar titles and punctuation, ACS is its own wholly separate beast from AHS.)
Still, a boy always remembers his first time.
"Later, I found out from Ryan (Murphy) that he knew I had the role by the way I said this line, right after I was talking about these blood rituals…" which he delivered with a sort of dreamy, awful smile: "…I like that." – Evan Peters
"The scene I auditioned with was the therapist scene, where Tate is talking to Dylan McDermott's character," Mr. Peters said. "Later, I found out from Ryan that he knew I had the role by the way I said this line, right after I was talking about these blood rituals…" which he delivered with a sort of dreamy, awful smile: "…I like that."
Before American Horror Story, Mr. Peters' roles had been used to playing much lighter characters, in much smaller roles: always some form of the slacker best friend to the conventionally attractive protagonists in films like the 2004 tween rom-com Sleepover, the Never Back Down series and both Kick-Asses. If you know where to look, you can find Evan Peters on shows like Monk, House, The Office and teen soap One Tree Hill; bonus points for finding the old episode of Disney Channel's Phil of the Future where he delivers the memorable line: "I'm definitely breaking out a fresh pair of undies!"
Playing Tate in that first season of American Horror Story was, needless to say, an adjustment.
"I listened to a lot of music," Mr. Peters says of that first season. "A lot of Nirvana and a lot of Daft Punk. The album Homework has a lot of interesting songs on it." Still talking, Mr. Peters pulls out his iPhone and scrolls through his Spotify list until he finds the one song he's looking for, Daft Punk's "Rollin' & Scratchin." "This is the one. It'll put you in the right twacked-out mindset."
Over the subsequent installments of AHS, Mr. Peters was given a series of more conventionally heroic (and disappointingly stoic) roles: Kit Walker, an alien abduction survivor with a thick Boston accent, who ends up literally dealing with the devil (and also Nazis and zombies) in Asylum; a New Orleans frat boy turned Frankenstein'd house pet in the grrrl power Coven season and a carnie named Jimmy Darling in Freak Show, whose defining character trait was "James Dean but with lobster claws instead of hands."
"When Ryan called me for Season Two, he told me he wanted it to be like Orson Welles' (Mercury) Theatre," Mr. Peters recalls. "The idea of this repertoire theater; the same group of people putting on different stories. Are you kidding? It was a dream come true!" Still, if he had to do it over again, Mr. Peters wishes he could have done it differently in Asylum. Specifically, he thinks his Boston accent came on a little thick, like Matt Damon's "How do you like dem apples?" scene from Good Will Hunting. "I was still figuring out how to act, really. I was still playing around with things, trying to experiment and figure out what worked best for me and how to get the job done. A lot was thrown at me, and I felt like I wasn't able to do it as well as I could have."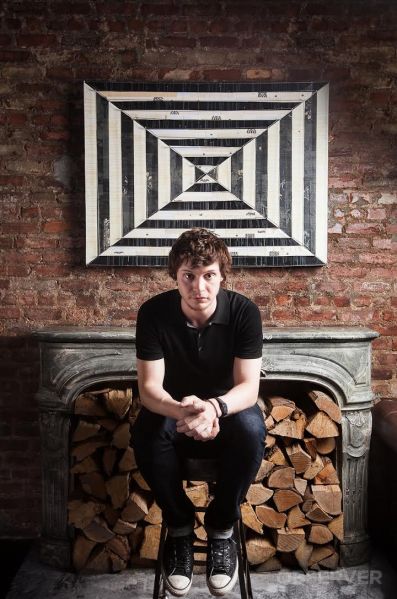 Last year's American Horror Story: Hotel was pretty definitively the second best (and some might argue, as Mr. Peters does, the best) season of American Horror Story to date. Some might point to the replacement of Jessica Lange with fresh blood, in the form of a vampiric Lady Gaga, as what saved the show from the brink of its own ridiculousness. But Hotel also marked the return of a meatier role for Mr. Peters. As the jauntily malevolent, Gatsby-era serial killer-cum-hotel baron-cum-evil ghost James Patrick March, Mr. Peters gleefully chewed through his scenes like a shark through chum—if said shark sported a pencil-thin, Vincent Price mustache and the gunfire cadence of Jennifer Jason Leigh in The Hudsucker Proxy. (Whether Murphy's Law dictates that this particular shark be played by Kathy Bates on next season of American Horror Story is a question best left to the theoretical scientists among us.)
"March was a dream role for me," Mr. Peters admits. "I based him a lot on William Powell's character in My Man Godfrey. He's very sophisticated, an aristocrat." It may seem like a leap—from Cobain to Thin Man in the space of a couple years—but you get the sense that Mr. Peters' metabolism is up for the challenge of constantly plowing through fresh stimuli.
"I got really into the Art Deco movement during Hotel," Mr. Peter tells me, before expounding on his favorite Art Deco building in New York—the Empire State Building—and a recent trip to Cape Town, South Africa, where he was surprised to discover a similar architectural movement, "dating back to the boom in the 1920s and 1930s."
 "Those are really the best two decades," Mr. Peters muses. "After that, it's all been downhill." Just like, in general. While Mr. Peters is by no means a Luddite, he is developing a discerning appreciation for all things old school. He even admires Mr. Murphy's analog method of shooting American Horror Story, with film stock. "It's this dying art form, because everything is digital now," he says, brown eyes wide with fan-boy fanaticism. "You don't get playback, which is a blessing and a curse. It's old-school and it looks gorgeous. But on the other hand, you don't know how things are looking, or how it's gonna turn out."
Equally, Mr. Peters' time working on American Horror Story has changed his views on the genre. "I used to be really scared by horror stuff, like Friday the 13th or Tales From the Crypt. The Crypt Keeper scared me. As a kid, I would run up the stairs so fast, I actually had to see a therapist about it, eventually. Because I was terrified that this guy was actually chasing me and my parents were terrified of me running all the time."
Now, though still slightly squeamish, Mr. Peters has an appreciation for the art. "The blood and the prosthetics and the deformities and the oozing…you know, like The Thing? Body horror. That stuff really freaks me out. But I worked with the makeup department when I had the Lobster Hands (on Freak Show), and it really enlightened me. I still get really frightened by it, but I also get really excited when I see it. Like, 'Oh, how did they do that?' The hours it must have taken for them to make that a reality is something I didn't appreciate before."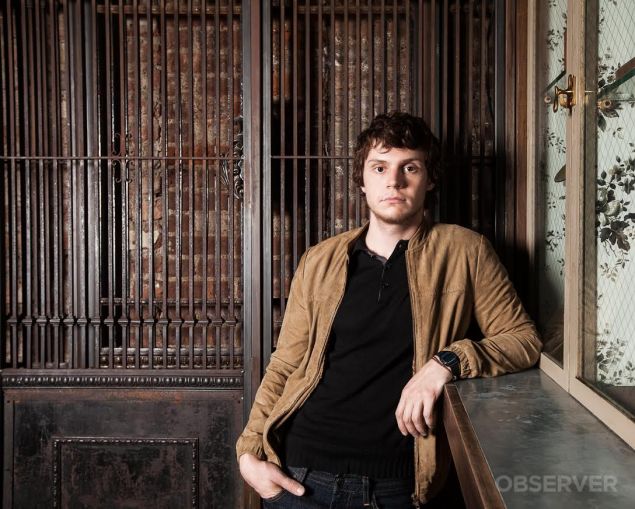 What scares Evan Peters the most these days? "Slasher stuff over psychological horror or paranormal. I'm the guy who gets more scared if there's even a chance it could happen in real life."
What scares Evan Peters the most these days? "Slasher stuff over psychological horror or paranormal. I'm the guy who gets more scared if there's even a chance it could happen in real life."
Besides the fact of his involvement, Mr. Peters claims ignorance about any of the details regarding the next installment of American Horror Story. He's been busy in Cape Town, where he was filming an adaptation of Jay Bahadur's memoir about his time as a freelance journalist in Somalia, Where the White Man Runs Away. "I hate to call it a comedy, but it is very funny," Mr. Peters, who would one day love to work with Shane Black, explains. "It's a fish out of water thing. It's about this guy who leaves and enters this world very naively, who kind of fumbles about, but does eventually get this book written and accomplishes a lot of things along the way. It's a very moving and enlightening story about the Somalia people and their struggle with piracy."
In the meantime, he's going to think some more about what he wants to do next. Move to Venice (as in, California) and spend some time as a beach bum, maybe: something he's never done despite living in Los Angeles for the last 14 years. Read The New York Times "Daily Digest" and Yahoo's homepage; watch South Park; listen to Lil Dicky; rap along to Desiigner's "Panda"; learn the rest of the "Cups" song; see how the single life suits him. This list is by no means definitive, nor—at least to Mr. Peters—exhaustive.
Because even though Evan Peters might not know exactly what comes next, there's a very good chance it's going to happen fast.