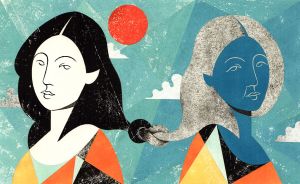 When I was pregnant, back in the '80s, my fervent (and, happily, answered) prayer was: I sure hope it's a boy. It wasn't only that I am a highly impatient clothes shopper and inept hair stylist or that I didn't look forward to withering condescension from a canny preteen you could get no petty gaffe past, which I was pretty sure, even before Mean Girls, came mainly in one gender. It was that my mother and I were so alike—down to the head-forwardness, the lack of domestic artistry and the shared vocation—and her anxious, insecurity-drenched love for me (fueled by my father's long-ago rejection of both of us) felt so embarrassingly soothing, I snapped at her whenever I wasn't laughing with her, just to create a distance, and I feared we'd end up like Big Edie and Little Edie in Grey Gardens, only without the outré WASP hauteur and the crumbling mansion. The last thing I wanted was to get anywhere near that mother-daughter tar paper again.
But I had to write about her: first, in disguised version, in a long-ago novel; then in my 2003 family memoir Dancing At Ciro's, and, most succinctly, in an essay I dashed off right after her death when her idiosyncrasies (and valor) were fresh in mind. After all, if you're a female writer, writing about your mother is rounding second base. It was the landmark 1970s bestseller My Mother, Myself, by Nancy Friday that opened everyone's eyes to the hiding-in-clear-sight mother-daughter knot. As the long-forgotten book's Amazon write-up puts it: "Today psychotherapists throughout the world acknowledge that if women are to be able to love without possessing, to find work that fulfills them, and to discover their full sexuality, they must first acknowledge their identity as separate from their mother's. Nancy Friday's book played a major role in that acceptance."
If you're a female writer, writing about your mother is rounding second base.
From then on, the mother memoir was a staple, and everyone had her favorite. There were the sadistic or dysfunctional mom memoirs—from 1978's mythic-term-coining Mommie Dearest by Christina Crawford, to Drew Barrymore's recent Wildflower—as well as memoir-like novels of this ilk: Janet Fitch's White Oleander, which was also a movie starring a wonderfully cruel and manipulative Michelle Pfeiffer. There were the grumbling-together, complexly meshed mom-and-daughter memoirs—Vivian Gornick's Fierce Attachments is considered the best in this or any mom memoir sub genre. Also, the mom-as-nurturing-pal memoir—Cheryl Strayed's plucky adored mother's cancer death triggered the destructive grief-spiral that Strayed reversed through her Pacific Coast Trail trek. The happy-housewife-mom-teaches-her-careerist-daughter-a-lesson memoir? Anna Quindlen's reality-based novel One True Thing (and its Meryl Steep and Renee Zellweger movie version) had that aced. And the dependent-mother-and-parent-like-daughter-as-roommates fix was available via Katie Hafner's lovely, incisive Mother Daughter Me a few years back.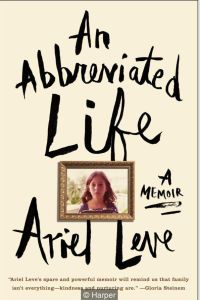 But then a funny thing happened: Guys took over the mom memoir field. TV reporter John Dickerson wrote On Her Trail about his childhood resentment of and estrangement from—and then ultimate appreciation of and bonding with—his busy female parent, the ambitious, path-carving TV reporter Nancy Dickerson. Kevin Jack McEnroe, son of Tatum O'Neal and John McEnroe, produced the roman a clef Our Town, in which his maternal grandmother—wild, poignant, drug-addicted actress Joanna Moore—moved the dysfunctional mom meme back a generation. More emotionally satisfying were the hugely successful recent good-mom memoirs by loving gay sons: Both Will Schwalbe's The End of Your Life Book Club, which helped a lot of authors by name-checking them (thanks, Will!) and George Hodgman's rightly acclaimed Bettyville gave reassurance, with literary panache, that an adult male will become a daily helpmate to his infirm widowed mother, even if it means moving, as Hodgman did, from Manhattan back to Missouri. (This winning sub-genre—the gay guy momoir—was recently put on steroids when Anderson Cooper wrote a memoir with his mother, Gloria Vanderbilt.)
But, as terrific as these books may be, the likability of their heroes (albeit genuine) unintentionally diverts credit from a more typical and arduous heroism. For it is overwhelmingly daughters, not sons, who are left to care for—and, certainly, to lifetime-tangle with—their mothers. Happily, the female mom-memoir is now back in the fine form of two of the season's most lauded nonfiction works. Betsy Lerner's The Bridge Ladies fills the conventional-critical-mom-you-rebelled-against-but-now-see-with-fresh-eyes slot. And Ariel Leve's An Abbreviated Life shows, in spare, poetic memories, a daughter grappling with a woman who wrote award-winning poetry and feminist documentaries, but gave her only child formative years filled largely with neglect, insecurity, embarrassment and terror—and an adulthood of PSTD therapy and mostly futile serial attempts to flee her mother's neediness.
Lerner's 'The Bridge Ladies' fills the conventional-critical-mom-you-rebelled-against-but-now-see-with-fresh-eyes slot. And Leve's 'An Abbreviated Life' shows a daughter grappling with a woman who wrote award-winning poetry and feminist documentaries, but who gave her only child formative years filled largely with neglect, insecurity, embarrassment and terror.
The two writers seem happily mismatched to their circumstances: Lerner—a literary agent known for shepherding Patti Smith's award-winning best sellers, for being frank about her (successfully treated) bipolarity and for writing a wildly popular blog full of snarky self-deprecation, has come home (to New Haven) to live near a mother who, along with her best friends, is so cautious, proper and conventional (despite a hidden socialist youth), you thought her ilk had disappeared with Mamie Eisenhower. And elegant Leve was raised in an East 79th Street penthouse, is a graduate of Hewitt and NYU and is a former writer for the London Sunday Times Magazine. Yet today—with delicious improbability—she regularly commutes from her West Village apartment to a rural house, in Bali, on a dirt road full of ambling chickens, to be a mother to the 9-year-old twin daughters of her boyfriend Mario, a gentle "Tarzan-like" water-sports instructor from Turin, Italy, who has never been to America (he's coming for her June 14 book launch). "It's gonna be like an American version of Crocodile Dundee," she predicts. The life she lives with Mario "is the farthest from the life I've known—we are from two different planets. We're not in the ex-pat community; he lives as a local and I'm the only Jew there. He virtually lives in the water, he doesn't talk a lot and it wasn't until we were living together a year and a half that I took my first hot shower there." Living with Mario and the girls "unfroze my heart," she says. "As I found myself 'mothering' the twins, I was very aware of the key nutrients I'd been deprived of. Feeling heard. Feeling calm. Feeling safe." And she learned that she had it in her to not repeat the mothering she'd experienced. "I was able to soothe them when they were angry or anxious or hurt. I was instinctively behaving with them in the way I wish I'd been treated."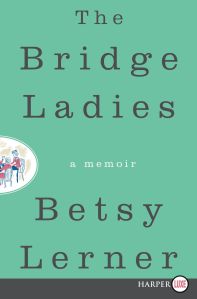 Lerner, meanwhile, set out to really know the five impeccably coiffed, emotionally girded women with whom her mother played bridge every week for 50 years, and she herself learned the card game in order to plumb the bumpy humanity hidden beneath their hide-bound marry-early-and-well-and-Jewish-and-do-not-work-outside-the-home trajectories. Her own mother, Roz, who for years criticized every outfit Betsy showed up in, was vulnerable to her as never before. Betsy learned of Roz's post-partum depression and hidden details of the childhood death from pneumonia of Betsy's younger sister. By contrast, Leve set out to document her own childhood, one of such trauma that "my adulthood has been about recuperating" from a mother of wildly fluctuating moods who sometimes screamed at her, slapped her and berated her without acknowledging it, left her with nannies (one of whom dropped dead in an airline seat next to young Ariel), and had knock-down-drag-out fights with her boyfriend, and who was so grasping that Leve, even in her 40s, felt "I will never be free from her," that mantra virtually universal to women—and "I will never know peace."
Lerner went the other way: from distance to embrace. Her mother has been on her book tour with her, both women greeting the myriad 50-ish daughters and 80-ish mothers eager to read a literary kumbaya instruction kit for women who still make their own Passover gefilte fish and never finish a thin mint without retouching their lipstick…and their daughters who, as teens, rolled joints on Rolling Stones album covers. Her book is heartwarming but astringent: An award-winning poet, Lerner is far too coolly observant for schmaltz, and her characters' ordinary lives, which might read desultory in lesser hands, are never patronized. By contrast, Leve's prose is soulful, cryptic, musing and her mother was a flamboyant Manhattanite during the boundary-less, radical-politics-bumptious 1970s: hosting Mailer, Bellow and the foxier Ms. magazine crowd at dinner parties so bristling with argument and wit, Ariel couldn't get any sleep on school nights. Lerner's book has a cross-generational happy ending; Leve's is a singular triumph, quietly shared with Mario and his daughters.
Empathy is a key to both books. Lerner, who was taken by the love Cheryl Strayed showed for her mother in Wild (and who is a big fan of Maggie Nelson's The Argonauts and "anything David Sedaris") says: "The most difficult thing I learned was that the ladies never expressed their pain and therefore were never truly consoled. People praise their generation for a stoicism we boomers supposedly lack. But I felt in talking to them that the unspoken did more harm than good," and Lerner is sorry for that.
Mothers, in good ways and bad, stick to their daughters' psyches. Mom-memoirs can be good literature and socially juicy voyeurism (Leve's, especially). They can also be therapeutic, whether we see our own dyad or its opposite in their pages.
As for Leve's favorite works by women, "The Year of Magical Thinking by Joan Didion moved me a great deal. The material was terrible but the tone was never self-pitying—which I admire. I respect Kathryn Harrison's memoir The Kiss—and admire her bravery to tell the story. Mary Karr's memoirs have always slayed me as well." And "Delmore Schwartz's In Dreams Begin Responsibilities is a gorgeous story that when I first read it, I stood absolutely still without moving from start to finish." Schwartz was a friend of Leve's mother, and it was from this complicated, imperfect—even wounding—older woman that Leve gained her love of language. Despite the pain inflicted, "I love my mother and have compassion for her, which is something that I hope comes through in the book," Leve says. "She did the best that she could. It took me a long time"—11 years—"to be ready to write my story because of how it would affect her. But she has always championed freedom of expression and speech. She was fearless in her writing, and I am grateful that I inherited that."
Mothers, in good ways and bad, stick to their daughters' psyches. Mom-memoirs can be good literature and socially juicy voyeurism (Leve's, especially). They can also be therapeutic, whether we see our own dyad or its opposite in their pages. And so: May these two new books' success spur others. Lerner, for one, as a literary agent (who does a fair amount with female pop stars) and as a reader, has a wish list. Exhibiting sublime patience, and a Lemonade-tinged high bar, she says, "The mom memoir I'm waiting for is Blue Ivy's."