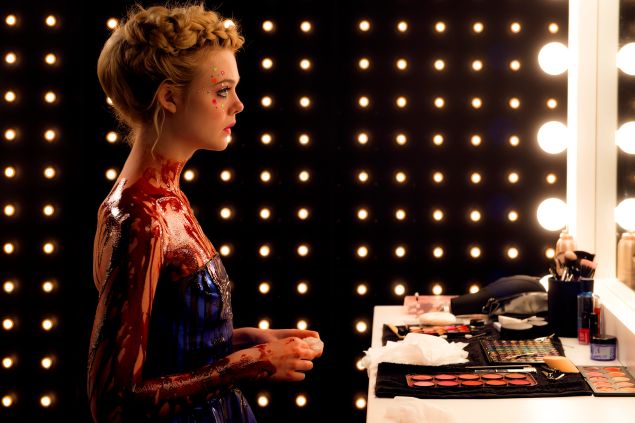 I'd like to tell you how dumbfoundingly awful The Neon Demon is, but I know when to give up. Derisive adjectives lose impact in trying to describe this latest insanity from the pretentious Danish director Nicolas Winding Refn (Drive). I liked Drive, a vigorous 2011 take on Hollywood car-chase movies with noirish undertones starring Ryan Gosling, but its 2013 successor, Only God Forgives, a muddled romp (also starring Gosling) about a mama's boy adrift in the Bangkok underworld at the mercy of a gangster who performed musical numbers between bloodbaths, was parboiled by critics and avoided by audiences like an airborne virus.  The Neon Demon, which was booed off the screen this year in Cannes, is about jealousy, murder and cannibalism in the Hollywood modeling industry. If it wasn't so stupid and preposterous, I'd say see it for the laughs, but trust me when I say you're on your own—and I mean it.
---

THE NEON DEMON
(0/4 stars)

Written by: Nicholas Winding Refn, Mary Laws and Polly Stenham
Directed by: Nicholas Winding Refn
Starring: Elle Fanning, Christina Hendricks and Keanu Reeves
Running time: 117 min.

---
It opens with a bottle-blonde model in a tight blue dress with her throat slashed, oozing blood. Relax. She's just posing for a modeling shot in the kind of sick ads Calvin Klein craves. The real violence is yet to come. Elle Fanning, a pretty but emaciated girl, arrives wide-eyed and innocent, ready to land on the cover ofVogue, and the silliness begins. First, crashing Hollywood is not the route to Anna Wintour's heart or aVogue cover. The fashion world is centered in New York, not Los Angeles. Second, she checks into a sleazy motel in Pasadena run by a gang of rapists, sex fiends and drug-fueled thugs masterminded as a joke by Keanu Reeves. Danger aside, what innocent model trying to make it in Hollywood lives in a seedy motel as far away as Pasadena, Calif.? Fanning's immersed in the L.A. party scene that takes place in dives that look like bat caves, frequented by girls who look like vampires. So instead of a valid trajectory, we get a landscape of Polaroids, makeup tests and doctored photographs. With the kind of expressionless face that makes plastic look animated, Fanning is the perfect prey for make-out photographers who take free pictures in exchange for sexual favors—a childlike, 16-year-old Alice Faye who descends on Hollywood with nothing but an innocent face and no talent.
Most of the film concentrates on the composition of surrealistic backdrops for commercials that don't seem to be selling anything special. It heads south when the girl returns to the crummy motel to find a vicious, snarling mountain bobcat in her room. I've got news for Winding Refn: There are no pumas, lions, jaguars or fang-bearing bobcats—not to mention trashy motels run by lunging rapists who look like Keanu Reeves—within 10 miles of Pasadena. Jena Malone, a cute actress who specializes in playing all-American girls, plays the lecherous lesbian makeup artist who offers Fanning her bed between modeling sessions and preparing corpses for open casket viewings. Which, as it turns out, describes most of the models who look like department store mannequins.
It's George Cukor's A Life of Her Own without the focused screenplay, without the narrative coherence and, of course, without the mesmerizing Lana Turner. You get the bitchy competition and the plastic surgery that keeps cadaverous women looking unwrinkled in an empty, superficial jungle of Botoxed beauty. "Beauty isn't everything," says a photographer who turns girls into robots: "It's the only thing!" Except, of course, the one essential that keeps them all young—human blood! Without so much as the faintest hint of anything that resembles a plot, The Neon Demon collapses in a gallimaufry of Salvador Dali-inspired lunacy in which the resentful models hell-bent on wrecking Fanning's career eat her instead. By the time the big photo shoot ends with a floating eyeball in the swimming pool, the audience at the screening I attended had collapsed in such a fit of hysterical laughter that I'm not sure they even noticed. Winding Refn can't direct traffic, and his writing is so clumsy that the best line he can come up with is, "Once you hit 21 in this business, you're soooirrelevant." Note to Fanning: Without better roles in saner films, the same is true for the movie business.