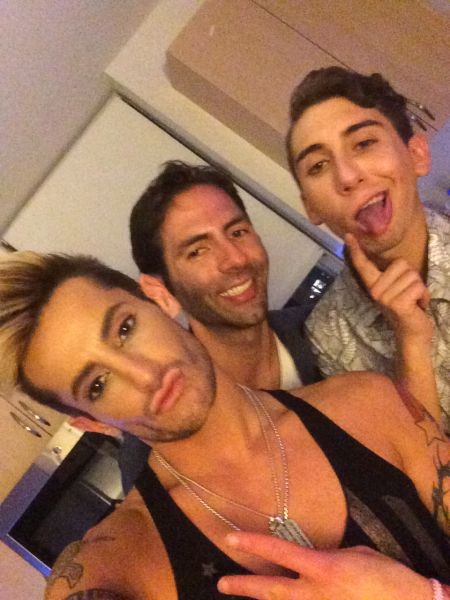 Like every great modern thing, it all started with a tweet.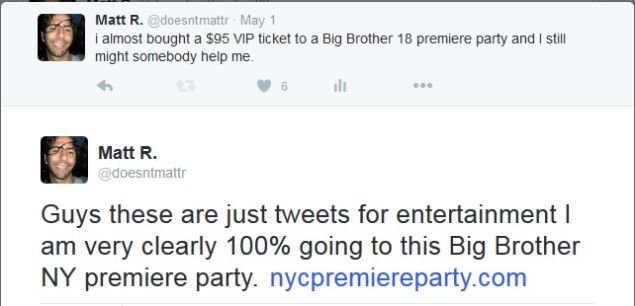 On June 22, the eighteenth season of Big Brother was premiering. This date had been marked on my calendar since they announced it in April. I love reality television, and at the top of that list is Big Brother. My summer doesn't officially start until the first episode of Big Brother airs. Last year, I recapped my season opening routine. In that piece, I also said that when I'm around other people, I am secretly playing Big Brother against them. It is true. I am at the point where I cannot remember whether life is Big Brother or Big Brother is life. So a party, in New York City, where everyone is a Big Brother superfan, and an impressive list of former houseguests would be mingling around. There is no way I could resist.
The party was set to start at 5 PM. But is that a real 5 or Facebook 5? You know how many birthday party drinks I've showed up to three hours early because that's what time the FB invite said? I arrived at the Ainsworth at 4:45, figuring I'd get there before the crowd. Wrong. There was already a line halfway down the block.
Hopefully you find 'your people.' Those other misfits that like what you like, and hate what you hate. The Big Brother superfans, these are my people.
There's a frequent comparison that gets made in the Big Brother house—that it's like high school. It is. The gossip is nonstop. People form cliques. You're stuck in very close proximity to the same personalities for a long period of time. You don't have much freedom. There are authority figures—producers like teachers, telling you how and what you can spend your time doing. Limited and only occasional access to alcohol. The list goes on. But high school is also when you start to find out who you are. And then hopefully you find "your people." Those other misfits that like what you like, and hate what you hate. The Big Brother superfans, these are my people.
After checking in I met with Joe from the Big Brother Group. He got involved with throwing this party last year. It was originally started five years ago by the Heavy Metal Teddy Bear himself, former houseguest Adam Poch from BB13, to give back to all of his supporters. The first one had six houseguests and about 100 people. This year the party moved from New Jersey to New York to a sports bar that holds about 500 people. It was packed. And around thirty former houseguests were scheduled to be there. It was like Danny DeVito joining Its Always Sunny in Philadelphia. The potential was there all along, but adding those resources into the mix made all the difference.
Joe brought me to a back section where we'd have access to the former houseguests throughout the night. There was also a roped-off area with one of those red carpet backdrops where fancy people do fancy interviews at fancy events. Frankie Grande from S16, bejeweled with rhinestone pasties around his eyes, was being interviewed on-camera. Perfectly fancy. The only thing I can compare it to is what it must be like to be a huge Harry Potter fan and finally walking into the Wizarding World theme park.  I Tweeted that it was probably going to be the best night of my life.
Big Brother seasons can serve as landmarks in time, reminding us of who and where we were during those years.
From the jump, there was Monica Bailey from season 2. She doesn't do a lot of these events anymore but this one was in New York where she lives, and also it was her birthday. A good reason to celebrate.
During a recent re-watch, I was completely caught off-guard by something that shouldn't have been a surprise at all. Season 2 was filming during September 11. It's jarring to be so caught off-guard by anything involving 9/11 this many years later. Monica lost a cousin in the towers and was notified while on the show. I mentioned to her what it felt like to watch this over again and be surprised by it. How Big Brother seasons can serve as landmarks in time, reminding us of who and where we were during those years. Then we went into her almost follow-up appearance on the All-Stars season 7. America supposedly voted on who was to make it back into the house for this season but there are conspiracy theories to it being more staged. Monica just missed the cut. She was upset, she said. Her first experience with Big Brother, the aftermath—all the interviews and coverage was so focused on 9/11, which was fine, but she didn't get to just enjoy the experience for what it was. I immediately felt bad for bringing up 9/11 and a subject she's probably had to answer just as much as being asked "What's Dr. Will like?" but she was absolutely lovely about it. "We'll be celebrating your birthday later," I said.
Chef Joe Arvin from season 14 was there with his wife. There was loud music playing for the mingling portions of the party. And just like you'd think from his diary rooms, Joe is louder. I asked him if it's weird introducing yourself to people who clearly know who you are. Although, not having watched Big Brother Canada, I appreciated it much more that most people did introduce themselves. It's not great strategy to take for granted that everyone know who you are, even in a room full of superfans. I asked Joe's wife what it was like for her to be at a party like this, where her husband is such a celebrity. "Everyone asks that," she said. I thought I was trying an original move here. I guess people know this one.
"So Joe, are you still in the kitchen these days?" I asked. Yes. And he has a cooking show now. "It's on DIY." I got excited. "Oh! I know that, they have The Vanilla Ice Project, right? That's like my fourth favorite show after Big Brother." Chef Joe laughed. "Ha, yeah." Joe went to take a selfie with a houseguest from a different season. Everyone is happy to take pics with one another. Joe's kids are superfans now, so he was taking the pics to impress them. Joe described the bond that these houseguests have. It's a shared experience that only a handful of people ever get. It's like once you've been through it, you've BEEN through but you can't know that until you have.
Johnny Mac's laugh in real life is exactly how it sounds on television. It's a bit of a grunt, partially a rumble, and a little like machine-gun fire. "I wonder what it's like to watch a season after you've been on it?" I ask. Johnny doesn't know yet because he was just on last year. Aside from a few competitions, he didn't go back and watch his episodes. "You know. You know what everyone is saying in the house," Johnny Mac said. He might be in the running for "world's most famous dentist" right now. "Do people come to you as a dentist because of the show?" I ask. "Not really, sometimes to say 'hi'," he said. "So when they come to you it's because…," Johnny picked right up, "I'm a really good dentist." That's good, I thought.
All of these conversations happened rapid fire, one after another. Probably in the span of about twenty minutes. It slowed down a bit so I decided to head out in the main area and scope the scene. I mean, when you win HoH, you can't just sit up in that room. You have to mix it up with the house. I wanted to meet some other fans. Find out what they were most excited about it. After all, if I've learned anything from the writing of Goldy Moldavsky, it's actually the fans that have the power. They are the ones who can elevate a regular person to celebrity status. It's on their passion that fame is made.
I saw a table with a man and three women that looked like they would talk to me. "How did you guys get into Big Brother?" I asked. "We were forced into it," the man at the table answered. "By our daughters. We're Liz and Julia's parents," he answered. Liz and Julia Nolan, part of the twin twist from Big Brother 17 last year. As far as finding out why regular fans were here—this was a crash and burn akin to Tom Cruise realizing he's just sung "Lost That Loving Feeling" to his flight commander. But, you must be adaptable—in another way this was actually much better. I joined them at their table and met the rest of their party. The third Nolan sister, Angela—not a twin. And Nena, a longtime superfan who schooled Julia and Liz on all of her Big Brother knowledge before they went into the house.
In the midst of all the excitement, it's always good to establish a place that feels like home. Nothing is better than family, even if it is somebody else's.
If you ask me, Nena needs to get cast on the show—she'd win it all. We talked about Liz's show-mance with Austin, which they actually asked me about. "I thought he was nice enough, maybe not right for her," I said diplomatically. They call the twins "the babies," an affectionate nickname like "there's a baby, and there's a baby when Liz and Julia walk by." I wanted to know the hardest part of having the babies on the show. Turns out, it's a combination of one thing you'd expect and one thing you might not. Hearing the nasty things that some people say when they talk about someone in your family as if they're a television character and not a person. That one seems obvious. But also, as a family member, seeing the side of your kid they don't show in front of you. I cringe to think what my relatives would think if they saw me 24/7. I'd spend a good portion of the night making my back over to their table. In the midst of all the excitement, it's always good to establish a place that feels like home. Nothing is better than family, even if it is somebody else's.
As the room filled up, it was starting to get very warm. Which made it even more surprising that Jace Agolli was rocking the tough leather jacket when I went to get a drink from the two-hour open bar. Don't get me wrong, it's a dope jacket. Jace was responsible for a top-5 funniest moment when he had the "Geek Squad McGee" conversation with Steve last season. Jace has been working on his music, traveling, and skating. I listened to some of the tracks he has up on his website—it's good. I wasn't expecting any of the houseguests to ask me questions about myself, but Jace did. Seriously, I gotta get one of those jackets.
Having a winner say you might be good at 'Big Brother', that's like the ultimate compliment. 'Nah, I'm good,' I said, playing it cool.
Derrick Levasseur, the winner of BB16, has it down pat. He doesn't do very many of these events but he'll go if his boy Cody Caliafiore, the runner-up of BB16, is going to be there. Cody's older brother Paulie was announced as a houseguest for this new season, so Cody and Derrick wanted to come out to show support. Other than that, Derrick is busy with his family and he's still working as a cop. Would he do another season? "Yeah if time permits." Does he think he could win again? "I wouldn't go if I didn't think I could win…but I wouldn't be able to throw competitions this time around." Derrick was so smooth at talking on his season and you can see why. "Good luck with your family, and if you go back on next time," I said. "Thanks, and maybe next time YOU go on," he said to me. Having a winner say you might be good at Big Brother, that's like the ultimate compliment. "Nah, I'm good," I said, playing it cool.
I asked Peter Brown from Big Brother Canada 1 what he was looking for tonight in the episode. Does the game start the first night? "It starts the first second," he said. Then he asked me to picture this room as a game of Big Brother and imagine how that would be like. "How do you not I'm not already?" I said.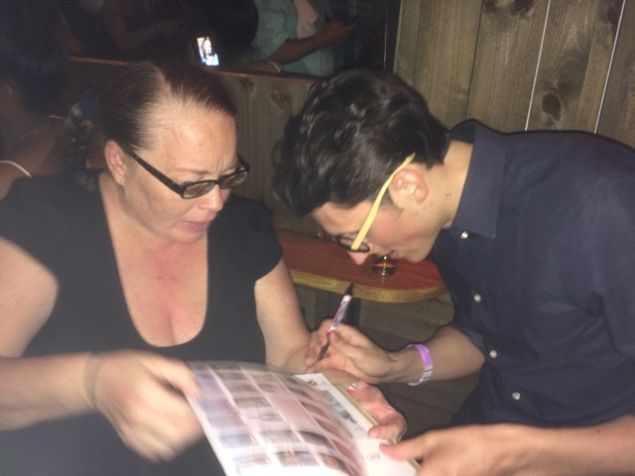 Enzo Palumbo from Big Brother 12 was a surprise addition to the night. His Bayonne accent is strong as ever. "Where's the bathroom here?" he asked me right after we met. "It's on the other side of the room. We have to walk through all these people that want to meet you to get there. I'll pretend I'm doing an interview with you and walk you over there like a bodyguard." And that's how I became a member of Enzo's alliance, The Brigade. In my head.
I walked by Jojo Spatafora from Big Brother 14. I had sunglasses in the pocket of my button-up shirt. They got snagged on the part of her hair that was dyed bright red as I was passing. "This is an awkward way to meet," I said scrambling to undo the mess. Later on, I walked by her again and she laughed. "Don't get me this time."
I passed by Alex Coladonato on the way to the bar. Big Brother 9 is a bit of a black sheep for fans. It was the only one in the Fall, its cast had some major controversies in real life, and it was probably one of the weirdest twists ("soul mate" couple pairings). For all of these reasons, it's one of my favorites. "I'm sorry for you," Alex responded, after I tell him. "You don't like your own season?" "Nobody does," he says. Makes sense when the people you're spending time with only succeed if you don't.
At 8 PM, the music went off and the TVs went on. Everyone cheered. We had a good crew in the back section of the bar. I mean half the fun of this was being able to watch the episode with the houseguests. Angela Nolan watched me try to eat Big Brother-themed tacos while her twin sisters Liza and Julia, Michelle, and a bunch of other people all took seats. The theme song started up. The crowd inside the Ainsworth went wild.
It was nearly impossible to watch the show. I was watching everyone else watch the show. Cody was sitting behind me, his friends cheering loudly for his brother's introduction. When they announced the teams twist, that the returning players were going to draft the newbies, I yelled to him, "Paulie with the number one pick?" "Nah, I want him to be with Frank," he responded. Frank didn't pick until later on. Paulie did end up on his team, going way later than he's ever been picked at anything in his life. Nena, my Big Brother guru now and forever, was not a fan of the teams twist. Aside from Cody's brother, Vanessa Rousso's sister is also in this cast. A family member cast-twist. In between commercials, I walked around the bar with Angela Nolan. Everyone stopped her, told her she should have been on this season. "Would you really want to be on there though?" I asked her.
She responded, "Nah." I guess it's easier just to give the crowd what they want.
We knew there would be returning houseguests this season. There were rumors who, but nobody knew who for sure. When Da'Vonne popped out of the trunk, everyone around us cheered. Michelle gave me a double-high five. "I love Mama Day!" she said. James was another fan favorite. Watching Liz and Julia in real life crack up to clips of James scaring them from their season was surreal. It's like the Steve Martin "me watching me watching me" opening Saturday Night Live monologue of old. Everyone was shocked by Frank's short hair. Everyone was aghast that Nicole said she was single now. "I just saw a picture of her and Hayden on a red carpet together!" someone called out. Love in Big Brother is a fickle thing.
As far as new houseguests are concerned, Victor was a favorite of mine. And that was before he pulled the ultimate move on last night's second part of the finale. While talking to Nicole about her nominations, he pops off his shirt mid-convo. Just like, "hey what are you thinking, cool cool" *shirt off, runs fingers through long flowing hair* "yeah, yeah, just you know do whatever." Dopest move.
Glenn was another fan-fave, probably because he's in his fifties and is from the Bronx. He used to be NYPD, but is a mobile dog groomer. Best line of the night has to be him saying that because he was a cop, he's not scared to go into certain areas where other mobile dog groomers will go. Unfortunately, Glenn was eliminated, which is a shame because he seemed like character and also had the good Bronx accent.
Seeing all of these houseguests, who probably don't have much in common aside from being united by the experience of the show, interacting with one another as friends without cameras, without being interviewed. That was the coolest part of it all.
As the episode wound down and the party came to a close, everyone was shuffling around. There were whispers of an exclusive after-party at Frankie Grande's apartment. High school all over again. Who makes the cut, and who doesn't? Suffice it to say, the after party was lovely. Frankie is charming in this way that you can't take your eyes off of him. The view of the city skyline was unbeatable. Me and Enzo took a selfie and talked Staten Island proms. Frankie, Jason, I took pics in the kitchen. And seeing all of these houseguests, who probably don't have much in common aside from being united by the experience of the show, interacting with one another as friends, without cameras, without being interviewed. That was the coolest part of it all.
The next day, I woke up way too tired after staying at the party way too late because I am a terrible house guest. I was talking to a close friend, trying to describe how I felt. On this week's Challenge episode Tony and Camila got kicked off for fighting. During the aftershow, they explained what it's like to come home from a show and how you have to decompress. How overwhelming that is. That's what I was feeling, after only one night of wild highs. My friend said to me, "I feel like I'm reassuring a depressed teen after prom." That sums it all up.