My sisters and I danced in our Minneapolis basement until our feet tingled. Jumping up and down to "I Would Die 4 U," getting slow with "The Beautiful Ones." Singing into our Barbie doll heads as makeshift microphones became our weekend hobby. At ages 5, 6 and 7, Prince was the man and "Purple Rain" was our song.
On weekends we would drive past Prince's Paisley Park studio in Chanhassen, Minn., on our way Grandma and Grandpa's house. "There's Prince's studio," I'd blurt out in my low, raspy voice.
"That's right," Mom would say.
"That's where he makes his music?" my sisters would ask.
"Yes, that's where he records," Dad would chime in.
"Let's go there," I'd excitedly suggest. "There's a gate, turn left here!"
"…I don't think we can just show up," Dad and Mom would say in between laughs.
Still, I was convinced I belonged inside of those walls, hanging with the doves and jamming with the Purple god.
In elementary school, my oldest sister, Annie, choreographed dances for my middle sister, Molly, and me. We grooved to Sign O' The Times. "Starfish and Coffee," youthful and carefree, felt like sunshine on my face. I had no idea what "I Could Never Take The Place of Your Man," was referring to, but my then 9-year-old self did a wicked hair dance when Prince blared, "She was standing by the fire, oooh she was looking alright."
In the '90s at high school dances, my friends and I had The Hits 1,2 and the B Sides in tow. We knew we were a fraction cooler than other kids our age around the world, enjoying Prince in his home town. We were from he was from and we never let anyone forget it. We'd grind to "Gett Off" and "Darling Nikki" because it made us feel as free as Prince, not because we sought attention. He lived somewhere inside of us, under our skin and we loved that he had carved out such a dynamic place in each of our identities.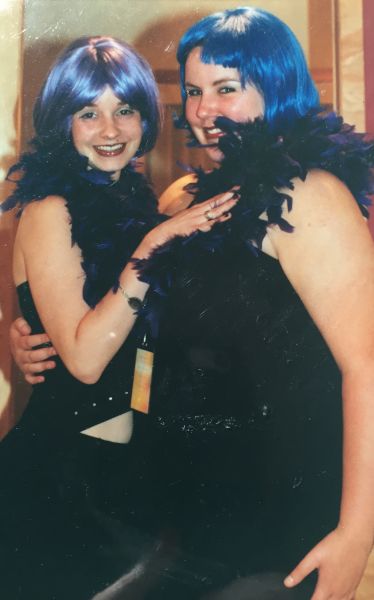 In June 2000, my best friend Megan was working production for Prince's 42nd birthday. It was a week-long celebration at Paisley Park, swirling with rumors of his presence and possible performance. Megan snagged me tickets; I dressed in all black, topped with a purple wig, while Megan chose electric blue. I danced near the stage and curiously kept my eyes peeled for a possible Prince sighting. He didn't show, but I had tickets to a daytime tour for the next day.
I walked the sacred halls admiring the walls of painted murals. There was a serenity among the chaos of a true genius musician who spent an immeasurable amount of time creating there. As I soaked it all in, mentally cataloguing all the details, I dwelled on the thought that I was in the building where Prince played and sang, developed and performed. When I reached a glass case, there it was. A gold statue: his Academy Award for Purple Rain. "Prince Rogers Nelson, 1984."
Next, I was greeted by the doves. Yes, there were actually doves inside Paisley Park, hanging around a gold cage. I didn't wonder about it then, but I'm guessing now those doves had a solid-gold home.
Upstairs, we entered a recording studio. There was a sleek, single microphone in a booth surrounded by glass. The tour leader said, "This is where Prince records his vocals. No one is allowed in the room during that time." A tsunami of my favorite songs cascaded through my brain: "Seven," "Diamonds and Pearls," "The Morning Papers," "Insatiable." Were they created in this room?
When the tour was finished, I exited the building into the humid Minnesota air. It was sticky as I walked to the car. I played Prince songs the whole way home, trapped by memories of doves and murals.
That fall I moved to New York to attend an acting conservatory.
On the weekends, using my sister's old ID because I was not yet 21, I drank and danced at a neighborhood lounge above a great neighborhood restaurant. The DJ was as fond of Prince as I was, and many nights I was found hanging out in his booth, chatting about our shared musical taste. We didn't hang out much, but I continued dancing at my favorite lounge, listening to my favorite artist almost every weekend. I even brought my parents while they were visiting from Minneapolis. Prince's "Pussy Control" shouted through the speakers and my dad turned to me and said, "Do you hear these lyrics?"
One evening the DJ called me and asked if I wanted to accompany him to a party where Prince was releasing music exclusively on the internet. I called Megan, "I'm going to this Prince party, I'm so excited! I hear he might be there!"
"Wear a bright color," she began. "When I was working production, we were told he's drawn to bright colors."
I threw on my curve-hugging black pants and a hot pink, long-sleeve spandex shirt. Tossing on my winter jacket, I stood in line with the DJ. It was a cold New York night, but there was no room for shivering, only excitement. The line inched up and our names were checked off the list. Guests bustled by, tunes played, music and paraphernalia for sale, on which I promptly stocked up.
I walked around looking for Prince, as if he'd be sitting in a banquet, sipping champagne, just chilling. After an hour or so, I gave up hoping he'd show up at his own party. I mean, wasn't he notorious for showing up at 4 a.m. or not at all? Then I looked to my left.
There he was, standing behind a black divider, dressed in black and four-inch heels, hair perfect, which he gracefully moved out of his face. One regular-sized security guard handed him a cellphone. He moved slowly from side to side, a rhythm in his body as if he were warming up for a waltz. He looked as graceful as a symphony, steady but ready to pick up the pace at anytime.
Then our eyes met.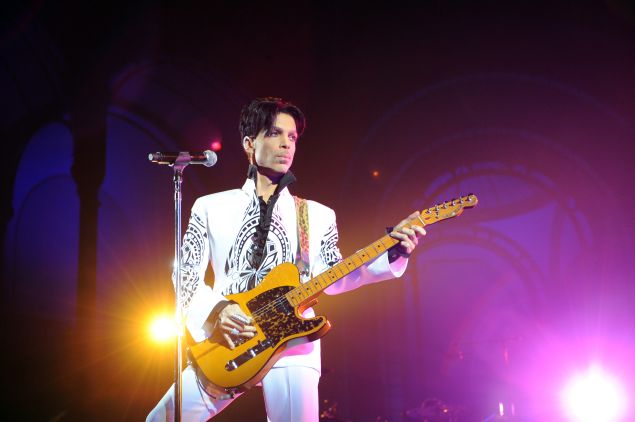 He handed the phone back to his security and smiled wide yet shyly at me. Then he quickly looked away, still smiling and timidly shot me another smiling glance. I was sure butterflies were flying over my head like some cartoon. I wish I remembered which song was playing because then I could refer to this as the time Prince serenaded me.
He headed toward the exit and I speed walked to put myself in his path. As he made his way through the crowded room, he wasn't stopping to speak with anyone, except Jay Z. They exchanged a few words and then he continued on his way.
"Excuse me," I began. Prince looked past me and softly motioned that he was headed to the exit and kept walking. "I'm from Minneapolis," I continued.
Prince stopped and suddenly grabbed my hand. He leaned in smiling, and said in the sultriest voice, "Well, you betta come back this year."
Prince stopped and suddenly grabbed my hand. "I grew up listening to you, and I was at your birthday party last year at Paisley Park." Now Prince, squeezing my hand tight, leaned in smiling, and said in the sultriest voice, the voice that had occupied every speaker I'd ever owned, "Well, you betta come back this year."
And like that he was gone. I couldn't turn to watch him leave because I was too busy staring at my still-tingling hand. I didn't sleep much that night.
Many years later I moved to Los Angeles and worked in the VIP department of the hottest nightclubs.
Prince would often come and sit quietly with one, or two, or six gorgeous olive-skinned ladies. He would ask that the staff unscrew the light bulbs above his table and cover the computer screen so no light would shine on him. I had many opportunities to meet him again, but I chose to keep our first meeting our last; it was sweeter than a spring morning.
I did, however, see him in concert two times. The first time he was more subdued and sang one of my favorite songs, "Nothing Compares 2 U." He was joined by Chaka Kahn; watching Prince watch her was like watching a painter stare at his muse.
The second time, I took Megan to his 21-night-stand tour for her birthday. Prince played all the hits: "Raspberry Beret," "Kiss," "Controversy," "Baby I'm A Star," "When Doves Cry." At one point, he played the first few chords of "Darling Nikki" and we all went buck wild. He immediately paused and said, "I can't play that! I'm in rehab, y'all!" Later, he brought out Sheila E and they tore up the stage. "A Love Bizarre" rattled the room. But it was when he sang the longest rendition of "Purple Rain" that I've ever heard that I froze and couldn't do anything but watch and listen.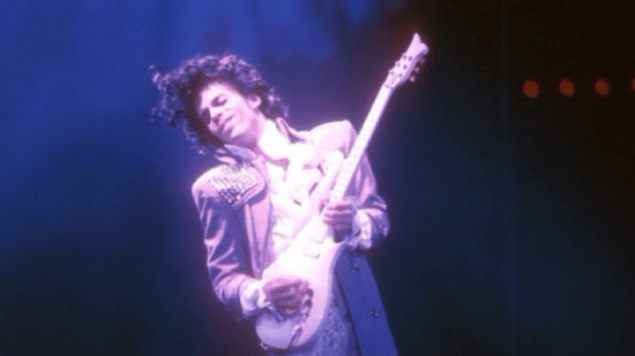 Naively, I believed Prince was eternal and that he would live forever.
His death in April was shocking; however, does someone really die when their music has been sewn into the seams of society for decades, their imprint left on countless souls?
Within minutes of the news breaking, I received calls and texts asking if I was O.K. It was as if I was some kind of purple royalty and his death was my personal loss. Soon after, Minnesota residents left notes on the gates of Paisley Park, thanking Prince for "anonymously and humbly" donating to schools and "enriching" their lives.
Of course I was devastated and appreciated the words of support and love, but instead I chose to honor him and his astonishing legacy. I chose to celebrate that he played over 27 instruments on his first album. At 19, he was given a record deal, and he made it abundantly clear that he would make the music he, and only he, wanted.
I love that shivers climb up my body when I think of his induction into the Rock-N-Roll Hall of Fame, creating his own masterpiece version of "While My Guitar Gently Weeps." I rejoice that every time without fail, then and now, when I hear his music I cannot help but dance.
Mostly, I celebrate the grin that still plasters my face when I recall his smile and the way he held my hand that night 16 years ago. Thank you, Prince. Even though you stopped celebrating your birthday, I still celebrate yours. Happy birthday.